Animal Welfare
"TIME FOR A CATIO" PHOTOS
Share the benefits of catios! We offer a variety of "Time for a Catio" photos featuring indoor and outdoor cat situations where a catio could help cat parents keep their cats safe, healthy and happy – and also protect birds and wildlife.
Feel free to use any of our 30 photos with captions. Then customize your post with additional content below including the benefits of catios, engagement questions, affiliate program (10% donation with your promo code), and catio tour promotion.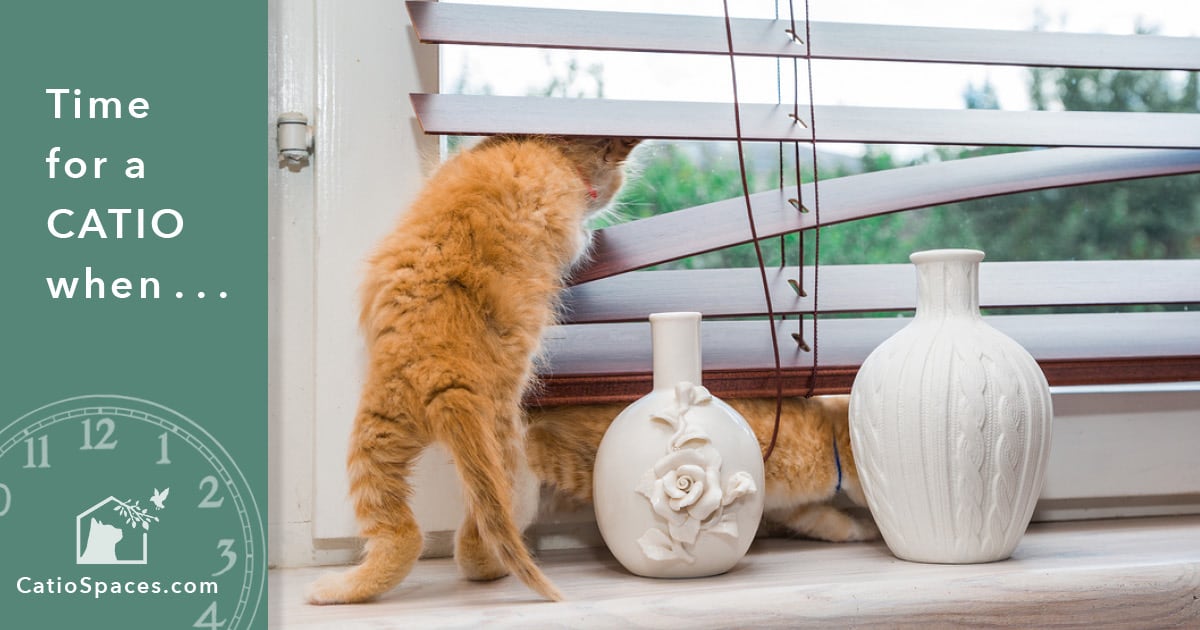 Is your window-watcher kitty destroying your blinds? It's #timeforacatio when the adventures of outdoor play are too enticing to be ignored.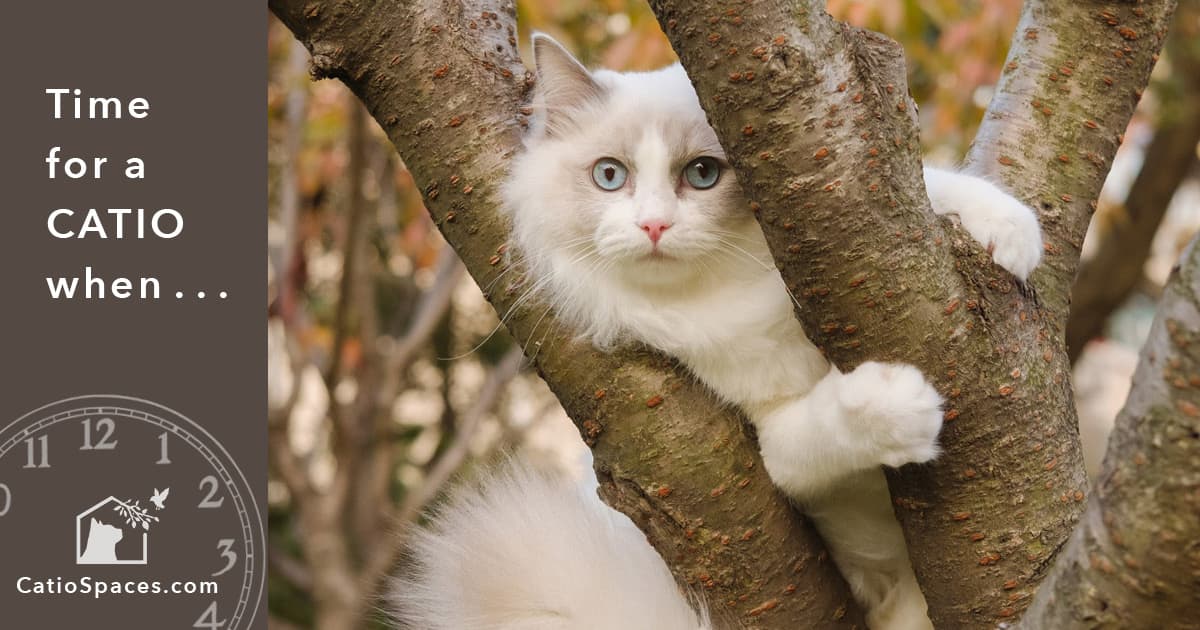 If your cat can't resist a good tree climb (or has been chased up one) and the fire department knows your cat by name, it's definitely #timeforacatio!
CUSTOMIZE YOUR POSTS
Add any of the following content to the captions in our "Catio Time" photo library for a customized message. Use any combination or create your own. Schedule posts throughout the year!
What about you?  When did you realize it was time to get a catio? Or does your cat want or need one?  We'd love to hear! 
Do you want to build a catio?  Our friends at Catio Spaces have a variety of easy to follow DIY catio plans for a window, deck, patio or garden. Mention our promo code (your organization's code) and 10% will come back to us as a donation.  See DIY Catio Plans:  https://catiospaces.com/catios-cat-enclosures/diy-plans/
Get inspired to create a catio for your cat! Attend (catio tour name) on (date) from (time). Enjoy a self-guided tour of homes featuring a variety of ways catios can be incorporated into a home. Invite a cat loving friend! Tour information: (web link)
HOW TO USE THESE PHOTOS and captions
Browse through the 30 photos below and click on any you'd like to share. A new tab will open with the image at full-size, where you can save and download it. Copy and paste the caption and then add additional content (listed above) for a customized post. We just ask that you preserve the watermark on these photos (no cropping or editing them) to credit CatioSpaces.com in any use. Thank you!
DON'T FORGET
Include your affiliate code so that 10% of any DIY sales generated through your efforts comes back to YOU!
"CATIO TIME" PHOTO LIBRARY