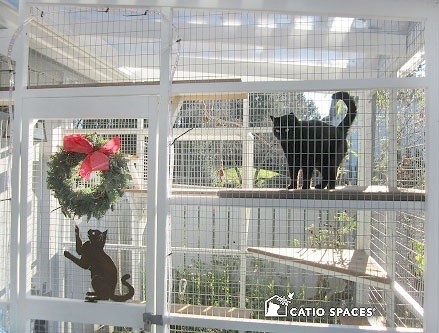 When a hint of a winter chill arrives in the evening air, cat parents ponder how to keep their cats enjoying their catio all year round. Feline fascination with the wonders of winter will draw almost every cat outside to watch the season unfold. Whether winter rolls into your region with gray skies and rain, ice and snow, or just cooler weather after the summer's blazing heat, November is the ideal month to give your catio an inspection to keep it sturdy, safe, and beautiful for years to come. You can also add some simple and affordable comforts that will keep your cat purring happily all winter long. Check out these 8 tips to winterize your catio.
Catio Spaces has curated winter product ideas for this blog and participates in Amazon Services' paid commission affiliate program.
8 Tips for Winterizing Your Catio
1. Give your catio a pre-winter check-up.
Every catio needs an inspection at least once a year, and November is a great time to schedule it, especially if harsh winter weather is common where you reside.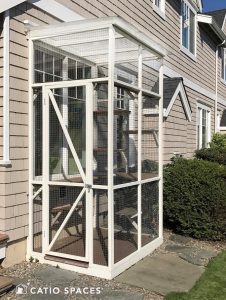 • Inspect the mesh and tap in or replace staples that may have backed out.
• Wood swells in damp weather, so check your door hinges and latches to ensure they are lined up and swing freely. Lubricate the door padlock if you have one and make sure you have an extra key!
• Remove bowls, toys, potted plants, and decorations that could be damaged by wind and rain or get lost under snow.
• Brush off shelves and sweep or rake the floor so leaves and pine needles don't freeze or decompose on wood surfaces.
• Wipe or mop dirty surfaces with water or a non-toxic cleaner.
2. Add a wind block for sheltered space.
Sustained winter wind can drive rain and snow into your cat's outdoor wonderland. But, even if your cat loves fresh air, a blustery wind can discourage them from venturing out.
Temporary wind blocks can be created by hanging flexible or rigid material along a wall of your catio, providing a low-wind area where your cat can still enjoy watching leaves, snowflakes, and birds fluttering in the breeze. There are lots of options!
Heavy-duty plastic sheeting, a vinyl shower curtain, or patio panels can be fastened with binder clips or cable ties.
Waterproof canvas is a stronger and heavier option than vinyl but will also block that glorious sunlight you and your cat love.
Outdoor roll-up blinds are an attractive option that can be raised and lowered and are available in a variety of materials, including natural reed and vinyl.
Rigid, clear polycarbonate panels can be fitted inside the catio frame. They can be used as a temporary or year-round wind block while still allowing sunlight to filter through.
Permanent living wind blocks can be grown over time by planting evergreen shrubs or trees with thick foliage on the windy side of your catio. Keep in mind the foliage of some shrubs and trees can be toxic to cats, so check to be sure anything you plant within nibble-reach of your catio is cat-safe. Consult the ASPCA's easy-to-use list of toxic and non-toxic plants.
There's a bonus to planting native, bird-friendly trees and shrubs. Not only will birds find food and shelter, but they provide extra fascination to your cat's winter bird watching. Check out Audubon's database of native plants for your area that is searchable by zip code.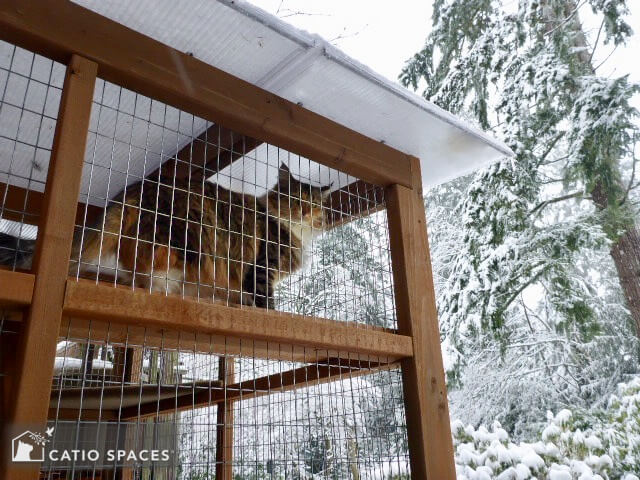 3. Put a weatherproof roof on your catio.
If your catio has a mesh roof, you may want to add a solid top over a portion of the structure to keep rain and snow off a few shelves and perches. One of the joys of a catio is providing a sunny outdoor space for your cat, so consider clear roof protection, like polycarbonate panels, rather than a shade-producing metal or shingle roof.
Here are a few things to keep in mind when pondering a roof for your catio.
If you built your catio using a DIY Catio Plan from Catio Spaces™, each plan features a transparent polycarbonate roof or wire mesh roof option. If you started with mesh, you can follow our plans to upgrade to a solid roof.
Cats love warm and dry places, but many also enjoy pouncing in the snow, so a partial solid roof may be your cat's happiest option.
You may be tempted to toss a tarp over your mesh-roofed catio, however, check to be sure you have adequate support to keep it from sagging. If your catio lacks roof rafters every 24 inches, you'll want to add some additional support. To keep the tarp from filing with rain, snow, and ice, stretch the tarp over the roof and use straining fasteners to hold it in place.
In snowy regions, a solid roof should have a steeper pitch that angles away from your house, so melted snow will drain away from your home's siding and foundation.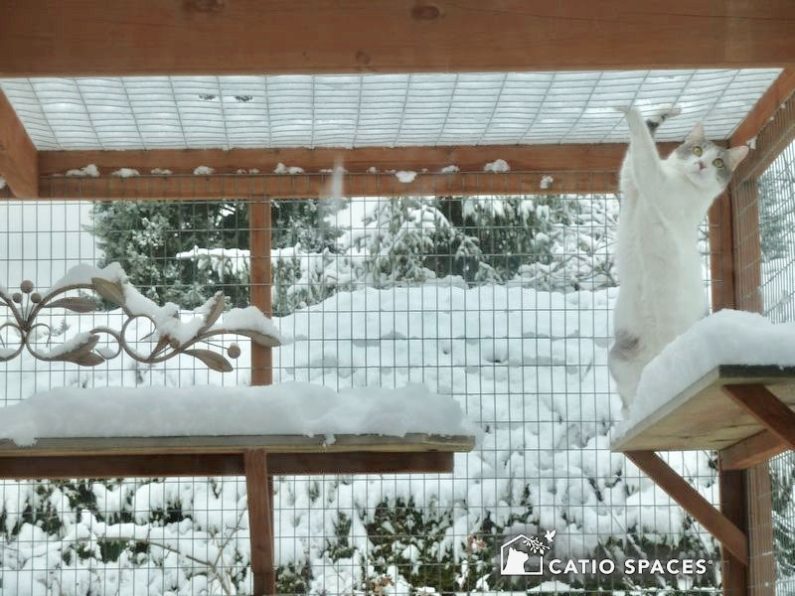 4. Prepare for snow and water removal with tools and safety tips.
During warm weather the summer heat and warm breeze will evaporate precipitation, keeping your catio dry, but in the winter, rain and melted snow can linger. A deck-like catio floor has gaps so water can drain away, but water can pool on a patio or solid floor. Sweeping away rain puddles and shoveling snow will help your catio floor and shelves last longer.
Keep these three safety tips in mind when clearing snow from your catio:
Be sure your cat is safely inside your home and the cat door is locked. You may have to open and close your walk-through door repeatedly to clean your catio, and you don't want your beloved cat to dart out, especially in cold winter weather.
Keep your feet firmly on the ground by investing in proper footwear and snow-removal tools like a no-scratch roof rake and a stiff extendable snow brush to sweep off high shelves. Ladders can be dangerous to set up and climb in the snow.
Use only pet-safe ice removal products when you need them for your safety outside the catio on slippery stairs, decks, and sidewalks.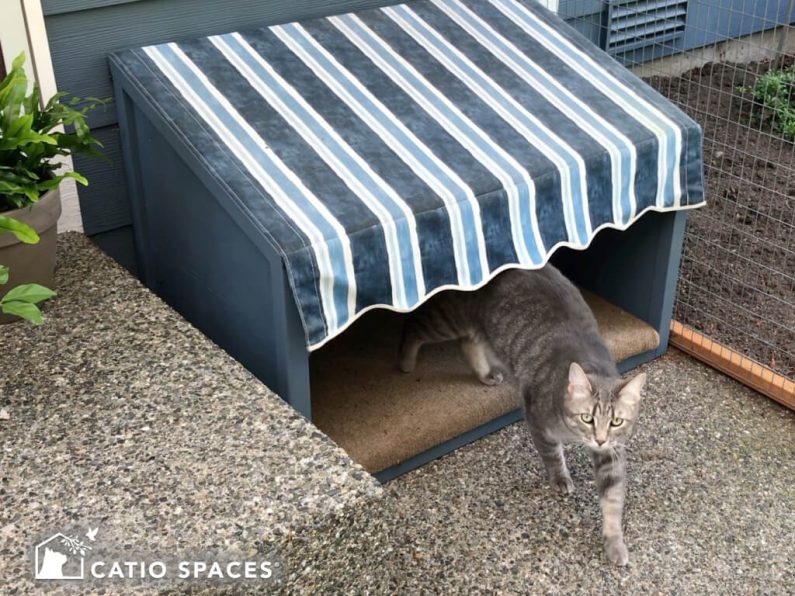 5. Provide cover, warmth, and safety for your cat.
Cats love staying warm and cozy so as cooler weather looms, consider ways to create spaces for their comfort and wellbeing.
Add a cat-sized cubby. A permanent wooden cubby fastened to one of your catio shelves or rafters, open on a single side, provides a protected nook where your cat can curl up for a nap or watch the winter world in your backyard. In addition, a washable "self-heating" sleeping pad will keep your kitty warm and can be easily cleaned if it becomes dirty or damp.
Warm it up by plugging it in. If you have a grounded electrical outlet in or near your catio, a sturdy heated cat-sized house may be just what your catio-dreaming feline has on their wish list. There are also heavy-duty heated pet pads if you already have a built-in cubby in your catio or your cat would enjoy some warmth on their favorite weather-proof chair.
Add security to slippery surfaces. Your cat's claws can't always keep them safe from winter wipeouts. By adding low profile, attractive non-slip step-treads to cat ramps and shelves, your cat can continue to leap safely from perch to perch, and they can also help less-agile senior cats feel more secure. Wet and icy surfaces are dangerous for humans, too, so add a few non-slip treads or a doormat where you step, as well.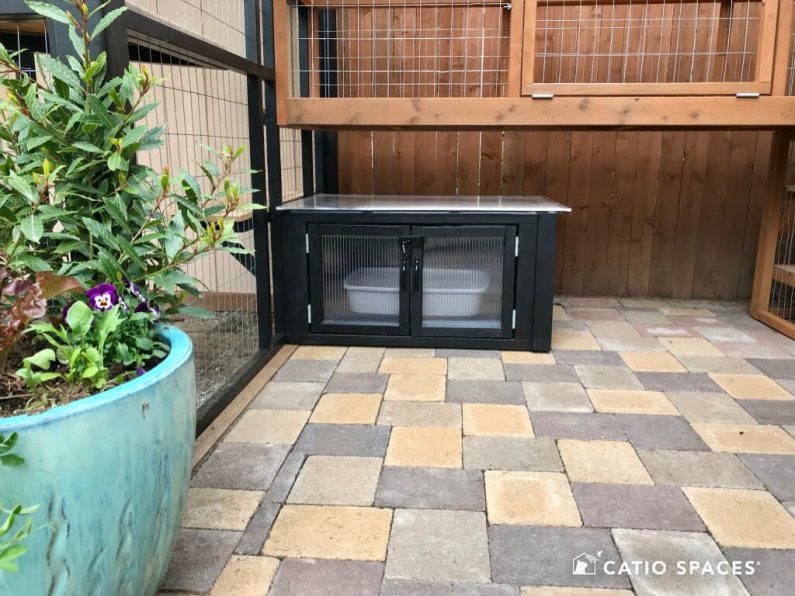 6. Keep, remove, or transform your covered catio litter boxes for the winter.
If you have a catio litter box for your cat's outdoor convenience, you'll need to decide if you will be dedicated enough to keep it clean during chilly weather or if your cat will want to use it. If continuing with outdoor litter box duties, make sure it's in a sheltered section of the catio and set a reminder on your smartphone to scoop it daily. A winter litter box can quickly become a large frozen brick if it's neglected for even a short time in freezing temperatures.
If your cat refuses to use their catio litter box in winter, and you have a covered litter box structure like our multifunctional DIY Catio Litter Box or Litter Box Bench, you could temporarily transform it into a protected nook for your cat to shelter in until warmer weather.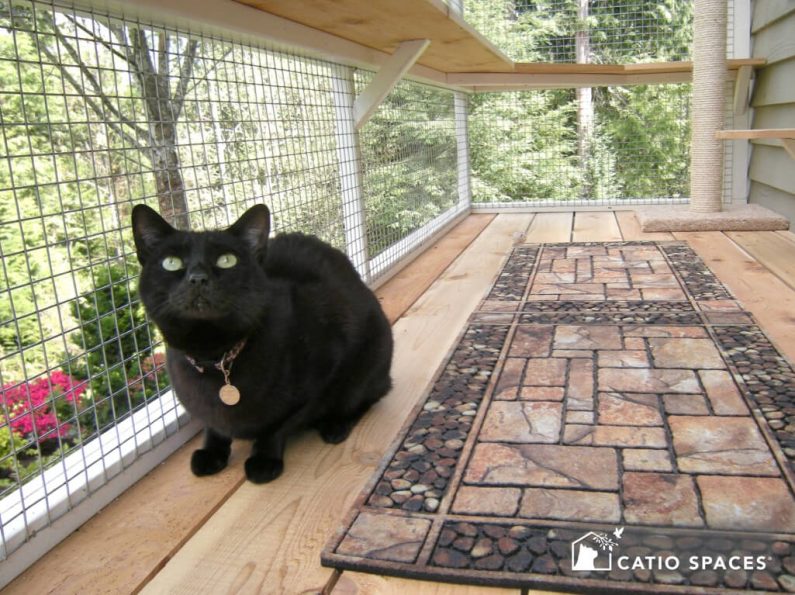 7. Encourage your cat's curiosity with winter birdwatching.
You'll find that your cat will venture out into their catio more often to enjoy fresh winter air if they see the flutter of birds to fascinate them. Prepare for winter bird care by giving feeders and birdbaths some special attention.
• Give bird feeders a fall scrubbing and set a monthly cleaning schedule to protect songbirds from disease.
• Take care of your birdbath. Clean birdbaths with nine parts water and one part vinegar. In snow country, you may want to cover or store your bird bath, or you can add an electric de-icer to keep drinking water available for birds all winter long.
• Add a suet feeder. Hang high-calorie suet in a mesh onion bag or a cage feeder, or you can even pack suet into pine cones and hang them in shrubs and trees.
Looking for more winter bird tips? Visit our Guide to Winter Bird Feeders.
8. Decorate and enjoy!
With the holidays on the horizon, now is the perfect time to change up your catio and garden décor to celebrate the fall and winter seasons.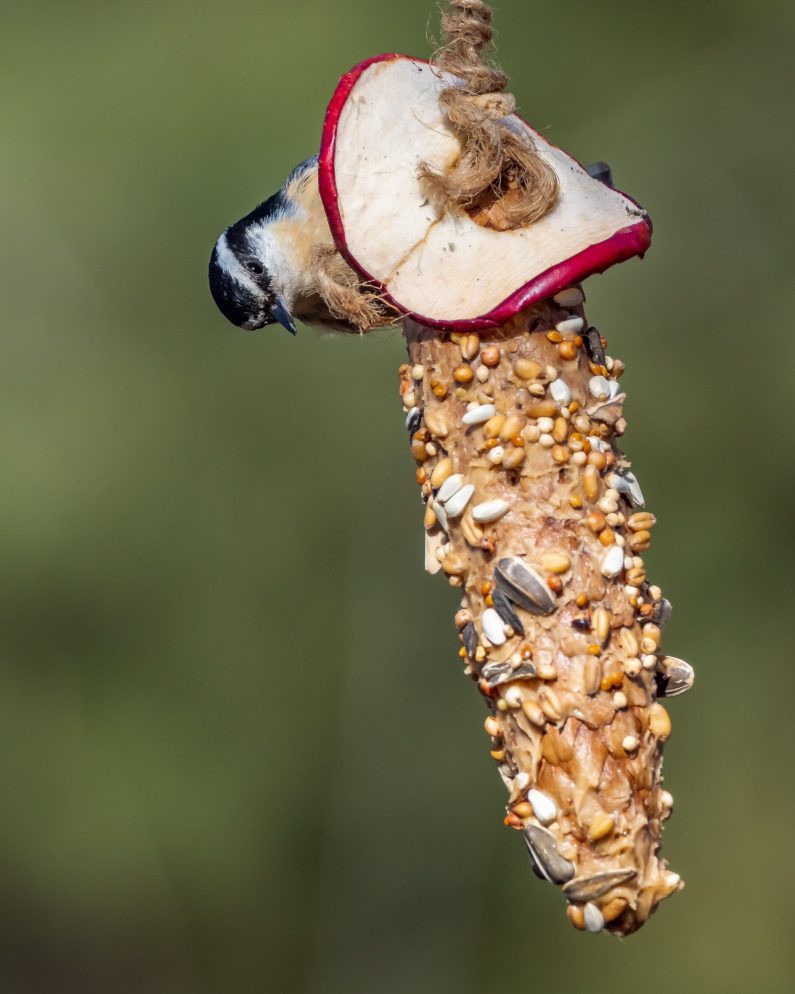 • Wreaths made with faux or non-toxic greenery are perfect for the season. If you're adding fresh greens or real berries, double-check the ASPCA toxic plant database.
• A wind chime dancing in the breeze adds music to the winter stillness.
• A holiday doormat or garden flag creates a cheery welcome.
• A garden Christmas tree outside the catio will bring an extra flurry of birds and color. Craft edible ornaments from suet rolled in birdseed and peanut butter, hang dried sunflower heads, sprays of millet, and add strings of fruit like cut apples and cranberries. Your cat will love watching the birds foraging through the edible gifts.
If you're looking for even more ideas, check out our blog on cat-friendly décor for your catio to enjoy all year long.
With just a little extra attention and seasonal preparation, life is good in a catio – winter, spring, summer, and fall!
LEARN MORE ABOUT DIY PLANS for Catios, Tunnels and Litter Boxes >>