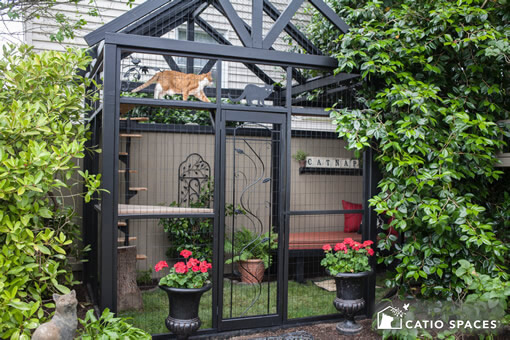 Serving the Greater Seattle Area
A Catio as Special as Your Cat!
At Catio Spaces we value the role cats play in our lives. Our goal is to keep your cat safe and happy in a catio, an outdoor cat enclosure, that complements your home and suits your feline's fancy!
For simple to sublime, we design and build custom catios for a variety of outdoor spaces including a window, patio, deck or yard. Experienced in working on a variety of home improvement projects, we're known for our positive energy and creative solutions for our 2-legged and 4-legged clients.
Beginning with our initial meeting to the moment your cat steps into your custom catio, we'll work with you to create an outdoor space both you and your cat can enjoy. Interested in a Custom Catio?
4 STEPS TO YOUR CUSTOM CATIO
(serving the greater Seattle area)
1. Initial Contact
Once you've contacted us, you'll receive an email with information on our design/build services and how to prepare to maximize a catio consultation. We'll then schedule a complimentary consultation at your home. (Note: If you belong to a HOA (Homeowners Association) approval will need to be obtained prior to a consultation.)
2. Site Visit
The process starts by meeting you (we love cat people!) and of course, your cats, to learn their personalities and any special needs. We'll review potential catio locations, cat access and discuss design ideas. We'll also show you samples of wood, wire and roofing materials. Our goal is to get a clear understanding of your catio project.
3. Estimate
After our on-site consultation, we will provide an estimated cost of your catio within approximately 7 days. Once you give us a "paws up" for the project, a 50% deposit is due upon signing a purchase order and the balance is due the day the catio is completed.
4. Construction
Once the estimate is approved, we'll schedule the build date(s), order materials and deliver materials (typically 1 day in advance of the catio build). Our carpentry crew will then be onsite to build a custom catio for you and your fur family to enjoy!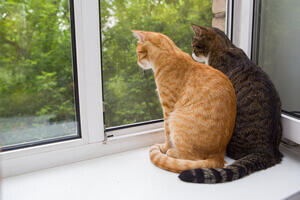 Warning:
We've had several window watching fur clients take on the role of "construction supervisor" and tell us to hurry up!
Get in touch
We look forward to meeting you and your fur family!
Meet some happy Catio cats!
See our before and after catio transformations!