The Window Box™ Catio Plans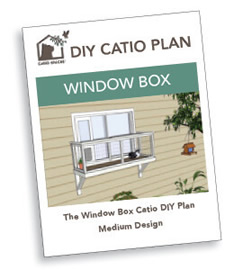 The WINDOW BOX DIY Catio Plan by Catio Spaces is a 3-sided catio that provides fresh air and a bird's eye view for your cat to safely enjoy the enrichment of the outdoors. Designed to complement your home, the Window Box catio can be painted or left natural. The Window Box is ideal for sash or slider windows with angle support braces and a polycarbonate or wire mesh roof option. (The Window Box catio can also be mounted completely under the window sill with cat access through a wall mounted cat door). Plans are a PDF download (materials not included). Includes a tool and material list, step-by-step instructions and diagrams for a successful project. 
Prior to ordering, download our "HOW TO MEASURE" pdf to assist you in selecting the ideal size for your window.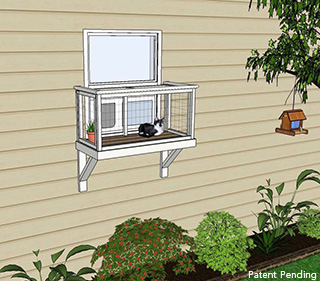 Small

(30″- 50″ wide)


Window Box™
PDF Download
(materials not included)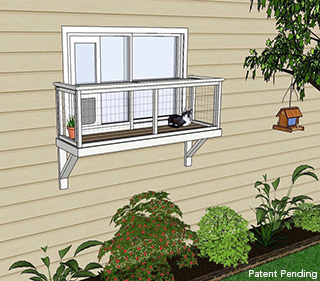 Medium

(54″- 74″ wide)


Window Box™
PDF Download
(materials not included)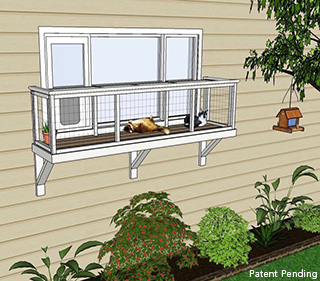 Large

(78″- 98″ wide)


Window Box™
PDF Download
(materials not included)
10% of purchases through our affiliate program are donated to animal welfare organizations.
DIY Catio Plans are a PDF Download.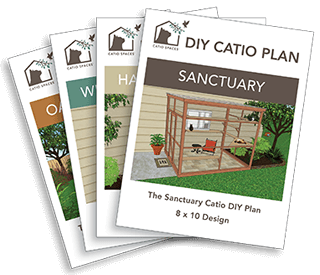 You don't need to be an experienced carpenter!
Each DIY catio plan is easy to follow and rewarding to build…
or hire a carpenter to build the catio plan for you.
SAVE TIME & MONEY by taking the guesswork out of building a catio with our award winning DIY Catio Plans!
"I just finished building the window box catio and within 10 minutes my cat Dagny was out there enjoying some fresh air! I used the wire mesh roof option and added a plant and a small covered shelter inside for her. Thanks so much for the great do-it-yourself plans!"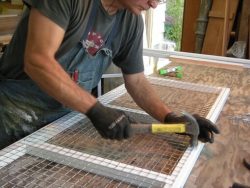 WHATS INCLUDED:
All catio plans are designed for the average person to make the process easy-to follow and rewarding to build.
Step-by-step instructions including diagrams.
Material list 

(materials are available from your local home improvement or lumber store)

Tool list
Catios are designed as panels for ease of assembly (or removal if you move in the future.)
Wood framing can be left natural or painted to complement your home.
Roof rafters accommodate a wire mesh roof or a clear, polycarbonate weatherproof roof for year-round enjoyment.
Door placement options for either end of the catio. (Cat access is through a cat door installed in the window or wall depending on the mounting location for the window box™. See "Mounting Locations" below).
Cedar floor maximizes horizontal space for your cat's enjoyment!
| WINDOW BOX DIMENSIONS | Small | Medium | Large |
| --- | --- | --- | --- |
| Height: | 27″ high | 27″ high | 27″ high |
| Depth: | 23″ deep | 23″ deep | 23″ deep |
| Length (varies): | 30″ – 50″ long | 54″ – 74″ long | 78″ – 98″ long |
Depending on where you mount your Window Box catio (flush or below your window sill), a variety of cat doors for windows or walls can be purchased online or from a local pet store. See mounting options below.
PLUS BONUS information including:
Tips for acclimating your cat to a cat door and new catio space.
Tips for cat safe plants, enrichment, decorating and more!
You'll receive a pdf download of your catio plan so you can get started right away! Want us to design your dream catio?
If you live in the Greater Seattle area we can design + build your catio for you.