10 TIPS FOR DECORATING YOUR CATIO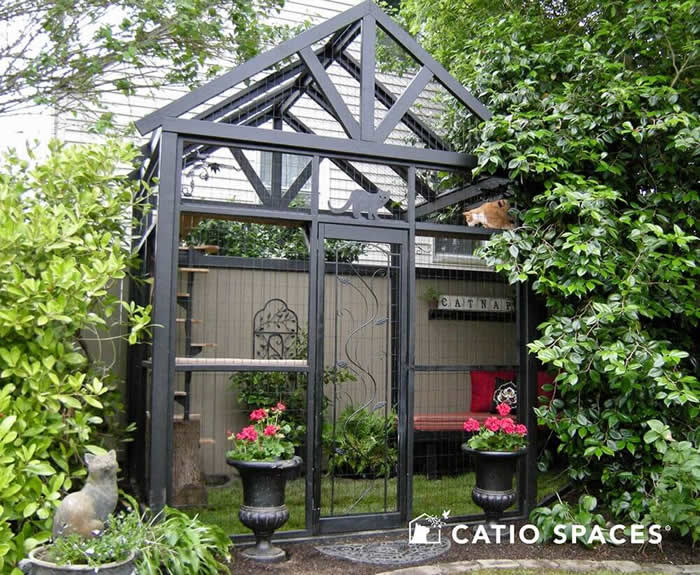 A catio is so much more than just an outdoor feline safety zone.
As catio designer and founder of Catio Spaces, I've been inspired to take cat lovers beyond the typical "cat enclosure" and see their new catio as an architectural element that adds visual, emotional, and sensory enrichment and decor for enjoying the catio lifestyle.
Catio Spaces has curated products for the catio lifestyle included in this article. We participate in the Amazon Services' affiliate program and earn advertising fees by linking to Amazon.com.
From a compact window box catio with a birds-eye view of nature to the spacious Oasis, these graceful structures are a beautiful enhancement to your house and yard. Whether you build one of our DIY Catio plans or hire a local carpenter to build the plan for you, there are endless ways to customize a catio to suit your style and feline's fancy.
If you're catio dreaming or seeking to enhance the enclosure you already have, decorating is one of the many joys of having a catio. Cat-safe plants, comfortable seating, colorful cushions, and even artwork can create a destination garden room – a protected sanctuary for both you and your cat.
Here are some helpful decorating tips to create your own catio haven:
1. Color your catio to complement your home and garden.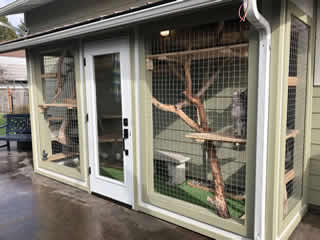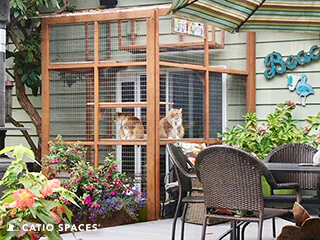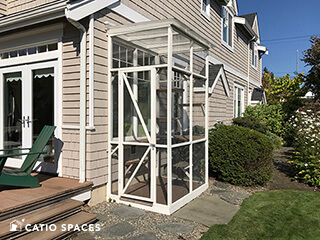 For a natural look, you might prefer to leave your catio unpainted or use a sealer if it is constructed of weather-resistant cedar or fir. For visual interest and a pop of color, consider staining or painting the wood to match your house color, window trim, or choose contrasting or complementary hues for a seamless catio extension of your home.
Complementary colors are opposite on the color wheel – for example, blue and orange – and provide bright, cheerful energy to a catio.
Accented neutrals, such as blue, gray, or taupe with a white painted catio, are crisp and pleasing to the eye, often resembling a "sunroom" space.
Choosing a monochromatic color that is just a few shades lighter or darker than your house color creates a more subtle and calming contrast.
Contrasting values (a mix of dark and light colors) create a dramatic look. For a darker house, a white catio can make the house color appear more vibrant. For a lighter house color, consider a darker color for the catio, such as black or charcoal, for contrast.
Earth tones, like brown and green, help your catio blend in with the natural surroundings.
For an eye-catching focal point, paint your catio a bold color or add colorful decorative elements or a striped awning to the exterior.
Painting Tip:

Apply a coat of exterior primer to the wood and let it completely dry before applying two coats of the paint color.
2. Choose a theme to express your passion and style.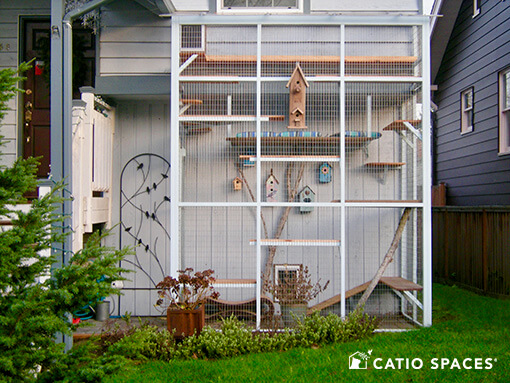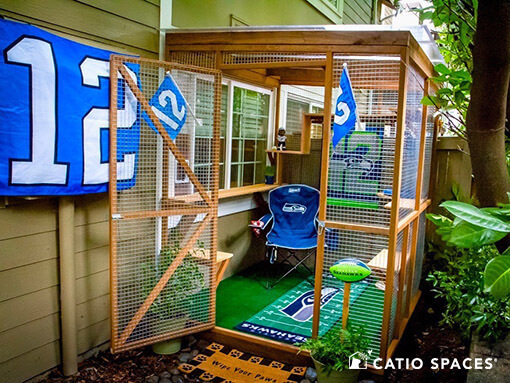 Whether you are a bird lover, an avid sports fan, or have a fantastic green thumb, your catio can bring your passion to life. Consider pulling the décor in your catio together with a single theme. For inspiration, visit these 7 fantastic cat playgrounds, each with their own unique style.
3. Blur the indoor/outdoor boundary with plants and branches.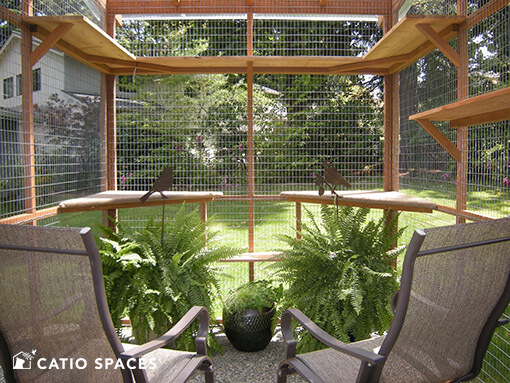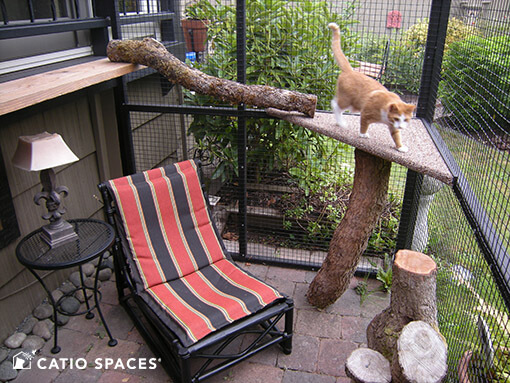 While some plants are dangerous for cats to nibble, there are safe flower and foliage options that add beauty and calm to your catio. Our guide to cat-safe plants will get you started as well as these natural choices:
A hanging Boston Fern or plants in pots inside your catio will provide a touch of nature.
Your cat will love grazing on edibles like catnip and sweet oat grass.
Planters filled with impatiens or creeping zinnias add a touch of color to the catio.
Large pottery containers outside the entrance to a catio make a strong classical statement.
Add branches and tree stumps for your cat to enjoy vertical and horizontal movement inside the catio.
4. Outdoor furniture is purr-fect for cat naps and relaxing.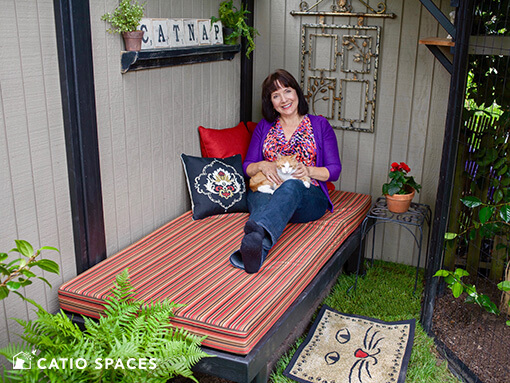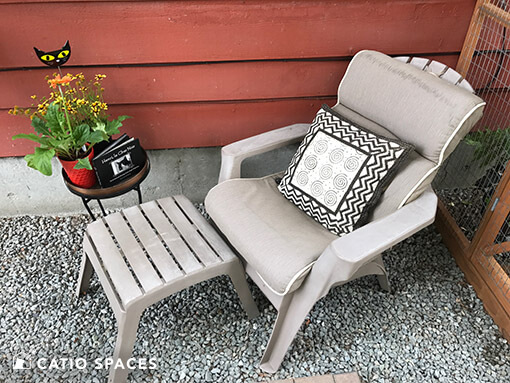 While your cat has resting perches and shelves built into our spacious catio designs, you'll need a comfy place to relax as well. Add a lounge for napping, a chair for reading or bird-watching, and a small table or ottoman to place your book or coffee mug. Metal chairs of aluminum and wrought-iron come in countless styles to fit your fancy. Wicker adds a summery tropical feel and is available in relatively scratch-proof resin rattan.
5. Add kitty comforts and enrichment to your catio.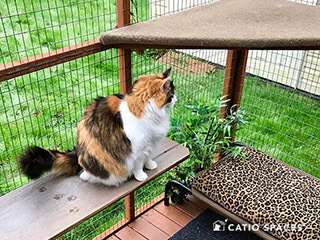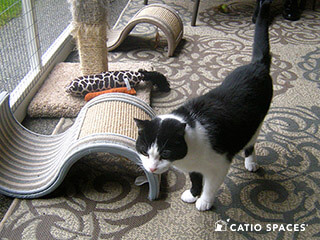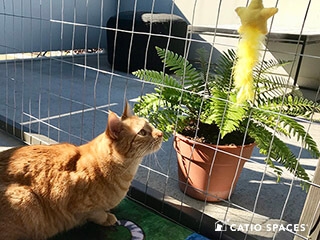 6. Create a shady spot for your cat.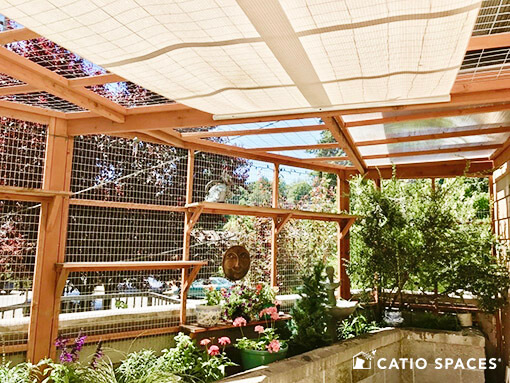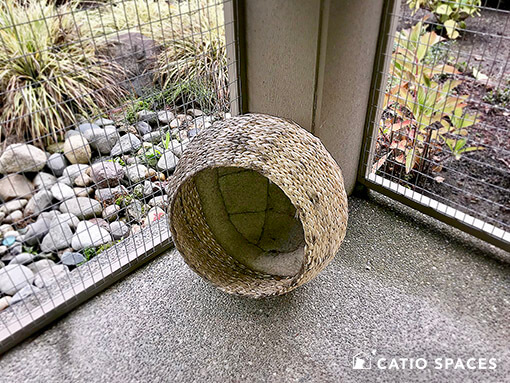 Cats love the sun; however, they also need protection to avoid overheating. An attractive but practical awning, shade cloth, or an outdoor blind secured to the rafters over a section of the catio will provide shade on a sunny day. Other options include a bench for your cat to lay under or a dome cat bed to provide a cozy resting space in the shade.
7. Add a kitty comfort litter box to your catio.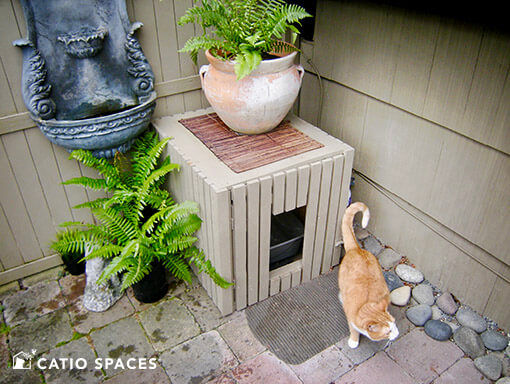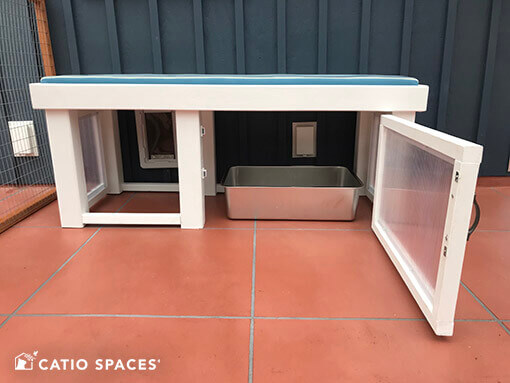 An outdoor litter box can help reduce indoor odor in multi-cat households. A
litter box
can be placed inside the catio or built as an extension of the catio with access from the exterior. Be sure to keep a litter box indoors, so your cat has options. And who knew that furniture-like litterbox enclosures could be so chic – and weather-resistant, too? Some litterboxes even double as faux foliage, fitting into your garden theme.
8. Decorate with outdoor rugs, seat cushions, and pillows.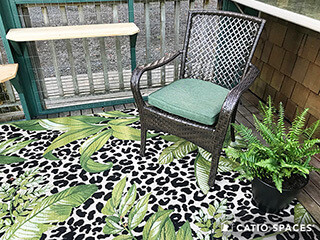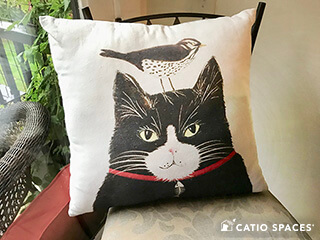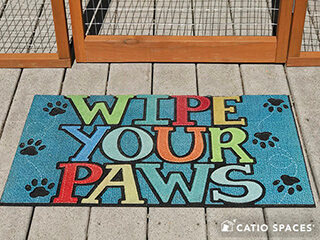 Create an outdoor haven for your enjoyment, too, with these decorating ideas:
An outdoor rug magically creates a "room" out of a patio or deck floor. A small mat or rug can even make the most compact catio into a home-like space.
Throw pillows soften the look of patio furniture with den-like comfort.
Create a coordinated decor scheme with complementary colors or patterns.
Or…explore your whimsical side with cat-printed pillow covers and welcome mats that make you and your guests smile!
9. Get a little artsy with outdoor décor.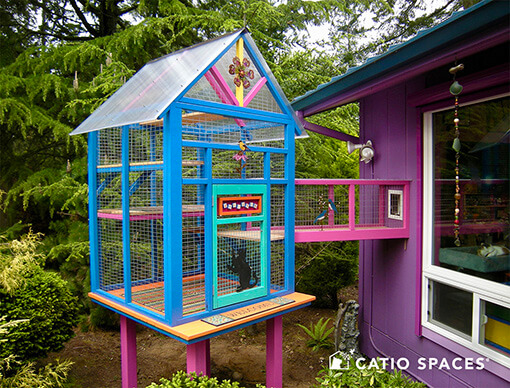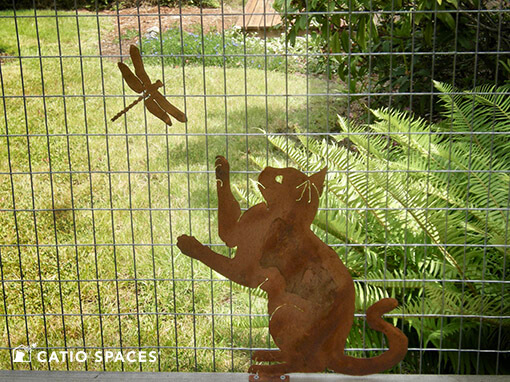 Go ahead and embellish your catio with artwork that will tolerate outdoor weathering. You can even create a garden art catio like this one-of-a kind catio. Add your favorite flea-market find, or shop for new garden elements:
10. Attract birds to your garden…. the best cat TV!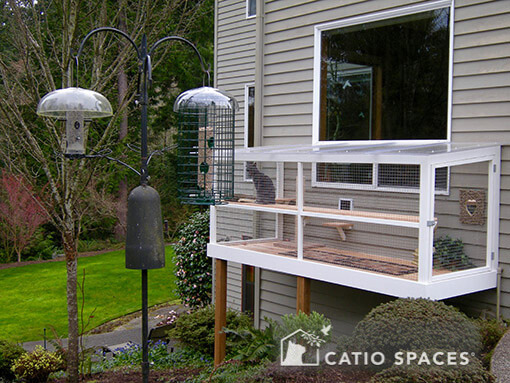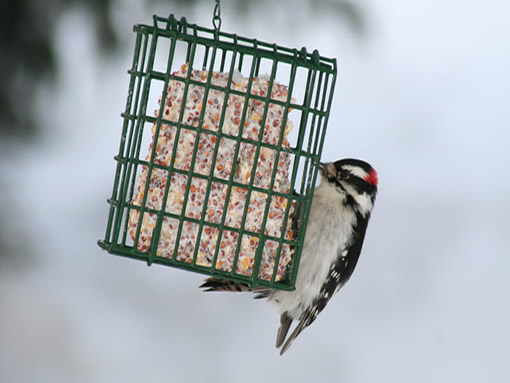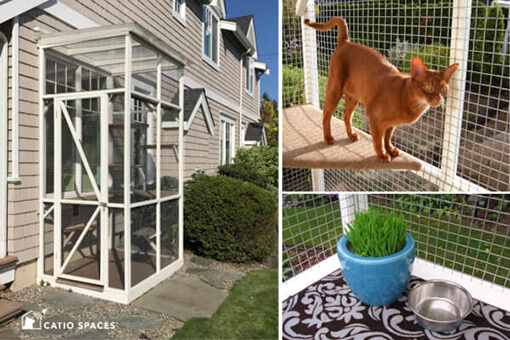 Catio Décor Dos and Don'ts
DO consider adding a water bowl or fountain to keep your cat hydrated.
DON'T put cat food out in the catio to tempt wildlife and insects.
DO use non-breakable acrylic, stainless or melamine dishes. Pick out a few colorful pieces for your outdoor dining, to match or enhance your catio décor!
DON'T bring breakables into the catio. Accidents can leave tiny glass shards that are difficult to sweep up from between boards or pavers.
DO include a scratching post or scratch mat so your little wildcat can exercise those stretching and scratching impulses in their very own catio, rather than testing your indoor furnishings.
DON'T include small or fragile decorations that could be a chewing or choking hazard. String lights are lovely, but those little glass bulbs and thin wires are best strung outside the catio.
DO add a cat door to provide your cat easy access from your home into the safety of a catio.
DO fall in love with your catio and spend countless hours of bonding time and relaxation with your cat!
Are you Ready to Build a Catio?  Choose Your Catio Plan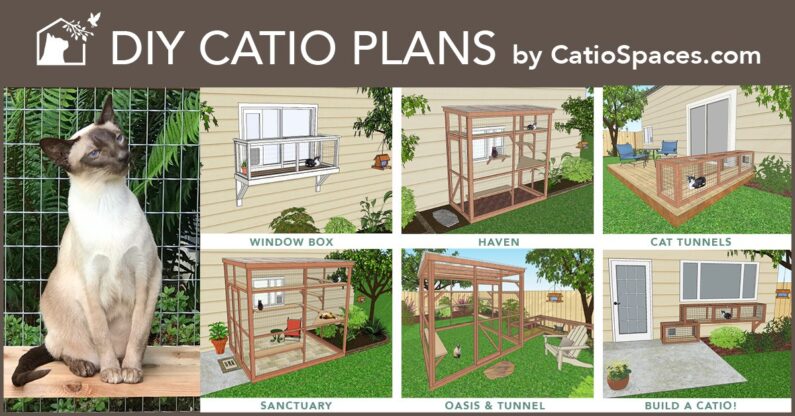 DIY Catio Plans by Catio Spaces are available in sizes both small and large, in a variety of designs to complement your home and yard. Our award-winning plans include a material and tool list, step-by-step instructions, and diagrams for a project that you can build yourself or with the help of a local carpenter. Once your catio is constructed, your decorating journey can begin!
Every home and homeowner – and therefore every catio — is unique. Use this decorating guide as inspiration to create your very own welcoming space where cats, people, and wildlife can live together safely and beautifully.
It's easy to see why life is good in a catio!