Troubled by the indoor/outdoor dilemma of keeping your cats safe while providing them with environmental enrichment? Outdoor cat playgrounds are all the rage! In fact, Today.com reports that Pinterest searches for "outdoor cat playgrounds" are up 512% "as people are searching for ways to create custom structures for their cats to claw and climb." And I love it! What a wonderful trend that helps cats and people enjoy the outdoors together in harmony!
In celebration of this growing fascination with catios, I'm spotlighting 7 of my favorite outdoor cat playgrounds, from royal cat castles and houseboats to birdhouse-themed playgrounds and more! Check them all out below.
1. Seahawks Sports Fan Meets Outdoor Cat Playground
Outdoor cat spaces are great for humans too! Meet a Seahawks superfan who wanted all things Hawks for his catio decor. "Game day lap cat" Lord Purrcival, Lady Penelope and their cat dad enjoy hanging out in their catio that also doubles as a "man cave."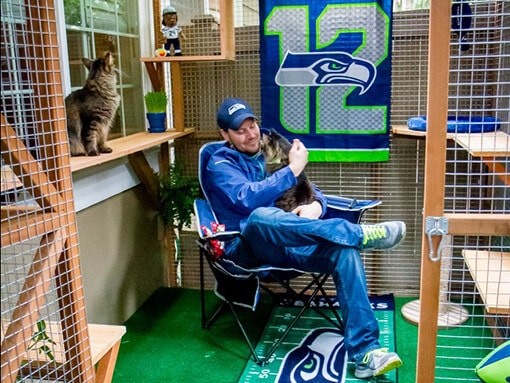 The lucky felines have access to their purrsonal sports arena from a cat door that was installed in an existing window. There's also a human door for dad to use. See more of the Hawks details we included to proclaim their fandom far and wide.
2. Penne's Outdoor Cat Playground: A Purrect Palace!
Princess Penne has full reign of her custom-designed cat palace. I had a lot of fun transforming this simple garden shed into a safe outdoor cat playground for Her Royal Highness.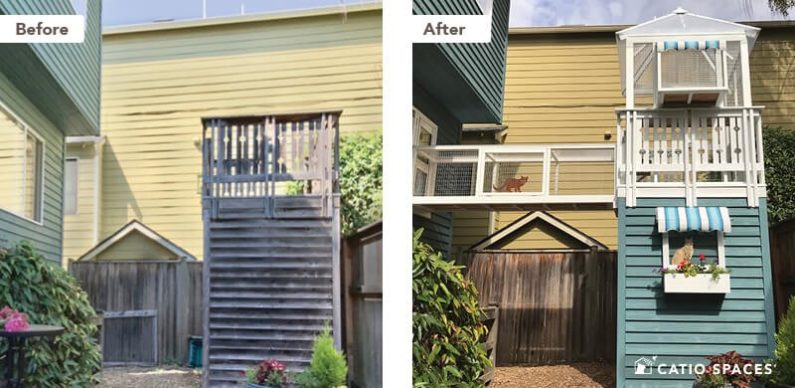 A catwalk tunnel connects the house to Penne's catio. With a cat door insert added to the family room window, Penne can travel to and from her palace to the great outdoors at her leisure. Learn more about Penne's unique palace.
3. A Colorful Playground for Curious Cats
This colorful, multi-cat menagerie was pure joy to design and build! Cat parent Daphne wanted to create more space for her four rescues Calliope, Foxy, Ghost and Emmett to enjoy. Daphne is a lover of nature and bright colors, so my team and I turned her yard into the ultimate outdoor playground for her kitty adventures.

Their play park consists of four catios in both the front and back yard. One hundred fifty feet of catwalk tunnels connect them all! The cats can enter this fun space from three different cat doors. There are also multiple human doors so Daphne can get in on the fun with her cat clan.
4. A Serene and Stimulating Outdoor Cat Playground
My tabby Serena enjoys multiple places to exercise, birdwatch and enjoy a good afternoon catnap. With great perching heights, an outdoor litter box and a catwalk that leads to her Sanctuary Catio, Serena has plenty of space to explore and enjoy. She can access her outdoor space anytime through her own wall-mounted cat door.
Serena also has a Window Box Catio she can enter through a window cat door for the best birdwatching spot in the house overlooking a courtyard. Check out the views Serena has in her garden getaways.
5. A Wild Outdoor Playground for an Adventurous Bengal
There's plenty of expansive vertical space in this outdoor playground for Max the Bengal to adventure in. Max is an energetic cat who absolutely loves embracing his natural wild side.
With sprawling branches and climbing shelves, handsome Max has a great time in his garden catio and catwalk bridge. The natural terrain and cat-safe plants add an extra fun dimension to his space!
6. A Houseboat Becomes a Outdoor Cat Haven
Rosemary and Boots are two special needs cats with a rare congenital condition called Cerebellar Hypoplasia (CH). Non-painful and non-progressive, CH causes unique mobility challenges for cats. It was a joy creating an outdoor playground for these two special cats on their houseboat!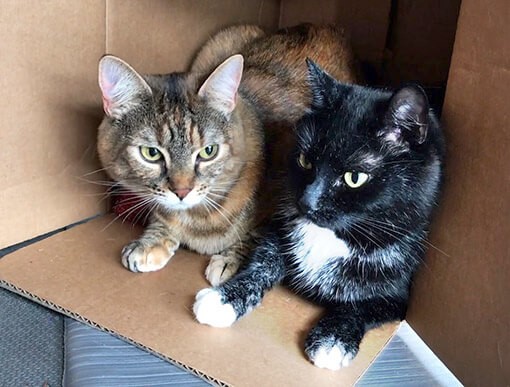 The houseboat catio was designed with soft spots to land on, easy-grip flooring to give them a stable foothold, railings to guide them and other individualized safety features so they can enjoy the outdoors regardless of their mobility challenges. They even have a lookout that provides a fantastic view of water activities and passersby.
Watch Rosemary and Boots enjoy this amazing space and learn more about CH.
8. A Birdhouse-Themed Catio for the Love of Feather and Fur
Located in an urban area, this wonderful birdhouse-themed outdoor cat playground is the purrfect place for exercise, mental stimulation, bird watching and fresh air for five lucky felines.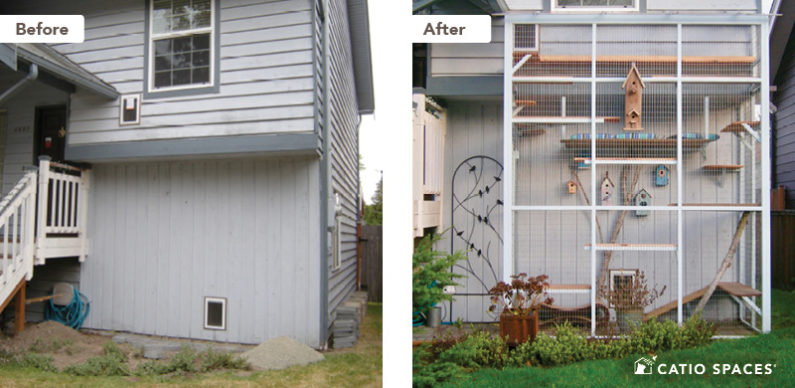 The cats enter their space from one of two wall-mounted cat doors. One opens to the lower level and the other opens to the upper shelves. With fantastic vertical space and plenty of perches to watch the world go by, these cats are living the good life in their urban outdoor space.
From simple to the luxurious, catios make the purrfect outdoor cat playgrounds for any home and any size cat family. They provide enrichment, stimulation and exercise for your kitty and peace of mind for you knowing your precious cat is always safe.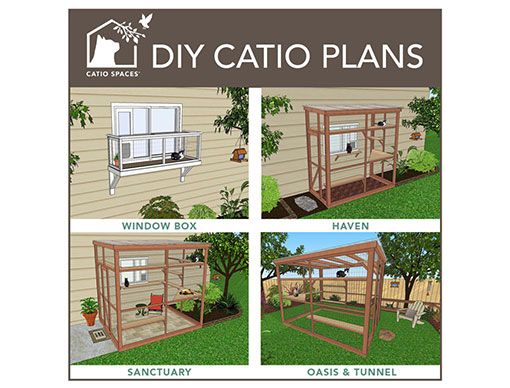 Ready to get started? Download one of our many DIY plans that will guide you through the process of making your very own outdoor cat playground. And best of all – you can decorate them to suit your style and your feline's fancy!
Life is good in a catio!
---