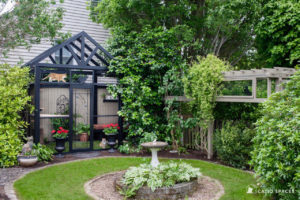 You might already know about all the benefits of catios for your cat, but did you know catios can be customized to enhance both the aesthetic and functional enjoyment of your outdoor living spaces too? Catios and cat enclosure design is a breakout trend, increasing dramatically each year, in big part because it provides a safe way for cats to enjoy the outdoors while being customizable to each cat parent's preferences.
Catios can and should be designed with your human family in mind as well as your felines, so I've collected five of my favorite catios gone wild to help inspire everyone to bring personal style and flair to your cat's catio.
I hope you love these unique designs as much as I loved designing them—
1. Colorful Catio Menagerie
My client loves bright colors and wanted several catios that would serve as an outdoor playground for her four cats and an extension of the home for her enjoyment too. Our team created a fun and colorful complex featuring four catios and seventy feet of cat tunnels. This allows the cats can frolick and follow the sun from the backyard all the way to the front yard. Designed to complement the home and landscaping, this menagerie is pure garden art.
View behind-the-scenes footage of building the catios and meet the lucky cats who get to enjoy the outdoor spaces.
2. Seahawks Sports Fan Catio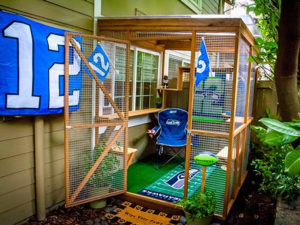 In all their Seahawks glory, cat parent Matt and his two feline football fans, Lord Purrcival and Penelope, reached out to Catio Spaces to create the ultimate game day spot. Matt wanted a backyard catio and "man cave" suitable for human and cat fans alike.
From floor to ceiling, I worked to bring this family's dream catio to life including a Seahawks game chair, football field rug, flags and a NFL bobblehead figurine of Matt's favorite player, Marshawn Lynch. Various other cat-friendly accessories were added including shelves, perches and a football cat toy. Check out more photos on our Catimonials page.
3. Catnap & Garden Getaway Catios
Catio Spaces began in my own backyard when I transformed my patio into a catio to keep my adopted tabby, Serena, safe while enjoying nature. One catio led to another – she now has four catios and serves as my "quality assurance" expert. My favorite shared space is the catnap catio that I designed as a garden retreat and a place to unplug from the world. Our catio features a 6' daybed, pillows, a spiral cat staircase, walking shelves as well as cat-friendly catio plants. The 13' x 7' x 10' catio has plenty of vertical space and is absolutely purrfect for us. Catnaps and fresh air are good for humans too!
4. The Birdhouse Catio
With wire mesh to keep birds out and cats safe inside, this birdhouse-themed catio was inspired by a love for both feather and fur. Designed for 5 cats, this urban catio features 2 wall-mounted cat doors (upper and lower levels), lots of vertical space, a stone paver floor, shelves, perches for lounging, and of course, bird watching. A great conversation piece for the benefit of keeping both cats and birds safe while enjoying the outdoors.
5. Bengal Catio, Gone Wild
This nature-themed catio is for Max, a dominant male Bengal in a family of three cats who decided that the family's existing catio was his and his alone. Our client approached us to design a second catio for Max to explore and "own," keeping his smart and active Bengal-mind and body busy. We created a spacious cat run, connected by a bridge from the main catio so Max could have expanded territory and a taste of the wild. The catio features a strong nature theme, with climbable, real tree branches and cat-friendly plants carpeting the floor.
________________
Interested in working with me to create the catio of your and your cat's dreams? I'd love to hear from you!
Or, feel like DIYing your own catio dream? Check out our free catio tips and affordable catio plans available in various sizes and styles for a window, deck, patio, garden or yard.
The downloadable DIY plans are designed for ease of assembly and to complement a home's design and aesthetics. The catios can be natural or painted, and decorated. Each plan has easy-to-follow instructions, a materials list, tool list and illustrations to eliminate the guesswork of building one. Bonus information includes guidelines to acclimate a cat to a cat door and new space, plus tips for cat-safe plants, décor, and accessories to promote cavorting, exercise and enrichment. Build one yourself…or hire a local carpenter to build the plan for you. Plans start at $39.95 and Catio Spaces donates 10 percent of each sale to animal welfare organizations.

Catios are much more than a safe outdoor enclosure to solve the indoor/outdoor dilemma faced by many cat parents. They can be a source of stimulation and enrichment for our beloved cats to enjoy longer, healthier and happier lives. Whether choosing a compact window-box catio or a larger, more elaborate custom structure, there is no limit to the fun factor for those who want a catio to suit their style and feline's fancy!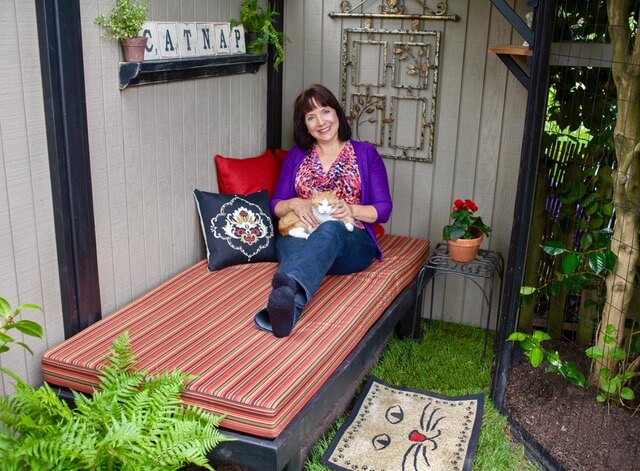 Life is good in a catio!