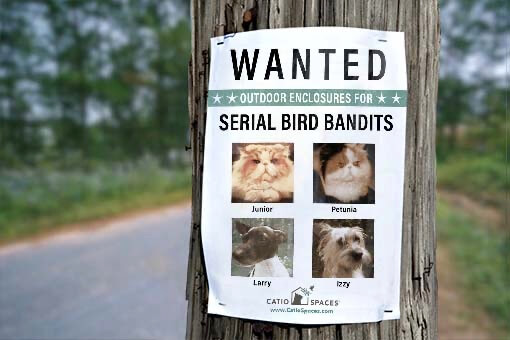 One of the many joys of the outdoors is the sweet sound of chirping birds and fluttering wings. As a nature lover and founder of Catio Spaces, my mission is to help protect cats, birds, and wildlife. Over the years of designing and building catios, I have met so many cat parents who not only seek a solution to the indoor/outdoor dilemma but share a desire to protect birds in their backyard. For cat parents, there's nothing pleasant about receiving a lifeless or injured winged "gift" on their doorstep. This is doubly distressful, as we know every bird our cat instinctively robs from our yards can also impact global bird populations. So how do we save our cats from becoming bird bandits and steer them away from a life of committing a conservation crime?
May is the ideal month to acknowledge your cat's natural hunting instincts and add bird-safe enrichment to their lives. World Migratory Bird Day celebrates birds across the globe on the 8th, and Bird Day (May 4) is dedicated to bird and nature study in American schools. I'm honoring these celebratory days by sharing safe and imaginative ways we can allow our beloved cats to enjoy birdwatching (the best cat TV!), and how to share the care and conservation of birds and their vital habitat with a new generation of cat guardians.
BIRD BANDITS GET A CATIO
One of my clients, a cat and bird-lover, lives in a rural and forested area outside of Seattle. Life was idyllic until his sweet indoor/outdoor Persians, Junior and Petunia, turned into serial bird bandits reducing the bird population on his property. The felines' high-energy canine cohorts, Larry and Izzy, were joining their hunting expeditions, adding to the stressful situation. Plus, they were at risk with coyotes in the area.
The solution? A combination "catio-doggio" to keep his fur kids safe and protect precious birds and wildlife.


The catio was designed to complement the industrial-style home and features grass, tree stumps, and lots of vertical space, including cedar shelves and a hanging perch (Junior's favorite hangout). The 26-foot by 4-foot wood-framed catio wraps around the back and side of the house with escape-proof 1"x1" grid wire and a transparent, polycarbonate roof for year-round enjoyment.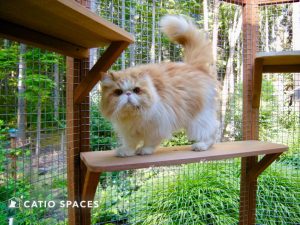 The result?
The catio provides peace of mind for my client and stimulating views for the former bird bandits to enjoy bird watching behind wire mesh walls.
Local birds have been spotted praising the responsible and compassionate pet owner with song and aerial flight. (And the four-legged fur kids love their catio haven!)
Junior and Petunia may have sweet Persian faces, but the genetics they've inherited from their wild ancestors remain largely unchanged. By granting them their own catio, they can exercise all of their senses outdoors while their wildlife neighbors safely enjoy the shelter and bounty of the home's natural surroundings.
Where it may be possible to find common ground between birding advocates, cat groups, and owners is with the use of catios. Catios are outdoor structures that allow cats to experience the outdoors but limits their access – keeping both themselves and wildlife safe. Catios are a wonderful compromise.
-Jen Wallace, Organic Authority
5 TIPS TO SAFELY STIMULATE YOUR CAT'S SENSES WITH THE JOY OF BIRDS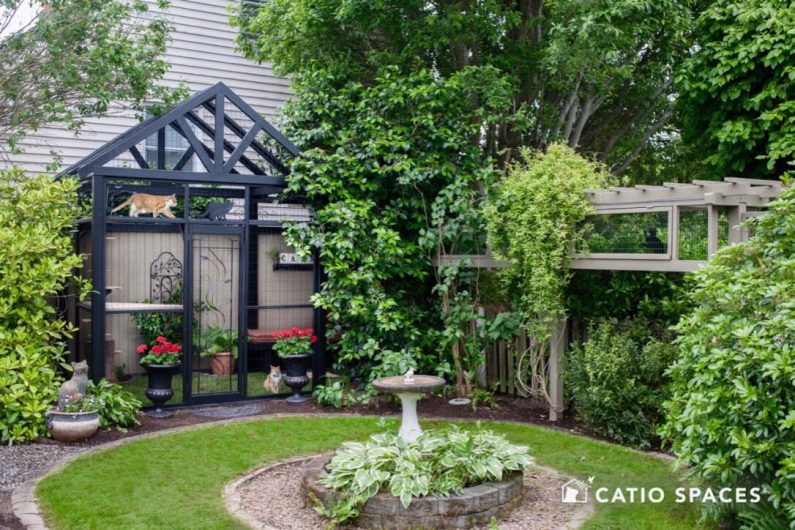 1. A catio, of course, is tip number one for your cat's birdwatching enjoyment. A catio isn't a jail for your bird bandit. It's a spacious haven that allows cats to experience the natural sights and sounds they are drawn to by instinct. Our tips on how to create a bird-safe garden will show you how your yard can be a shelter for birds and provide endless hours of fascination for your cat.
2. Add an indoor window ledge and your cat can even enjoy nature-watching while snuggling indoors during inclement weather. Birds are active all year long, undeterred by rain and snow. Our Catio Cat's Guide to Birdwatching has images and recordings of birds that visit your region to learn more about birds.
3. Treat your cat to short sessions of "Bird TV" for couch-time entertainment on your tablet or smart television. YouTube has a library of videos featuring the flash and whir of birds, as well as squirrels and chipmunks. You'll be fascinated by species from other regions and countries that you may have never seen before! Make sure your television is safely fastened to the wall or TV stand in case your kitty is unable to restrain a pounce!
4. Bring the music of nature inside for your cat. If you have a virtual assistant like Alexa or Google Assistant, ask it to "Play Bird and Nature Sounds" to fill your living room with the music of birdsong. Not only will it enrich your cat's indoor hours by gently filling their auditory space, nature sounds can help you feel less-stressed, too.
5. Engage your cat with a fuzzy wand toy to satisfy their natural predatory instincts with 10 minutes a day of hunting play. Play also provides another bonding moment between you and your cat. At the end of the session, immediately offer a tasty treat so your cat can celebrate a successful hunt, then safely store the toy away.
CELEBRATE BIRDS IN MAY AND ALL YEAR LONG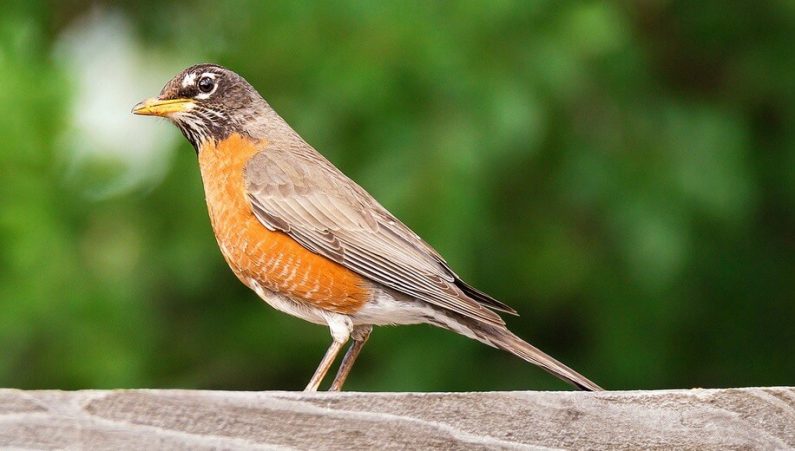 On May 8, World Migratory Bird Day, bird lovers and conservationists across the globe come together to celebrate birds in education, art, video and song. "Sing, Fly, Soar — Like a Bird!" is the 2021 theme, honoring the vast migration of hundreds of bird species as they navigate their migratory routes between North America and wintering grounds in Mexico, Central and South America, and the Caribbean.
Bird Day, May 4, was the first US bird celebration. In 1894, Charles Babcock, Superintendent of Schools in Oil City, PA, noticed the fascination that children had in nature study – in particular, the joy they experienced in the observation of birds. He published "Bird Day: How to prepare for it," to assist educators and students as they studied birds and the human-made threats they faced in the 19th century. To prevent the book from being lost to time, it was converted into digital format by volunteers and is available for free on the Gutenberg Project and on Amazon.
New challenges in bird conservation greet us in the 21st century, including the responsible guardianship of the cats who are now our cared-for companions. Here are some current resources in bird conservation you can explore and share with educators, friends, and family.
6 Free Bird Education and Conservation Resources
1. Audubon Adventures has a huge offering of teaching resources, including topics, quizzes, puzzles and posters.
2. The Bird School from the Cornell Lab of Ornithology offers education guides for K-12 and professional development for teachers and citizen scientists.
3. Project FeederWatch, also from Cornell, is a citizen science project that classes can also participate in. Stories from educators who have incorporated the program in their classroom are available online.
4. Ornithology: The Science of Birds offers an online library of educational resources.
5. The State of the Birds from the US North American Bird Conservancy Initiative (NABCI) provides information on the role that wildlife agencies play in recovering America's bird populations. Citizen scientists and upper-level students will find this valuable to their study.
6. U.S. Fish and Wildlife Service provides even more educator resources.
By sharing bird enjoyment and conservation resources with educators, cat lovers and bird enthusiasts, you will help safeguard local and migratory bird species across the world.
Of course, you can also join Catio Spaces to inspire a whole new generation of cat guardians to prevent their own beloved cat from becoming a bird bandit. Share our top 10 benefits of catios and DIY Catio Plans so everyone can learn that life is good in a catio!
HOW CAN I CREATE A CATIO FOR MY CAT?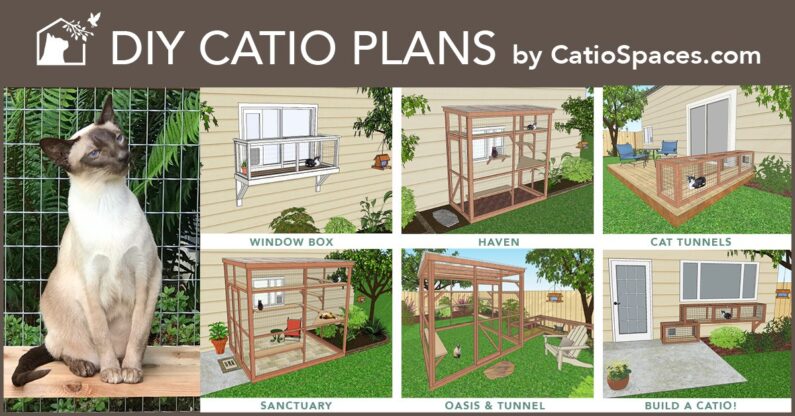 DIY Catio Plans by Catio Spaces are available in a variety of designs to complement your home and yard. Our award-winning plans include a material and tool list, step-by-step instructions, and diagrams for a successful project. Build the catio plan yourself or with the help of a local carpenter. Your cat will thank you for it!