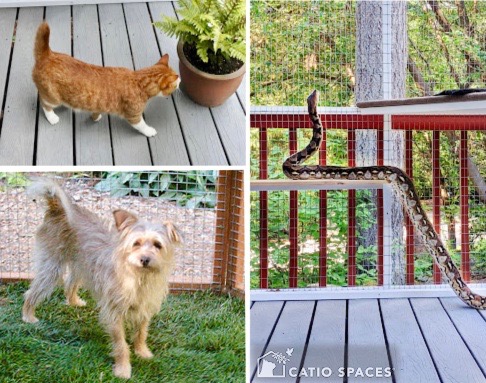 Bringing catio dreams to life by designing custom outdoor enclosures is the very best part of my Catio Spaces mission. Each build is more than a construction project – it's a story about the journey each family makes in their decision to add a catio to enhance the lives of their feline family members. And it's not always a story exclusively about cats!
All across the United States, pet parents are designing and building their outdoor enclosure with more than just felines in mind. I was recently inspired by a couple in the Seattle area to share some of my client's catio "timeshares" with different species. Other pets also can safely enjoy the enrichment and protection of a catio…but not always at the same time!
A Seattle catio opens up the outdoors to cats, dogs, and snakes
Sarah and Shaden Looff are head-over-heels in love with their two orange tabby cats, Beluga and Barnacle. They wanted the cats to enjoy the enrichment of the sights, smells, and sounds of the outdoors, without danger of harm to themselves or the environment.
The couple contacted Catio Spaces and it was a joy to convert their existing deck into a custom catio. The 14-foot long space features several perches and shelves for vertical and horizontal movement, a large, carpeted lounging area, and a clear UV-protecting polycarbonate roof so the cats can enjoy their enclosure all year round. As soon as the cat door to their new space was open, the two cats instantly made it their home.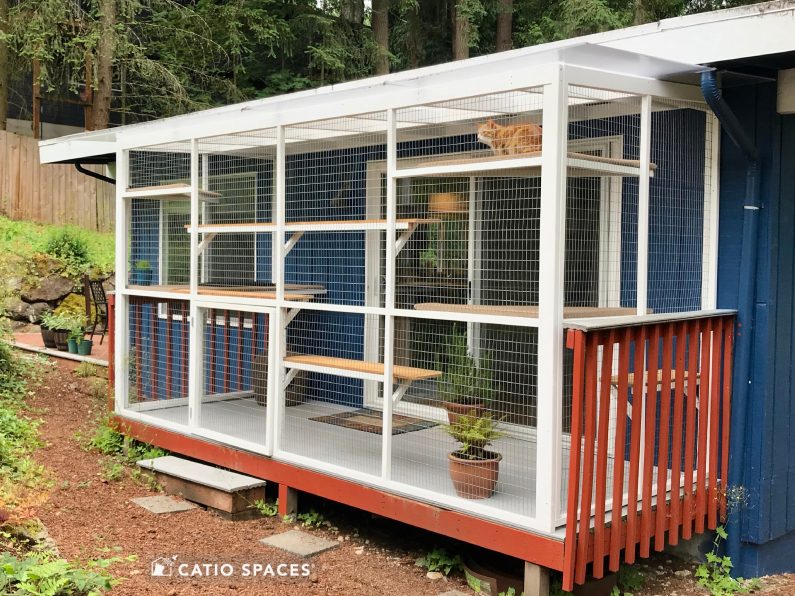 "Beluga loves being on the top perches," Sarah shares. "As soon as they wake up, both cats rush out onto the catio to investigate any new smells that appeared over the night. Barnacle has claimed the top spot on the cat tower inside. They can often be seen cuddling or intensely bird-watching side-by-side in the catio. The catio definitely helps their bond."
While their spacious catio is a purrfect feline paradise, Beluga and Barnacle aren't the only animal members of the Looff family who get to enjoy it.
Shaden always thought snakes were incredibly cool, but he was also terrified of them. As a graduate student, he decided it was time to conquer that fear. He and Sarah closely researched snake species and their needs, and they now care for three beautiful snakes:
Leviathan (Levi), an 11 foot, 20 lb. eight-year-old, dwarf reticulated Python.
Obsidian (Obi), a 2.5 foot, two year-old Argentine Boa Constrictor, and
Hannibal (Hannah), a 3 foot, six-year-old albino Nelson's Milk snake.
Their new catio now doubles as a "snakio." The snakes get their own private time to explore while the cats are snoozing safely indoors. Levi especially enjoys his new outdoor space. "Levi is getting more adventurous exploring the catio. He loves climbing between the different perches, and getting to stretch out," Sarah says. "Snakes are particularly good at picking up new scents." They use a pair of organs at the back of their mouth called the Jacobson's organ. Levi's catio adventures allow him to taste-smell new things every day.
Sarah explained that Levi had a rough past. "We had to give him antibiotic injections every three days for four months when we took him in. But now he's very healthy! He's a very curious and active snake, and the catio is a fantastic excursion for him."
The Looff's passion for animals doesn't stop there. In addition to their feline and reptile family members, Sarah and Shaden also open their home to foster dogs.
Sarah works as an animal caretaker with Emerald City Pet Rescue in Seattle WA. She and Shaden are currently fostering Sultan and Ranger, two rescued dogs who came from Honduras together. They are both challenged by mobility issues and are recovering in foster, enjoying their own fresh-air time in the catio. Eventually they'll be adopted into forever homes.
"Fostering can sometimes be a challenge," Sarah acknowledges, "but it's been very much worth it to see Sultan and Ranger's personalities come out. We know they're now getting all the attention they deserve as they recover enough to be adopted!"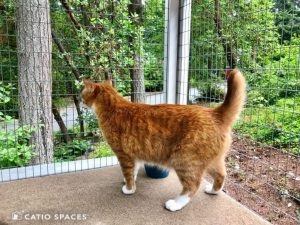 Sarah and Shaden happily shared that their catio has added immeasurable enjoyment to all their pets' lives, and especially the felines.
"Every morning, I look forward to seeing the cats run out to the catio. It makes me so happy to know they have that outlet for expressing their wild nature, without danger to themselves or wildlife!"
It's a two-catio life for a Maine quartet of cats, a dog, and…turtle!
My friend Jane's four cats, Flaca, Trooper, Jack, and Captain are truly catio-rich. In addition to their back-deck catio in Maine, they can also catch the summer rays on their three-season front porch. Captain has Cerebellar Hypoplasia (CH) and his wobbly walk makes it all the more important to him to have a safe enclosure (just like these Seattle CH kitties, here!) With so much outdoor space, the cats are generous about timesharing with sweet Liza the dog and their small sun-loving cousin, Turt, the Three-Toed Box Turtle.
At over 20 years old, Turt is a youngster for his species. He'll be enjoying catio life for up to 70 years or more. He and Jane are life-long companions. Box Turtles are happiest and safest in the wild, but since Turt's adventures landed him a domestic life many years ago, he is lucky to score his two-catio home.
When Turt's timeshare privileges kick in, the cats are encouraged to move to their other sun porch so he doesn't have to put up with any curious pokes and sniffs. He takes full advantage of his privileges, nibbling the cat-safe lettuce Jane grows for him in a container in the catio, exploring every corner, and basking in the warm sun. Turt agrees that catio life rocks for a box turtle! And his feline housemates give a "paws up" for catios too!
The Woodland Catio-Doggio: a great alternative for bird bandits
One of my clients, a cat and bird-lover, was living an idyllic life in the forested area outside of Seattle until his indoor/outdoor Persians, Junior and Petunia, discovered their hunting prowess and became serial bird bandits. Their canine housemates, Larry and Izzy, began exploring nearby woods along with them, putting all four at risk from resident coyotes.
A combination "catio-doggio" was the purrfect solution to keep this adventurous foursome safe at home, and to help protect birds and wildlife.
If you're looking to redirect the energy of the feline bird bandits in your own family, check out our birdwatching and bird conservation resources.
Timeshare catios for pets are a great way for the whole family to bond and enjoy the benefits of the great outdoors.
The more catio families I meet, the more incredible stories I hear about how catios enrich the lives of cats and all of the members of their family. They even changed my life, as I discovered when my time with Obi, the boa, vanquished my fear of snakes.
If your cat's own catio is in timeshare mode, I would love to hear about your Catio, Doggio — or Snakio. I'm sure there are other pets out there enjoying the catio lifestyle, too! Share directly with Catio Spaces on Facebook by tagging us with #catiospaces or reach out to us directly by email. Your stories help inspire everyone!
For all pets who thrive with outdoor enrichment, regardless of species – life is good in a catio!
Do you want a catio for your pets? Learn more about our DIY Catio Plans >>