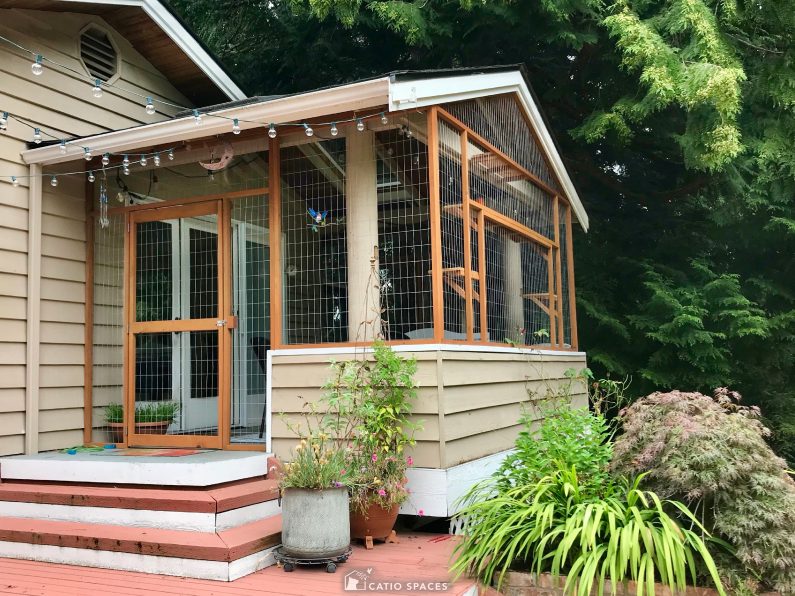 So, you've been thinking about joining the wonderful world of catios and want to build a secure outdoor cat enclosure where your cat can safely enjoy the fresh air and enrichment of nature. But, before you purchase a DIY catio plan, kit, or custom catio, I recommend you take a little time to walk around your home and yard to explore potential locations and enjoy the planning process.
There's probably more than one site in your yard where you could build a catio. You'll want to choose a location that ensures your future catio will be easily accessible for your cat and a safe, stimulating, and attractive addition to your home. As a DIY designer and custom builder at Catio Spaces, one of my goals is to ensure the enclosure blends in and complements a home and garden. There are endless ways and locations where this is possible.
Also, cats are sun-lovers, so a sunny to a part-sun location for your catio will provide endless hours of feline enjoyment. Instead of sitting on a sunny window sill inside your home, your cat can be safely immersed in the sights, sounds, and stimulation of the natural world.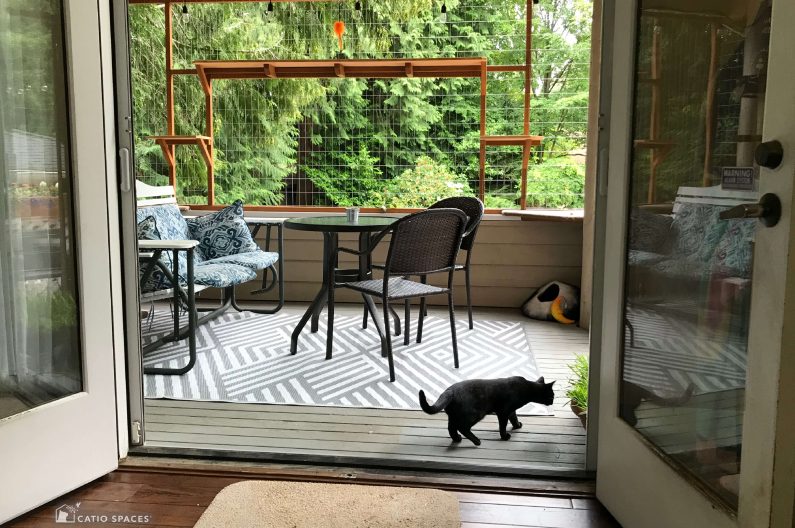 As you head outdoors, I'm asking you to be a bit of a catio detective. Be curious like a cat. Look up, down, and all around your home for the perfect places to build a catio (or two!). Here's some guiding advice.
9 questions to keep in mind as you plan your catio
Keep the following helpful questions in mind as you consider your catio possibilities while enjoying a slow, contemplative walk around your garden. If you delve into the planning experience now, you'll face fewer obstacles once you start building.
How can a catio complement my home and garden?
Can I have a catio if I have limited space?
Does my catio need a floor?
Can I build a catio on an existing porch or deck?
Where can I put a cat door for a catio?
Can I safely build a catio on an upper deck or balcony?
Can I build a catio around obstacles in my yard?
Does a catio have to have a roof?
Does a catio need to be attached to a house?
Where can my cat and I enjoy bonding outdoors?
1. How can a catio complement my home and garden?
The primary purpose of a catio is to provide safe, enriching outdoor access for your cat, but it's so much more than just a big wire box. Thoughtfully planned, a catio can be a focal point that adds beauty to the outside of your home, just like a garden arch, gazebo, or deck. Plus, when you paint or stain the wood a natural color or one that complements your home, a catio fits right in with your architecture, garden, and surroundings. (Tip: Unlike prebuilt kits, DIY catio plans allow you to paint the wood before the catio is built.)
As you explore locations outside your home, note the "ideal" spots for a catio, but also look for areas that feel a little unadorned or forgotten. Perhaps you had initially planned to build a catio on your deck because that seemed like the most obvious spot. However, there could be plenty of other options for a well-built catio.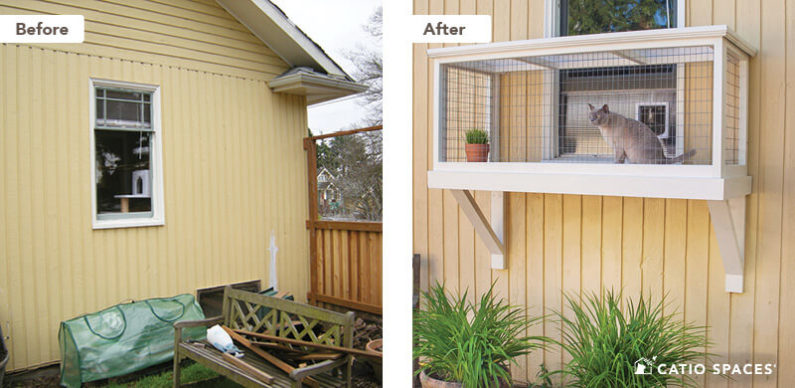 Would a Window Box catio add interest to a small and lackluster window overlooking a garden? While small and compact, it can provide your cat with the stimulation of fresh air, a bird's eye view of the outdoors, and space for catnaps in the sun. Window boxes can be built wider than your window to maximize the catio space.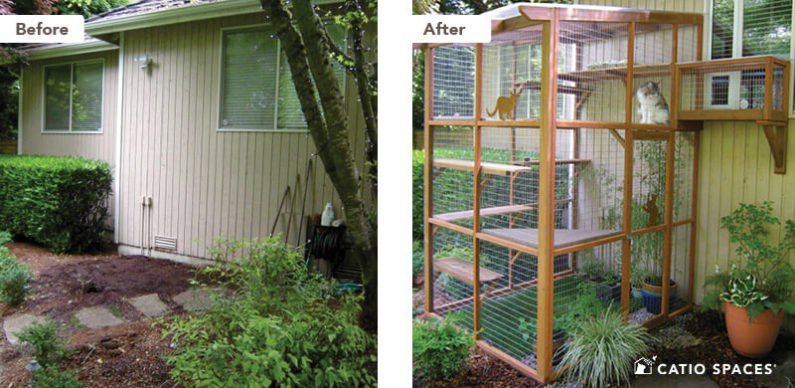 How about a ground-level catio in the garden adjacent to your deck with cat access from a tunnel outside a window? If deck space is limited, this might be a perfect spot where your cat can still be near family activities. Look at all the places where a catio could enhance your home. If you discover more than one spot perfect for a catio, you could add a second one, someday.
2. Can I build a catio where I have limited space?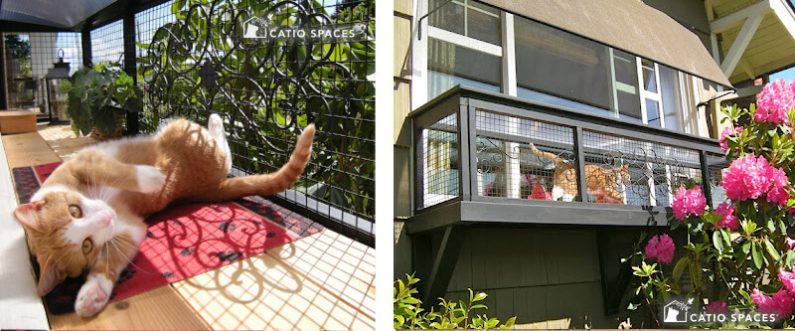 Don't let a tiny yard, or no yard at all, stop you. A narrow Cat Tunnel or Window Box can fit almost anywhere. DIY Catio Plans come in various designs and lengths to take advantage of any size window or exterior home wall, and cat tunnels can be stacked vertically or horizontally. The options are endless!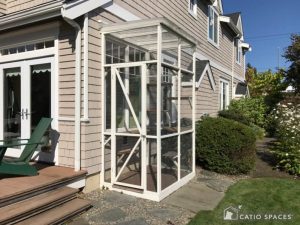 Not a lot of ground space? Think vertical! Cats love high spaces, and a great way to maximize narrow spaces is with a tall catio.
The Haven catio with a 3×6 or 4×8 footprint is an example where multiple cats still have plenty of room to lounge, exercise, and enjoy bird watching.
You can explore more catios with a small footprint here.
3. Does a catio need a floor?
You'll need a flat and level surface to ensure a sturdy and stable cat enclosure. Consider your deck, porch, balcony, patio with an existing floor, or the ground around your home and yard. What options do you see?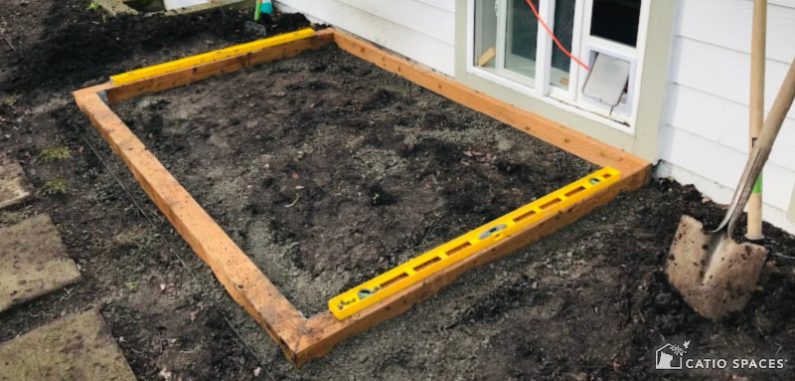 If your catio will be located in your garden or a grassy area, look for areas free from tree roots and large stones. These can heave with frost and shift your catio structure. Be sure to install a 4×4 ground frame for the catio to sit on for protection from ground moisture. Also, while cats aren't fond of digging, predators can dig, so add wire buried around the perimeter or use decking and pavers inside the catio for a dig-proof enclosure. If you need to dig to level the landscape or remove plants, call 811 to identify underground utilities.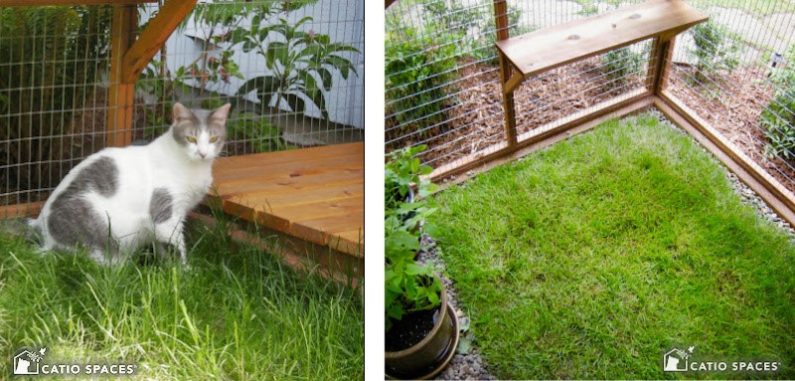 Your cat will enjoy natural grass a lot more than stiff artificial turf. Although artificial grass might seem like an option for the floor of a catio, the biggest drawback is it can be a choking hazard. Cats can nibble on the frayed edges of artificial turf, and the underside can harbor dampness and insects. It also takes skill to install so that it is smooth and attractive. Give them the real thing rather than prickly plastic under their paws. You can use a weed wacker or trimmer to keep the grass mowed. If you have a weatherproof roof on your catio, water the grass as needed.
4. Can you build a catio on your existing porch or deck?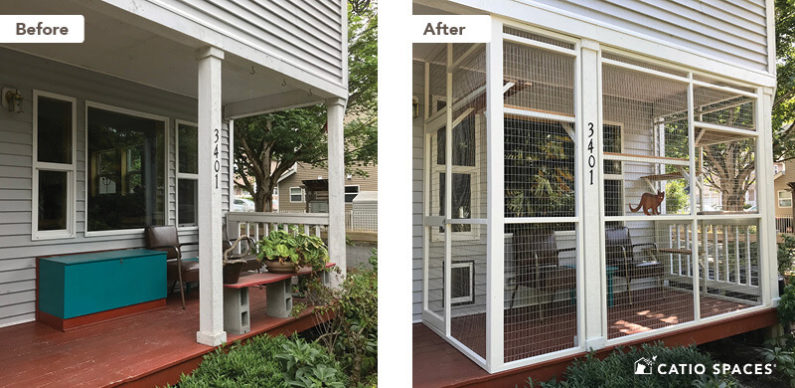 Your existing porch, deck, or patio may already be your favorite place to hang out outside your home. In that case, it may also be the best place to create a secure catio or outdoor room where your cat can join you. In addition, you can take advantage of the existing floor and a roof if your porch or deck is covered.
If any of these structures need repair, re-staining, or waterproofing, take care of them before beginning your catio project. As you list possible catio-building sites, use a level or borrow one from a friend) to check your decks or porch. They are often sloped away from your house to drain away rainwater. If yours is sloped, you'll need to shim the bottom of your catio so it will be level.
5. Where can I put a cat door for my catio?
As you walk around the exterior and interior of your home, note all possible locations for a cat door. Each home and catio type is unique, but because felines are small and agile, many low, high, and unique areas are perfect for access to a catio. If you're only familiar with the traditional "dog flap through the back door," you may be surprised to learn you have many more options for a cat!
Commercial cat doors are available for all types of openings, including windows that open side-to-side or up-and-down, exterior doors, patio slider doors, and exterior walls.
By noting all the places where you could add a cat door, you open up even more opportunities for catio placement. Learn more about cat doors here.
6. Can you build a catio on an upper balcony or deck?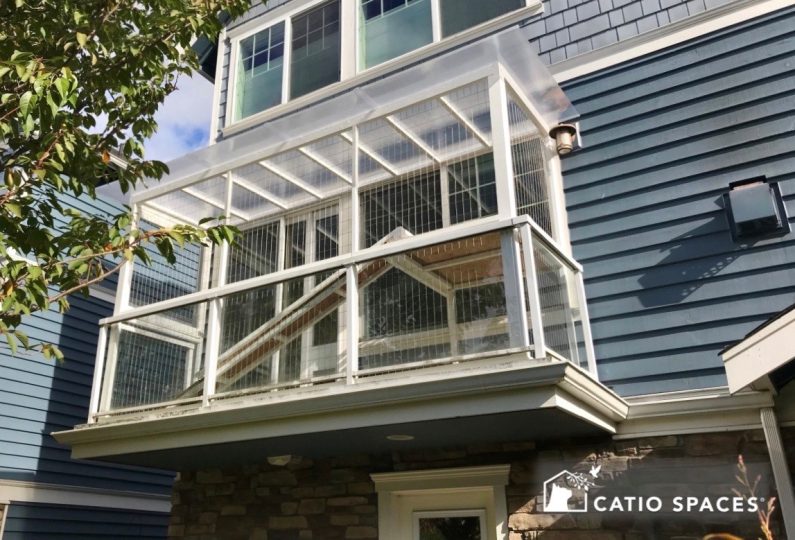 If your home or apartment has an upper balcony or roof deck, you've probably already wondered if you should allow your cat outside to explore it. Unfortunately, curious or startled cats often alarm their families by leaping to the ground, and they can be injured or lost. Adding a catio can transform your open balcony into a safe feline overlook where they can survey the entire neighborhood.
Depending on the size and configuration of your balcony, you could build a small catio as a special spot just for your cat or enclose the entire area to become an outdoor room you can enjoy together. Before building a catio on an elevated surface, it's a good idea to seek expert construction advice, especially if its support structure hasn't been inspected in a few years.
7. Can you build a catio around obstacles?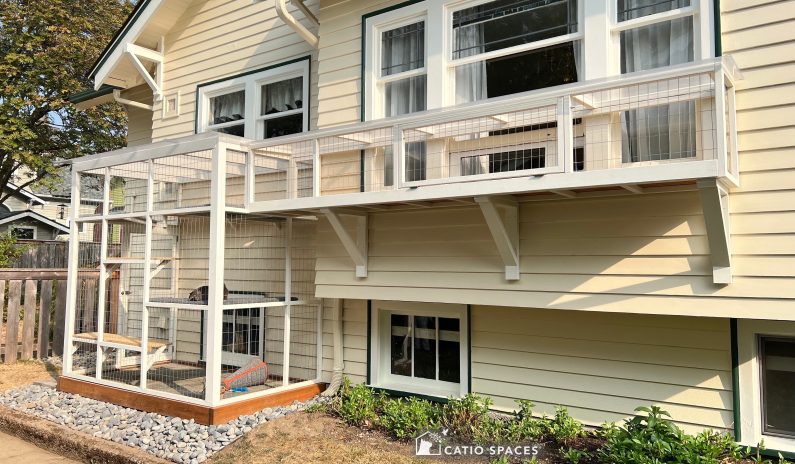 There are opportunities for catios almost everywhere – think outside of the box! With the addition of a Catio Tunnel to any DIY catio and an eye for creative design, you have lots of flexibility. For example, suppose you have a cantilevered window or wall, a recessed window well, an air conditioning unit, or another structure you need to avoid. In that case, a cat tunnel can connect from a window or wall cat door to a better location for your catio.

You can include the obstacle entirely within your catio, like the Haven catio above, where an outdoor planter box was transformed into a carpeted cat lounge, and side panels were added on each end. There are exceptions, of course. For example, avoid having an outdoor air conditioning unit within your catio, as it may frighten your cat when it turns on and off. Plus, it will make servicing the unit or replacement more difficult.
8. Should a catio have a roof?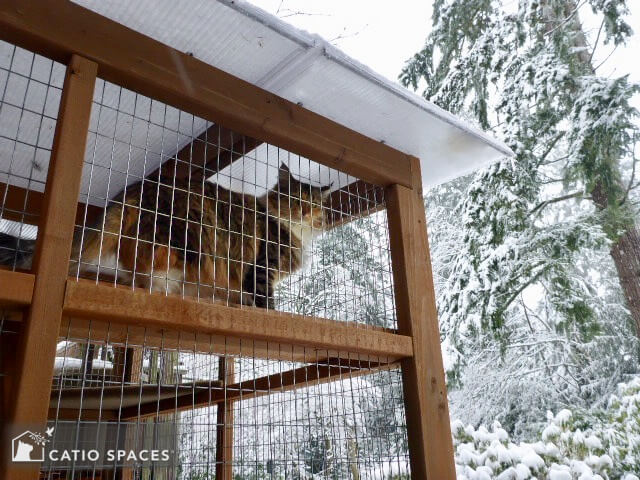 Catios require a wire mesh or solid roof to keep your cat in and predators out. While a strong welded wire mesh roof is adequate, look at your home's roof line and the surrounding trees to determine if you need additional protection. If your planned catio site is under a gutter-less roof edge, you'll need a solid roof to protect the interior of the catio from a cascade of pouring rain or the sudden thump of sliding snow from above. Overhead trees can shed layers of wet fallen leaves that will be far easier to clean from a solid roof than from wire. In snowy regions, a weatherproof roof with a steep pitch that angles away from your house will allow melted snow to drain away from your home's siding and foundation.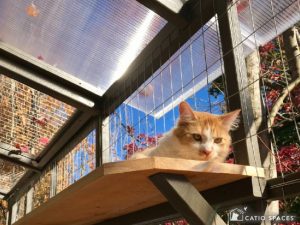 Cats are legendary sunbathers, so consider clear polycarbonate panels for your catio roof so natural light can enter the catio rather than a shade-producing metal or shingle roof.
To protect your cat from too much sun exposure, consider a partial shade roof or use shade cloth for a section of your catio. It also provides a dry place to perch while still being able to experience gentle rain or pounce in the snow.
Our DIY Catio Plans feature a clear polycarbonate or wire mesh roof option so that you can choose the best roof for your location.
9. Does a catio have to be attached to a house?
One of the benefits of 3-sided catios attached to your home is they offer easy cat access directly into a catio through a cat door. While it's common to see a catio tucked against the outside wall of a home or on a deck, patio, or porch, your property may be better suited to a 4-sided catio further away in your yard or garden.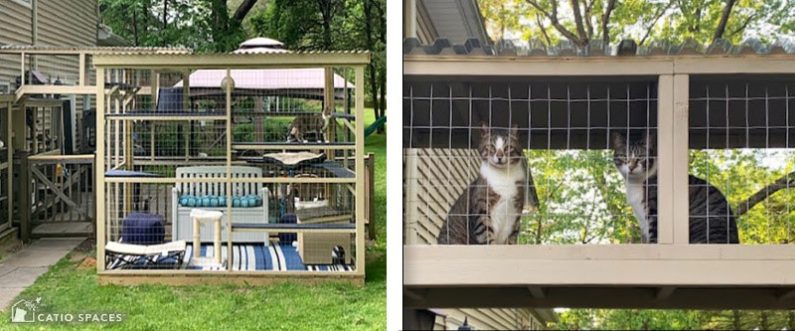 While not required, I highly recommend connecting a four-sided catio with a cat tunnel for traveling directly from the house. You won't have to risk arm-carrying your cat out to your garden catio, and your cat will have 24/7 access to their outdoor room. (Cat doors also lock if you want to monitor your cat's outdoor time). You can build the cat tunnel elevated, along a fence, or at ground level – whatever fits your home and yard best. Plus, your cat will love the extra room in the tunnel, and this feline-friendly feature always delights cat-loving visitors. The Oasis and Tunnel DIY Catio Plan allow you to build a four-sided catio in almost any level garden spot.
10. Where can my cat and I enjoy nature together?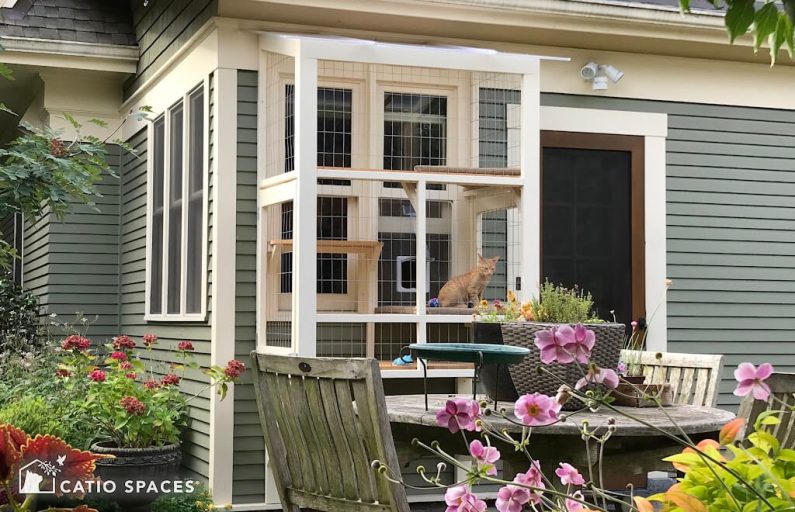 While the primary purpose of a cat enclosure is to provide your cat with outdoor enrichment, the real reason you share your home with your cat is because you love their company—and they love yours!
As you walk around the exterior of your home, concentrate on the areas where you spend the most time relaxing or gardening. Of course, your cat will want to be there, too, watching family activities or sprawling in the sun on their catio shelf while you rest in a chair on your patio nearby. If you have the space, a large, spacious catio can become a beautiful all-weather outdoor room for you both!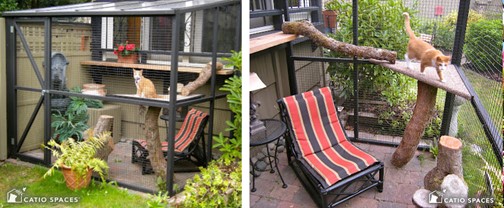 If the only possible spot you can build a large catio is on the side of your home where you don't currently spend much time, consider adding outdoor seating for yourself. Maybe this is just the excuse to purchase that big hammock you've always dreamed about. Your cat's new favorite outdoor spot can become yours, too!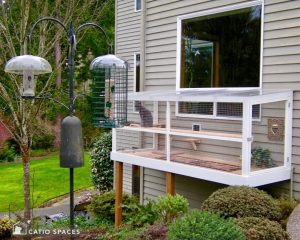 Of course, you won't always be outside when your cat is, so plan to add to your cat's nature experience with bird feeders, bird baths, and wildlife-friendly shrubs and plants. We have plenty of tips to create a bird-friendly garden to fascinate your cat.
If you already have a feeder-adorned section of your yard that birds frequent, a catio nearby could be the purrfect place for birdwatching.
HOW CAN I HAVE A CATIO FOR MY CAT?
If you're catio dreaming, indulge in some vicarious catio inspiration. After you've explored the catio possibilities outside your home, keep the momentum going by watching our video, Catio Fun: A Catio Showcase, and the many before and after catio photos on our website. Then visit our DIY Catio Plans page to see which plan best fits the building sites you've picked for the catio – or catios — of your dreams.  Build a catio yourself, or hire a carpenter to build the plan for you.  Either way, your cat will thank you for it!
Happy catio planning!  And be sure to sign up for FREE CATIO TIPS BELOW including inspiring ideas for the catio lifestyle. Life is good in a catio!