Choosing a Cat Door for Your Catio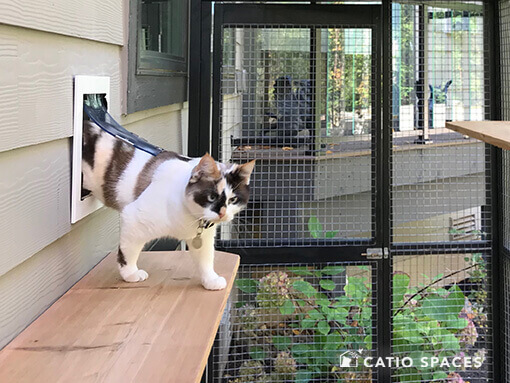 One of the joys of catios is giving your cat the freedom to enjoy fresh air and the stimulation of the outdoors on a daily basis.
A cat door allows easy access from your home into the safety of a catio. It also provides freedom for you by eliminating the need to carry your cat to and from the catio.
Another benefit? Cat doors help keep bugs out, protect against wind and rain, and regulate the temperature in your home.
But which cat door is best? Here's the scoop on cat doors to help you choose one that's best for you and your cat. I'll cover types of cat doors, security, insulation, and installation tips. I'll also share how to measure your cat for a cat door and receive tips for acclimating your cat to a cat door and catio.
Picking a Cat Door for Your Catio
Each home and catio type is unique, from a window box and lean-to catio to a cat tunnel or a tunnel leading to a destination catio. Once you've determined the catio type and location you want, consider whether you want your cat to enter the catio through a window, wall, patio slider door, or wood door.
Types of Cat Doors for your Catio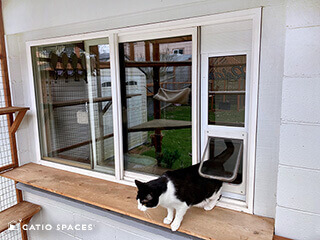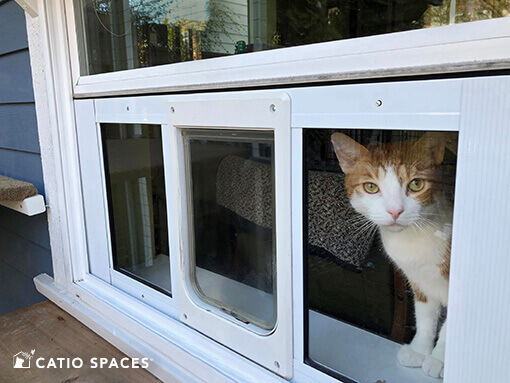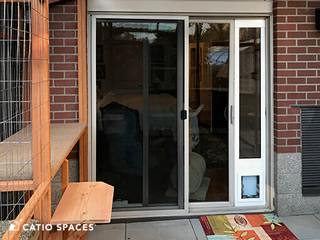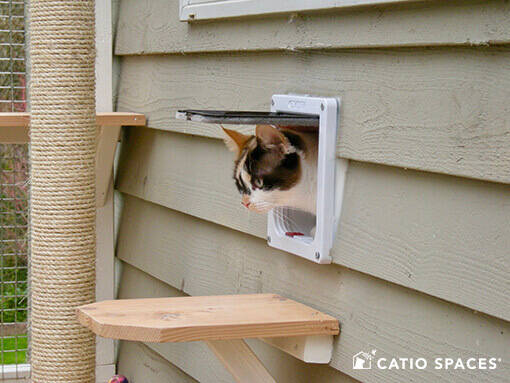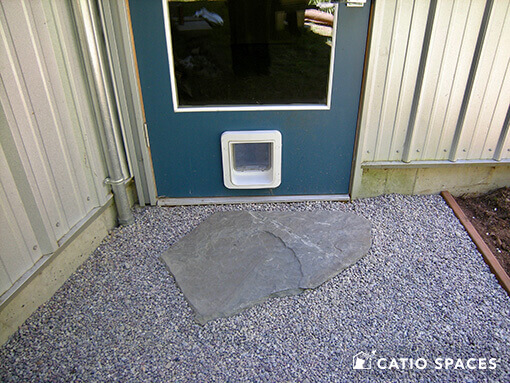 Cat doors are available for a window, patio door, wall, and exterior door. When choosing a cat door, there are several things to consider including cat door dimensions and flap sizes, color selection, a single flap (or dual flap for wall-mounted doors), and security options such as a manual lock, lockout panel, or electronic microchip to control your cat's time outdoors or allow 24/7 access.
Window and Patio Cat Doors
Cat doors for horozontal slider windows, vertical sash windows, and patio slider doors are easy to install and offer the flexibility of removal since they are not permanently attached to the window nor cut into the window glass. These doors are ideal for homeowners and renters alike. The cat door unit consists of metal framing, a plastic cat flap door, and tempered glass above or on each side of the flap that provides weather protection, light, a view of the outdoors, and your cat enjoying catio life.
Cat Door Security:
Designed for security, cat doors for windows and patio doors have an adjustable, spring-loaded, metal compression frame that fits inside the "H" channel track of the existing window or patio door frame. A knob on the interior side of the cat door is tightened to hold the compression in place. Once the cat door is secured inside this track, it can't be lifted, pushed, or pulled through the window or door frame. You can cut a wood dowel rod and place it in the remaining channel to keep the window or patio door from opening further.

A lock-out panel can be inserted on the interior side of the cat door.
Many cat doors offer a manual locking mechanism, electronic microchip, or interior lock-out panel (shown above) for additional security for the cat flap. The lock-out panel also adds insulation for single flap cat doors when not in use.

View of a cat door for a slider window showing the installation before (left) and after (center) on the interior of the home. The cat door allows access to a window box catio mounted on the home's exterior, with the catio floor located at the window sill height. (For a window box mounted below the window sill, a wall-mounted cat door can be installed for cat access.)

Cat door Installation and removal:
To install cat doors for windows or patio doors, open the window or sliding patio door and insert the cat door into the channel of the existing window or door frame, tighten the compression knob, and close the window. To remove the cat door in the future, loosen the knob to release the compression. Once removed, you can close your window or door back to its original position.
Measuring the Opening for a Window or Patio Door:
Slider window and patio door: Open the slider window or door and measure the vertical distance from the deepest point inside the channel frame's top and bottom.
Sash window: Open the window and measure the horizontal distance from left to right inside the window frame channel. Then measure the vertical distance of the window opening.
Once you have your measurements, you have the key information to order your cat door. A compression range is listed in the cat door purchase information.
Cat Door Tip:
For sliding patio doors, you can still exit outside and into the catio by opening the patio slider door while keeping the cat door in place. If you prefer to keep the patio door for humans only, another option is to install a wall-mounted cat door for access into the catio.
Wall and Door-Mounted Cat Doors
Cat doors for a wall or wood door leave your windows clear and unblocked. However, they can be more intensive to install and remove. This popular cat door style consists of a basic frame with a flap and requires cutting through a wall or door to allow cat access into the catio.
One of the benefits of wall-mounted cat doors (due to the wall thickness) is dual flaps, one on the interior and one on the exterior, that provide another insulation layer for the home.
Cat Door Security:
Similar to window and patio cat doors, wall or door-mounted cat doors offer a manual locking mechanism, electronic microchip, or interior lock-out panel for additional security and insulation.
Installation:
Follow the manufacturer's instructions using the tracing template to drill and cut a hole in the wall or door's surface. Once you've cut out the hole, install the door frame and flap per the installation guide. It's not as difficult as it sounds, and it's a less expensive option than a window or slider patio catio door.
For wall-mounted doors: Before installation, determine if there is electrical wiring or piping in the wall in your desired location. You can use a stud finder that also identifies electrical currents. If you have electrical or other components behind the wall, a professional would best install the door. If you don't, then a handy DIYer can do it.
For exterior doors

, be sure to measure the thickness of the door before ordering.

For both walls and doors,

cat doors have an adjustment range based on the surface's thickness. Also, if your cat will access the cat door from floor level, be sure to locate the bottom of the cat flap approximately 4″ above the floor so your cat can comfortably step through the opening.
Measuring your Cat for a Cat Door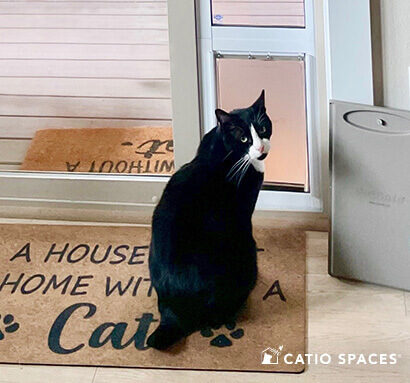 Cats, just like cat doors, range from small to large sizes.
The best way to determine the ideal cat door size is to measure the belly or widest part of your cat.
Using a tape measure, measure the widest point of your cat from side to side.
Based on this measurement, you can determine the cat flap size (the width of the opening your cat will step through) for a small, medium, or large cat.
Depending on the type of cat door, cat flaps are available in a variety of widths and heights to allow your cat to comfortably step into a catio to enjoy the great outdoors.
Purchasing a Cat Door for your Catio
Cat doors can range from under $100 to several hundred dollars depending on the type of catio door, size, and security options. A variety of cat doors are available online and at pet and home improvement stores.
If you haven't decided on what type of catio to build, check out our award-winning DIY Catio Plans. Once you've picked your plan, choose a cat door for your cat to exit your home into the safety of a catio.
If you're interested in starting your research for a cat door, check out our "top picks" below:
Shop for a cat door
SAVE 10% on your purchase. Promo Code: CATIO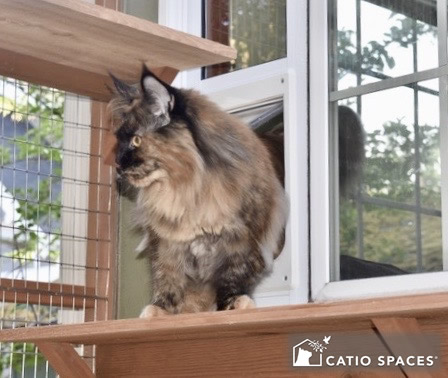 Receive Free Tips for
Acclimating your Cat to a Cat Door
and other Catio Tips!
Does your indoor cat want to go outside?
Do you worry about your outdoor cat's safety?
Does your cat leave "gifts" on your doorstep?
Keep your cat safe and happy in a catio and help protect birds and wildlife. Enjoy piece of mind knowing your cat is always protected.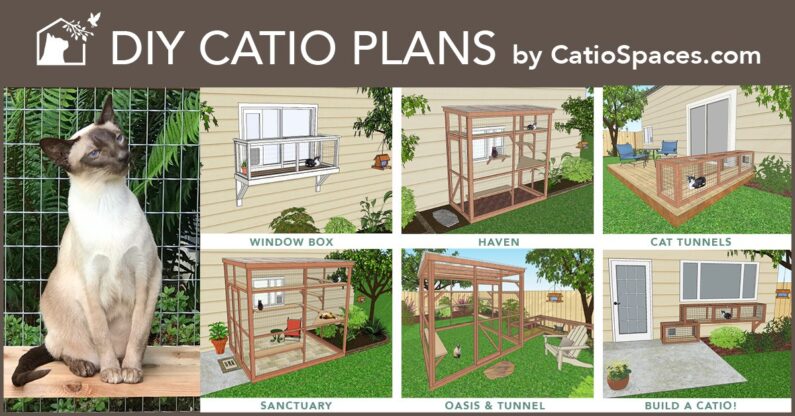 DIY Catio Plans by Catio Spaces are available in a variety of designs and sizes. The award-winning plans include a material and tool list, step-by-step instructions, and diagrams for a successful project. Build the plan yourself or hire a local carpenter to build the plan for you. Your cat will thank you for it. Learn More >>
Life is good in a catio! Want us to design your dream catio?
If you live in the Greater Seattle area we can design + build your catio for you.