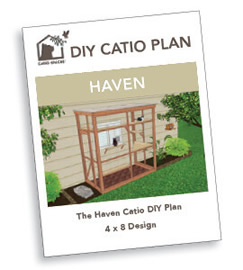 The HAVEN DIY Catio Plan by Catio Spaces is a compact, 3-sided catio ideal for a deck, patio or garden. If you have limited space, the Haven maximizes vertical height with shelves and perches for your cat's enjoyment. Catio height allows cat access through a cat door in a window, wall or door. Available in 3×6 and 4×8 catio plan sizes that feature a polycarbonate or wire mesh roof option. Plans are a PDF download (materials not included). Includes a tool and material list, step-by-step instructions, and diagrams for a successful project. Plans can be customized on your own as desired. Create a catio your cat and you can enjoy!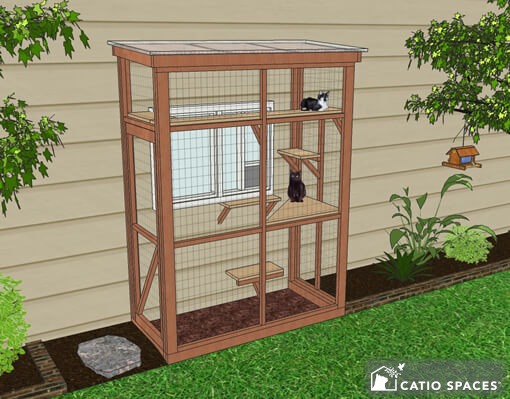 PDF Download
(materials not included)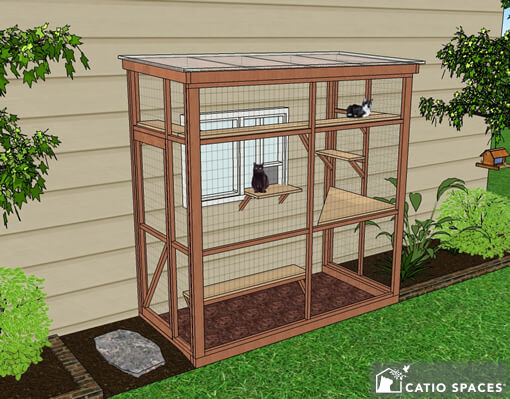 PDF Download
(materials not included)
10% of purchases through our affiliate program are donated to animal welfare organizations.
DIY Catio Plans are a PDF Download.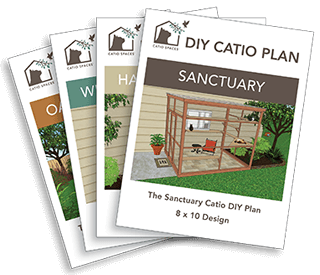 You don't need to be an experienced carpenter!
Each DIY catio plan is easy to follow and rewarding to build…
or hire a carpenter to build the catio plan for you.
SAVE TIME & MONEY by taking the guesswork out of building a catio with our award winning DIY Catio Plans!
Your DIY Catio Plans were a perfect solution for us and the directions are great! Every detail was considered and the plans were easy to follow. The catio is so beautifully professional and secure. I feel safe giving my cats permanent access, even at night. People just can't believe we built it ourselves!"
The Haven DIY catio plans feature roof options including a wire mesh, fully-covered polycarbonate roof or a combination of both. Catios can be painted, stained or left natural to complement your home.  The plan can be customized on your own based on your preferences.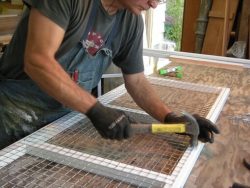 WHATS INCLUDED:
All catio plans are designed for the average person to make the process easy-to follow and rewarding to build.
Step-by-step instructions including diagrams.
Material list 

(materials are available from your local home improvement or lumber store)

Tool list
Catios are designed as panels for ease of assembly (or removal if you move in the future.)
No digging and setting posts in cement!
Roof rafters accommodate a wire mesh roof or a clear, polycarbonate weatherproof roof for year-round enjoyment.
Door placement options for human access into the catio.
Shelf design maximizes vertical space for cat exercise and enjoyment.
Catio height allows cat access through a window or door.
HAVEN DIMENSIONS
3×6
4×8
Ground frame:
6′ wide x 2'10 1⁄2"deep
8′ wide x 3'10 1⁄2"deep
Height – back (house side):
8'7″ high
8'7″ high
Height – front:
8'4″ high
8'4″ high
Polycarbonate roof with overhang:
6'6" wide x 3' deep
8'6" wide x 4' deep
Wire mesh roof with trim:
6'3″ wide x 2'10 1⁄2" deep
8'3" wide x 3'10 1⁄2" deep
Dimensions for the polycarbonate roof option includes a 1 1⁄2"overhang on the front and sides.
Catio height can also be reduced by burying the 4×4 ground frame or reducing panel height in 3" increments.
PLUS BONUS information including:
Tips for acclimating your cat to a cat door and new catio space.
Tips for cat safe plants, enrichment, decorating and more!
You'll receive a pdf download of your catio plan so you can get started right away! Want us to design your dream catio?
If you live in the Greater Seattle area we can design + build your catio for you.