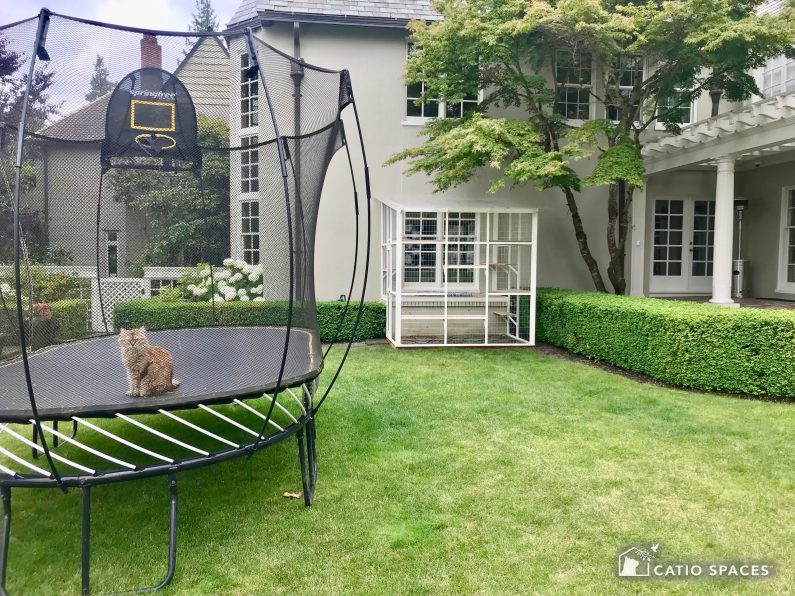 It's a beautiful sunny day, and your cat is pacing restlessly from window to window or is stationed by the front door hoping to dash out into the glorious outdoors. As nature-lovers ourselves, we get why our feline family members want to escape the indoors to immerse themselves in the fresh air and ever-changing sights and sounds outdoors. So, sometimes we're tempted to let our cats join us on a lightly screened porch, an unenclosed balcony, or a partially fenced yard, assuming they'll be safe for just a short visit under our watchful eyes.
Unfortunately, as many cat parents have learned, if an enclosure isn't specifically built to contain a cat, that feline curiosity, intelligence and fearlessness will usually find a way to escape, even when we're nearby!
My cat-loving clients, Julie and Mark, were inspired to let their adventurous Siberian Forest cat, Mishka, get just a little closer to nature by taking advantage of their backyard trampoline. Mishka quickly showed them that even a large, sturdy exercise enclosure meant to keep energetic children safely restrained was no match for a determined cat!
MEET MISHKA, THE ESCAPE ARTIST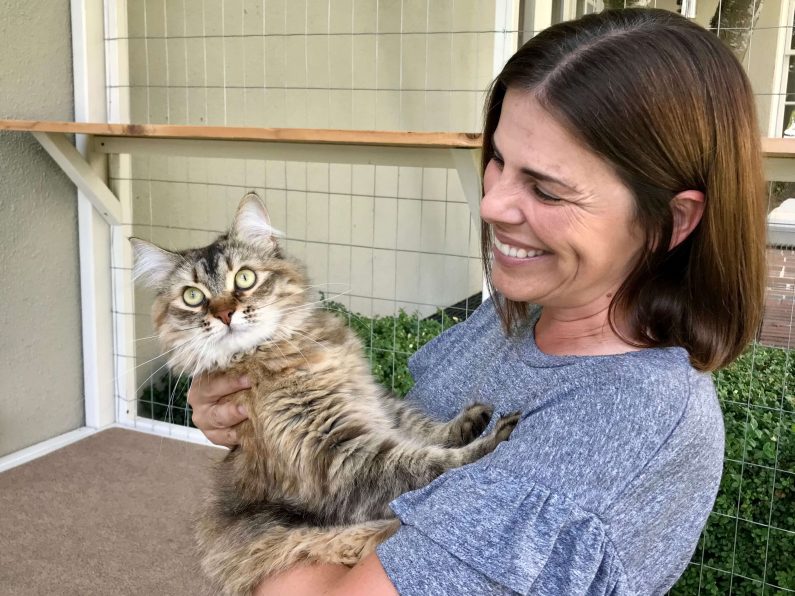 Mishka loves to climb, play, and test every window and door to find a way to escape into the fascinating outdoors. According to Julie, Mishka hates being indoors.
One day Mishka bolted across the kitchen and used the dining table as a springboard to launch herself right out of the window. After chasing her across the lawn, Julie sought another solution.
Julie had a flash of inspiration for a temporary outdoor enclosure for Mishka. They owned a spacious trampoline with a high safety net that was located in the middle of their yard. With high mesh to keep Mishka confined, the trampoline seemed like the purrfect way to allow her to experience fresh air and oversee the backyard while curbing her curiosity to explore on her own.
But Mishka saw that glorious expanse of netting as a challenge rather than an obstacle. When Julie's back was turned, she scaled that trampoline net like a mountain goat. Julie looked up just in time to see her cat teetering at the very top!
ONE BIG LEAP FROM A TRAMPOLINE TO A CATIO
When Mishka proved she could overcome doors, windows, and even a ten-foot trampoline net, for Julie, Mark, and Mishka, it was time for a catio!
At first, Mark was a bit resistant to the idea. A large cage-like structure didn't fit into the planned aesthetic of their beautiful backyard. During the catio consultation, Julie and I determined the best building site in the yard was the office window for cat access into the catio. The raised garden planter below it would require skill and ingenuity to work around, so we created a custom catio design.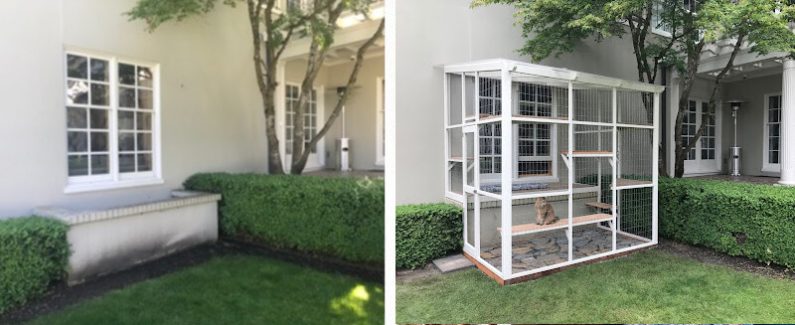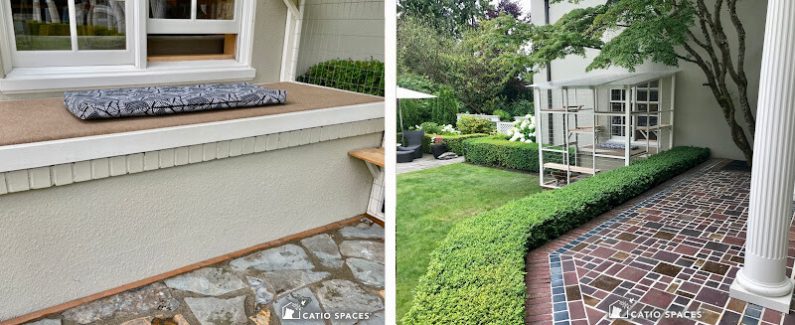 The planter box was transformed into a spacious kitty lounge, and the painted catio complements the home and blends in seamlessly. With the catio complete, Mark is thrilled with the finished patio-like feel and appreciates the craftsmanship and attention to detail. Julie says that Mark is almost as happy with the catio as Mishka!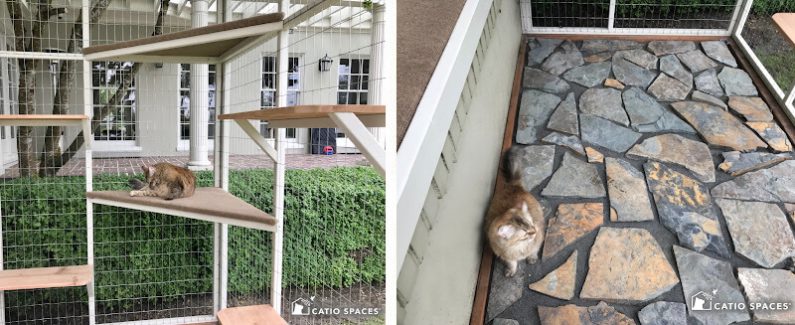 Mishka's custom catio features multiple shelves and corner perches at various levels so she can exercise her climbing skills and watch family activities in the backyard. She also likes to sprawl out on the flagstone floor during hot summer days – it's nice and cool there!
Mishka loves her catio and spends a good part of every day surveying her kingdom from her safe outdoor space. She particularly enjoys napping on the top shelf and goes out every night at dusk to watch the rabbits in the yard.
CATIOS ARE GOOD FOR OTHER ANIMALS, TOO.
The new catio has been a great equalizer for Mishka and Arlo, the family dog. "Mishka is the boss in that relationship," Julie explains. "She tends to push him around and would get upset when Arlo visited the backyard and she couldn't." Now, Mishka is happy because she gets to go outside when Arlo does, and Arlo gets to enjoy hours of stress-free relaxation, knowing he won't be pounced on or bullied away from his favorite napping spaces.
In addition to Arlo the dog, Mishka shares her home with a domestic rabbit named Harold. Harold has an unroofed outdoor pen of his own to spend time in the yard. Luckily, he isn't as handy a climber as Mishka. Julie agrees that Harold would be much more secure if he could spend his outdoor time in the catio. A catio can also be a safe haven for dogs, rabbits, and even pet snakes and tortoises to enjoy the stimulation of nature. But Mishka is not yet convinced that she should share her special outdoor space with Harold or Arlo. For the time being, her catio is felines-only!
THE BENEFITS OF CATIO LIVING FOR FELINES AND HUMANS
Julie shares how the catio has changed all their lives. "I have peace of mind knowing that Mishka can be happy outdoors while keeping her and the surrounding rabbits and birds safe, too. We can open our screened windows on hot summer days without worrying about her escaping."
Mishka loves when Julie and Mark spend time inside the enclosure with her. She jumps from shelf to shelf, showing off her beautiful space. "When Mishka was first introduced to the catio," Julie says, "she spent extra time rubbing on our legs and purring – almost like she was thanking us."
The beautiful Siberian Forest cat shows her happiness and relaxation in other ways, too. "Before the catio, if we left her alone for too long, she would get very anxious and has peed on our furniture. Since installing a catio, there have been no potty accidents." The catio has helped make life less stressful for everyone, both indoors and out.
A happy cat makes for happy cat parents!
A CUSTOM CATIO CONQUERS OBSTACLES AND ADDS UNIQUE BEAUTY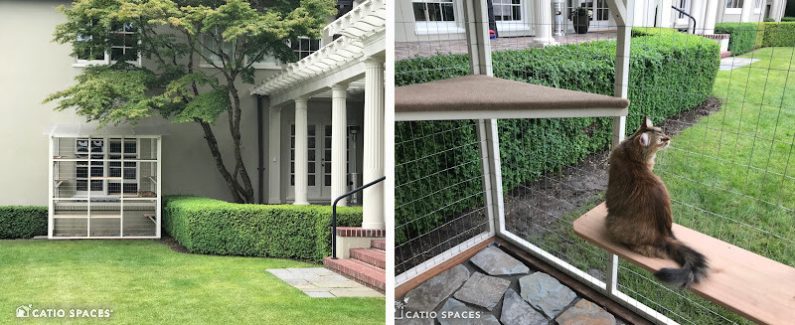 A custom catio experience through Catio Spaces was the best option for Julie and Mark's unique building site. The personal touches also helped reassure Mark that their new catio would enhance their home and yard, not detract from it.
Julie feels that the catio they now share with Mishka has made cat ownership so much more pleasant and stress-free. "I would absolutely recommend that anyone thinking about building a catio should do so." Just like Mishka, your cat will thank you for it.
IS YOUR ADVENTURE-SEEKING CAT DREAMING OF A CATIO?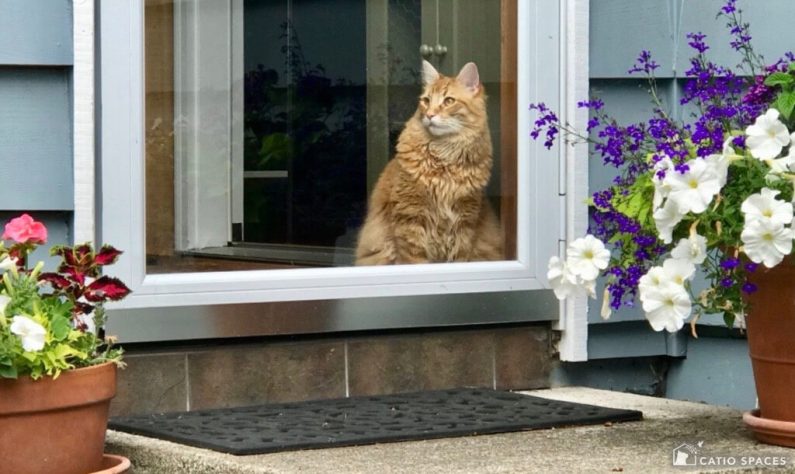 If your cat is a door-dasher, window-launcher, trampoline escape artist – or simply stares endlessly out the window, longing for a taste of the outdoors – a spacious, secure, and attractive catio is the answer. (Check out our video about another door-dashing cat's catio journey here).
If your yard, deck, garden, or balcony needs an extra-special catio design, you can learn more about our custom catios here. Or get started on your own with one of our many versatile DIY Catio Plans that you can build yourself or hire a contractor to build for you. Plus, we'll donate 10% to animal welfare organizations.
No matter what option you choose, life is good in a catio!