The Cat Tunnel™ Catio Plan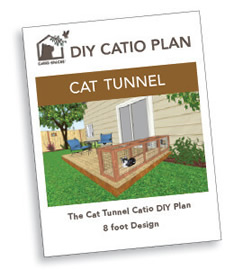 The CAT TUNNEL DIY Catio Plan by Catio Spaces provides a safe and stimulating adventure for your cat to enjoy fresh air and the enrichment of the outdoors. Our DIY plan features how to build an 8-foot cat tunnel with cedar flooring and includes a variety of options including custom lengths, tunnel configurations and mounting options. Ideal for a patio, deck, window, fence or garden, the tunnel can also connect your home to a freestanding catio. Cat access can be through a cat door in a window, wall or door. Plan is a PDF download (materials not included). Plan Includes a tool and material list, step-by-step instructions, and easy to follow diagrams for a successful project.
Cat tunnels are versatile and can be combined in a variety of configurations!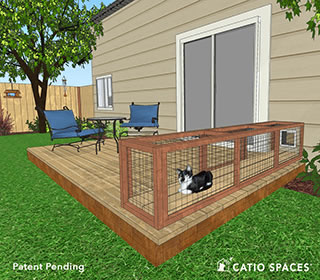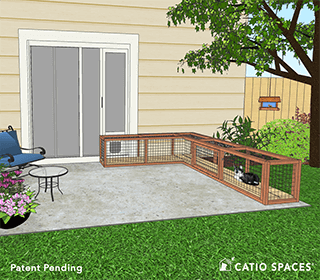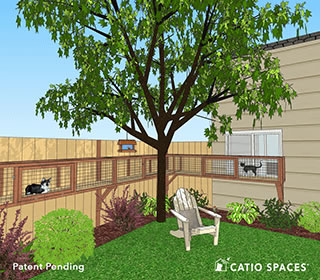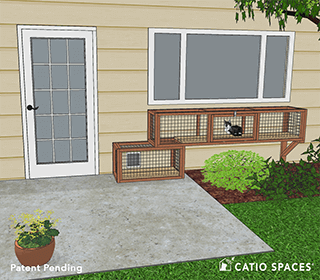 Build a tunnel catio for your cat to enjoy a safe outdoor adventure while you enjoy peace of mind!
PDF Download
(materials not included)
10% is donated to an animal welfare organization. DIY Catio Plans are a PDF Download.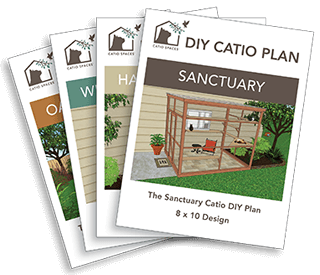 You don't need to be an experienced carpenter!
Each DIY catio plan is easy to follow and rewarding to build…
or hire a carpenter to build the catio plan for you.
SAVE TIME & MONEY by taking the guesswork out of building a catio with our award winning DIY Catio Plans!
"The tunnel DIY plan was a fun weekend project and my curious cat loves exploring the outdoors and birdwatching. I enjoy knowing she can get fresh air and be a part of family activities in the backyard. Thank you for providing the detailed DIY plans. My happy cat is giving you a paws up of thanks!
Cat tunnels can be customized, painted and decorated!
..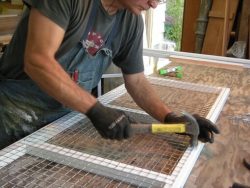 WHATS INCLUDED:
The Cat Tunnel DIY catio plan is designed to make the building process easy to follow and rewarding to build. Build one yourself or hire a carpenter to build the plan for you!
Step-by-step instructions, diagrams and tips for a successful project.
Material list

(materials are available from your local home improvement or lumber store)

Tool list
Catio panels are built separately and assembled prior to installation.
Wire mesh roof and sides. Optional polycarbonate roofing can be added for seasonal weather.
Natural cedar flooring.
Door is located on the center of the front panel for accessing your cat outdoors. (Cat access from your home can be through a cat door installed in the window, wall or slider door into the tunnel. A variety of cat doors are available online or at your local pet store)

.

Wood frame panels can be left natural or painted to complement your home and garden.
Build one cat tunnel or connect several together including "L" turns and elevation changes.
Cat tunnels are ideal for a patio, deck, window, fence or garden for a cat friendly home.
| CAT TUNNEL DIMENSIONS | |
| --- | --- |
| Height: | 20″ high |
| Depth: | 18 ½" deep |
| Length: | 8 feet long plus 1 1/2″ end panels – includes custom tunnel sizes |
PLUS BONUS information including:
Tips for acclimating your cat to a cat door and new catio space.
Tips for cat safe plants, enrichment, decorating and more!
You'll receive a pdf download of your catio plan so you can get started right away! Want us to design your dream catio?
If you live in the Greater Seattle area we can design + build your catio for you.