Gift Certificates: DIY Catio Plans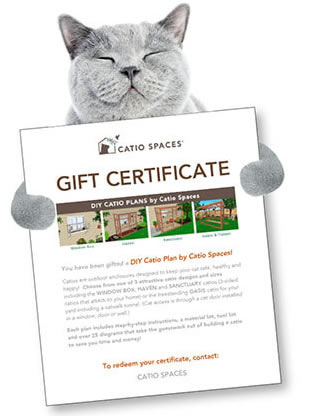 Give a DIY Catio Plan to the cat lover in your life!
Purchase a certificate redeemable for a DIY Catio Plan by Catio Spaces and the lucky recipient can choose one of the Window Box, Haven, Sanctuary or Oasis catio plans. You'll receive a pdf download of the gift certificate including instructions for the recipient to redeem their catio plan.
Whether they build the catio plan themselves or hire a carpenter to build it for them, Catio Spaces takes the guesswork out of building an outdoor cat enclosure to SAVE TIME AND MONEY!
Our award winning
DIY Catio Plans
are guaranteed to create a positive "catttitude!"
CAT TUNNEL DIY PLAN – An Outdoor Adventure your Cat will Love!
WHATS INCLUDED:
Step-by-step instructions including diagrams.

Material list  (materials are available from your local home improvement or lumber store)

Tool list

Catios are designed as panels for ease of assembly (or removal if you move in the future.)

Roof rafters accommodate a wire mesh roof or a clear, polycarbonate weatherproof roof for year-round enjoyment.

Door placement options for human access into the catio.

Shelf design maximizes vertical space for cat exercise and enjoyment.

Adjustable catio height. (Adjustable width for window box catio plans.)

See specific plans for dimensions and design features.
PLUS BONUS information including:
Tips for acclimating your cat to a cat door and new catio space.

Tips for cat safe plants, enrichment, decorating and more!
All DIY Catio Plans are a pdf download so you can get started right away!
A PDF download will provide instant access to your gift certificate. The certificate includes instructions for the recipient to redeem the catio plan of choice. (They will receive a pdf download of the catio plan so they can start building and enjoying their catio right away!) Purchase your Gift Certificate for a DIY Catio Plan today!
10% of purchases through our affiliate program are donated to animal welfare organizations. Meet some happy Catio cats!
See our before and after catio transformations!