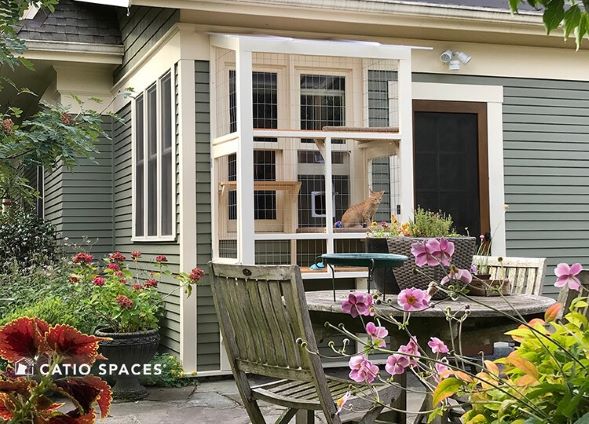 For many cat parents, there's no hesitation when faced with the question, "Does your cat want a catio?" The answer is a resounding yes. After all, what's to ponder? A well-built catio offers a combination of safety, comfort, and peace of mind. A catio cat has the enviable freedom to step between the cozy familiarity of the indoors and the whisker-tingling enrichment of outdoor breezes and sunshine.
But deciding exactly what kind of catio is best for you and your cat requires a bit more thought. Should you choose a Catio Kit, a DIY Catio Plan, or Custom Catio? It's worth your while to do a little research.
With years of experience building and designing catios at Catio Spaces, let me offer some assistance for cat parents who are sifting through various catio choices.
BEFORE YOU CHOOSE A CATIO:
Here's a quick checklist of things to consider when you're choosing a catio:
Will your catio be temporary or permanent?
Do you want a small window box or a larger space you can share together?
Do you want the freedom for your cat to enter the catio through a cat door?
Will the catio be located on a covered porch or out in your yard?
Are there coyotes or other predators in your neighborhood?
Do you live where snow weight is a concern?
What is your budget?
Do you want to add a litter box in your catio?
Do you prefer to assemble, build the catio yourself, or hire a contractor?
Let's see why these questions are important for the type of catio you are considering.
PROS AND CONS OF CATIO KITS, DIY PLANS, AND CUSTOM CATIOS
CATIO KITS
In an ideal world, we would love to receive a new catio shipped to the door with all the needed pieces and parts after a simple click online! When shopping for online kits, here are some things to consider:
Pros:
Everything is included in the delivered kit and can be assembled by one or two people with regular household tools within a day.
Catio kits offer the option of catio panels made of wood and wire, or wire only, depending on your preference.
Catios from kits are generally smaller in size and can be moved.
Catio kits offer more protection for your cat than portable pop-up tents.
Cons:
Due to shipping costs, the wood and other materials in the kit are generally very light. Durability and stability may be sacrificed.
To prevent the catio from tipping or shifting, you may need to attach it to your home or deck, or you can build a 4×4 ground frame and attach the catio panels on top. (This will also prevent wood rot from exposure to wet soil.)
The wire mesh will probably be quite light. If you can rip or easily cut it, so can a predator. I recommend welded wire that is 14-16-gauge. Avoid vinyl-coated wire that can crack with UV exposure and become a choking hazard for your cat.
If entirely unprotected from the weather, mail-order catios may only last a few seasons if the wood is not sealed and maintained.
Depending on the location of your catio, you may have to carry your cat to and from the catio. A suddenly scared cat can scratch, bite, or, worst of all, escape. This adds more risk to an investment that is meant to make life safer for your cat and more relaxing for you.
Catio kits range from $350 – $600 or more. With so many different kits on the market, quality varies. Be sure to read online reviews closely and compare them to other options before investing.
Next, let's take a look at the DIY Catio Plan option.
DIY CATIO PLANS
If you are a do-it-yourself person, building a catio can be a fun and rewarding weekend project. DIY plans take the guesswork out of building a catio, including step-by-step instructions, diagrams, and a tool and material list. Materials can be purchased at a local lumber or home improvement store. All you need are some basic carpentry tools to build one yourself, or you can also hire a carpenter to build the plan for you.
While I've been building custom catios since 2014, I've had the benefit of years of trial-and-testing I've created a variety of DIY Plan designs and sizes to help cat parents build a catio for their cats.
Pros:
DIY Plans by Catio Spaces are built using wood framing to create an architectural versus a wire cage look, and when painted to match your house, the catio can be an attractive part of your home and garden.
Larger in size and built stronger than catio kits, DIY catios are designed to withstand the weather for a long-lasting investment and peace of mind.
DIY Plans include several roofing options, including wire, clear polycarbonate, or a combination of both. Keep in mind cats love the sun, so a sunny location is ideal. (Once your catio is built, you can create shade areas with shade cloth, benches, or cat cubbies.)
The variety of catio plans allows flexibility for choosing your location. You can place a 3-side catio up against your house with cat door access directly into the catio or build a cat tunnel leading to a 4-sided Oasis catio in your garden.
Larger catio designs like the Haven, Sanctuary, and Oasis plans have space for you to join your cat to bond, play, and enjoy enrichment activities together. Each includes a human-size door for easy access in case of emergency.
For a smaller catio like the Window Box or Cat Tunnel, a lumber or home improvement store can pre-cut your lumber to fit in your vehicle. For larger catios, you can have the wood delivered to your home for a fee.
The catio walls are built with panel construction so, if needed, they could be disassembled and removed if you are moving or renting.
Cons:
Don't get stuck in dreaming mode and stuff your catio plan in a file folder to become yet another "someday" project. You'll need to pounce on the project and take action!
You will need a vehicle suitable for transporting materials, or you can arrange to have the materials delivered to your home for a fee.
If you are not confident building the catio yourself, you can enlist the help of a construction-savvy friend or hire a contractor.
DIY Plans, while typically bigger in size than catio kits, use larger dimensional lumber for a well-built catio. Lumber prices can vary based on region and type of wood.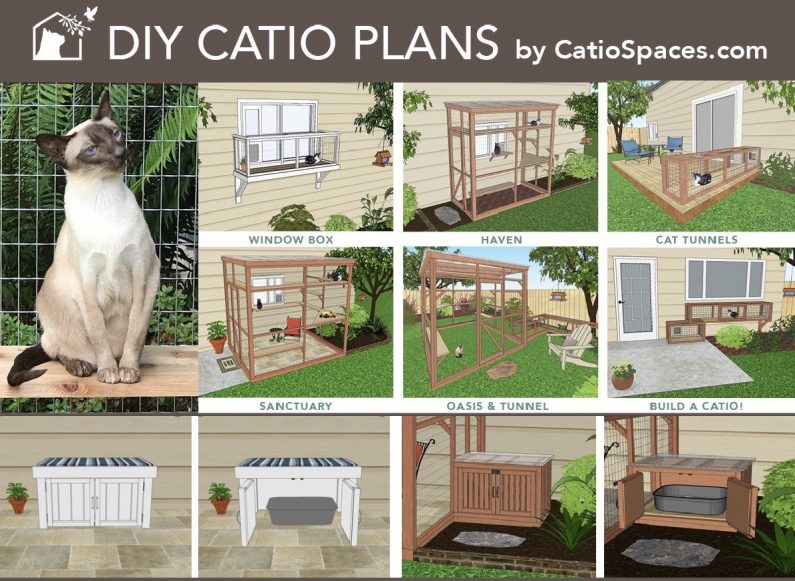 DIY Catio Plans by Catio Spaces range from $39.95-69.95.  Litter Box plans are $24.99.
The catio wood can be painted or stained to complement your home and garden. The catios can be decorated to complement your home and your personal style.
Available in a variety of sizes and designs, DIY plans are available as PDF downloads, so you can get started right away.
If you're dreaming bigger than a DIY Catio Plan, a custom-built catio offers the flexibility of design.
If you have a unique landscape or a special catio dream that you need help bringing to life, a custom catio may be the best match for you. This option provides the most options and flexibility.
Pros:
You'll work directly with a builder to create a catio designed to fit your home, landscape, and lifestyle. An experienced designer/builder can create a beautiful catio that fits perfectly onto your balcony, deck, porch, garden, or even a houseboat!
Your catio can be designed to meet any special needs you might have – for example, a ramp with guide rails to help a blind or mobility impaired feline — and that both you and your cat can enjoy for years to come.
A custom-built catio will more uniquely complement the architecture and color of your home. The extra investment in a custom creation should maintain or add beauty, comfort, and value to your home, not detract from it.
Cons:
The time and expertise of a designer and an experienced catio contractor do add cost to your catio build.
A custom catio is an investment that can range from $3,000 to $10,000 or more depending on your vision, budget, and available space.
It is very important to choose a contractor who has experience building catios. A contractor who doesn't understand the importance of cat safety or aesthetics may build a structure that looks more like a cage than one that complements your home.
Here are some tips for hiring a catio builder:
When hiring a contractor, be sure they are licensed and bonded, experienced in building outdoor structures, and provide client referrals and photos of their work. You should receive a detailed estimate and description of your project. Renderings may be provided for an additional fee. Once the project is approved. you can expect to pay a 50% deposit, and the balance is due upon completion of your catio.
Lastly, if digging will be done on your property, be sure to call 811 to locate underground utilities for a safe and successful project.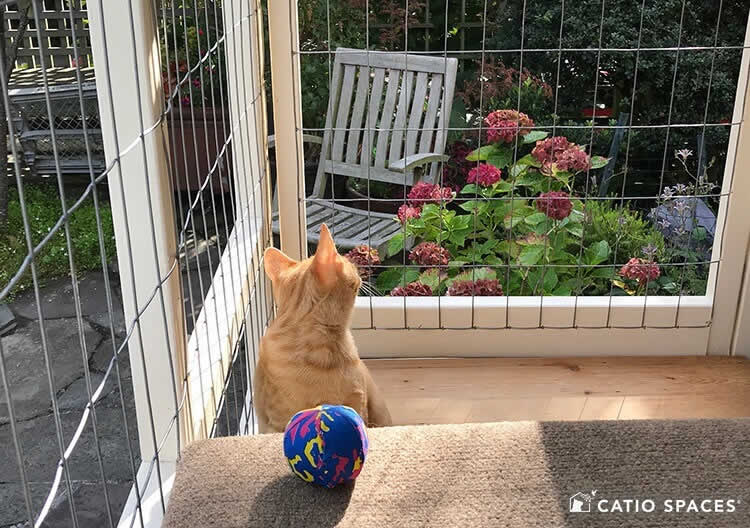 What type of Catio will you choose for your cat?
At Catio Spaces, we value the role cats play in our lives. Our goal is to provide you and your cat with a beautiful and secure outdoor space that complements your home and suits your feline's fancy. Now that you know what to look for, get inspired and browse our photo gallery, video library, and DIY Catio Plans.
If a custom catio has captured your imagination, you can get in touch with me here! I offer custom catios in the Seattle area as well as online design consultations for cat parents nationwide.
Bottom line, no matter what type of catio you choose, the investment will add enrichment and stimulation to your cat's life. Plus, you'll have peace of mind and experience the joy of the catio lifestyle.
Life is good in a catio!