No longer confined to watching wildlife from behind patio doors, three lucky cats enjoy fresh air and the stimulation of the best cat TV ever (birds and squirrels!)…while safe in their window catio.
HOW CAN I HAVE A CATIO FOR MY CAT?
We offer a variety of award winning DIY Catio Plans that you can build yourself (or hire a local carpenter to build it for you). We also design and build Custom Catios in the greater Seattle area. Looking for the purrfect gift for the cat lover in your life? DIY Gift Certificates are available.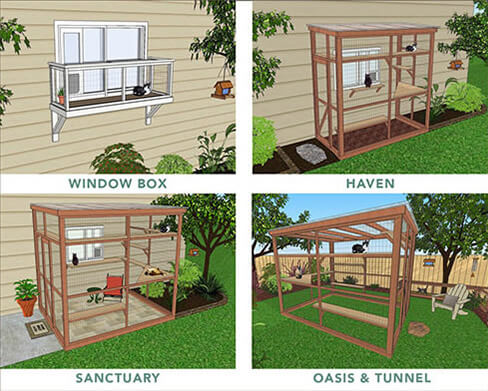 Do you want to build a catio? Or hire a local carpenter to build one of our award winning catio plans for you? We take the guesswork out of building a catio to save you time and money!
WHAT CAT PARENTS ARE SAYING ABOUT CATIOS….
"I'm pretty passionate about not having free-roaming cats outside. Not only to protect the bird population, but to protect themselves. They get in fights, they get hit by cars, get taken by coyotes, and they get diseases.
A catio is the perfect solution to having outdoor fresh, air bird watching and be safe.
I have two boys that were little feral kitten rescues, Gink and Griffon, and Brina is my little foster fail. They all love each other.
Before they had a catio they spent all their time in the window or at the French doors looking out at my patio and the birds.
I just feel good. I feel like I'm being a good cat mom. I'm really giving them a lot of input and stimulation and fun out here.
It makes me happy when I know that they're happy!"
-Deidre Blankenship, Cat Parent