Before he got his catio, "Boss of the Road" Mars, an energetic Abyssinian, frequently bolted out the door creating stress for his human companions and the birds in the neighborhood.
HOW CAN I HAVE A CATIO FOR MY CAT?
We offer a variety of award winning DIY Catio Plans that you can build yourself (or hire a local carpenter to build it for you). We also design and build Custom Catios in the greater Seattle area. Looking for the purrfect gift for the cat lover in your life? DIY Gift Certificates are available.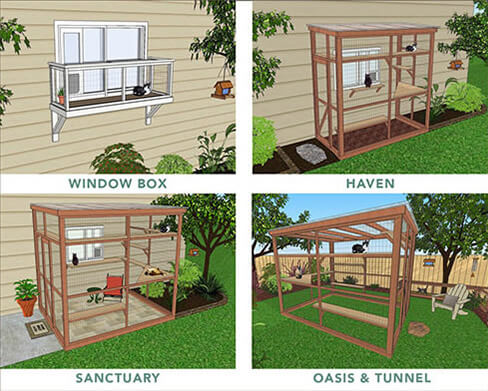 Do you want to build a catio? Or hire a local carpenter to build one of our award winning catio plans for you? We take the guesswork out of building a catio to save you time and money!
WHAT CAT PARENTS ARE SAYING ABOUT CATIOS….
"Mars is our Abyssinian, a red Abyssinian. They are a very intelligent and very affectionate breed. A good family cat.  He loves to meet everybody, come and rub himself up against you, purr, jump on your lap.  And if he's not getting the attention he wants, he will meow loudly to tell you that that's what he wants!
Before we had the catio, Mars was just desperate to get out, so it was always a challenge trying to get out the door without him sneaking out between your legs.
And then if he gets out – then "Oh, what are we gonna do now?  Do we have to leave the door open? Or wait for him to come back?
He seems to think that he is the boss of the road. There are dangers out there. There are other cats and there are raccoons. The idea of a catio was a good compromise for us. He could be outside and yet he could be safe.
He sits up on the carpeted shelves there so he can see further that way. He uses all the spots in it. He's out there basking in the sun, watching the world go by. Looking at the birds but unable to catch them because when he does get out he does tend to come in with a bird.
The catio is a better way for him to enjoy those things. He loves it!"
– Duncan Maclean, Cat Parent