DIY Catio Success Stories
Catios Bring the Outdoor Life to Indoor Cats (1:47)
We make it easy to build a catio!
See what our DIY catio clients are saying about their successful projects and happy cats.
And check out our DIY Catio Plans!
What DIY Catio clients are saying!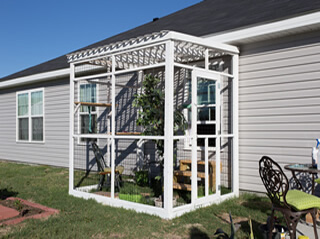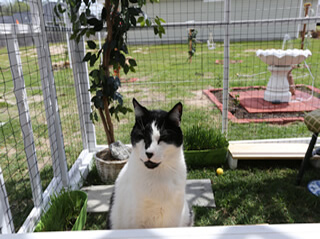 "The Sanctuary catio was a good project for my wife and I to build over a couple of weekends. Our cats Angel, Bandit, Beasley and Gabby all enjoy their catio in the morning and also in the evening as the sun goes down. Your do-it-yourself plans were excellent. They were detailed and well thought out.  My wife painted as we assembled sections and we think the finished catio is a unique addition to the house.  Thank you!"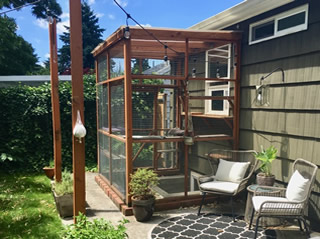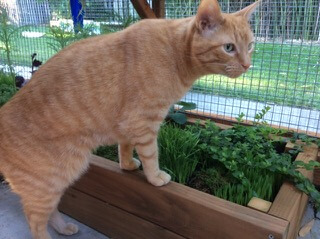 "Your DIY Catio Plans were a perfect solution for us and the directions are great!  Every detail was considered and the plans were easy to follow.  The catio is so beautifully professional and secure that I feel safe giving my cats permanent access, even at night.
People just can't believe we built it ourselves!"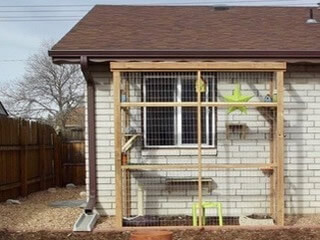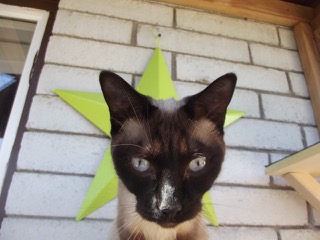 Your catio plans were super easy to follow and it turned in to being a great weekend project. The finished catio looks, and is, like an extension of our house.  Our little felines took a quick liking to it and the catio has given my wife and I the peace of mind that they can enjoy the outdoors in safety. We put in a pet door so they can come and go as they please.  Thank you from the bottom of our hearts for the DIY plans and giving our cats the freedom to enjoy the wonderful outdoors in a safe environment!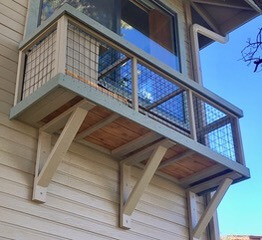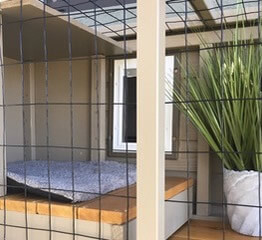 "I just finished building the window box catio and used the wire mesh roof option in your plans. I added a shelter inside and placed a plant near Dagnys' cat door and within 10 minutes she was out there enjoying some fresh air!
Thanks so much for the great do-it-yourself plans!"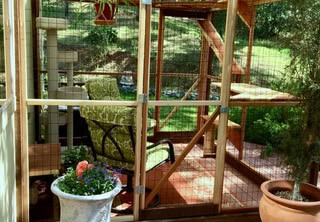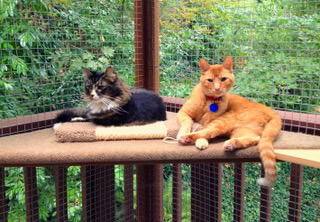 "We are really enjoying the Sanctuary catio that we built using your DIY plans. Jujube, our ginger cat sleeps out there and all of our cats spend time in the catio but it's Jujube's special place. I had considered the catio kits found on the internet but I ruled them out because they looked too aesthetically unpleasing.
We are thrilled with the results of building our own catio. Thank you for such a clever idea!"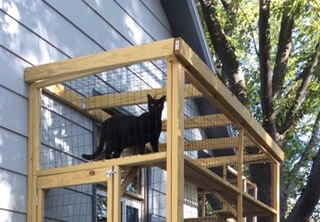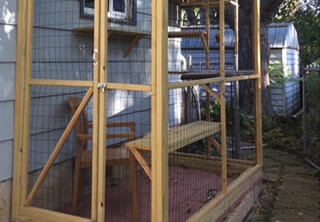 "I'm a 55 year-old nurse and if I can do it, anyone can! I priced out several pre-built options from other companies and just couldn't afford it. I investigated your website and with my home improvement skills I realized I could do this. I had my husband help with holding panels for the joining catio panels step, but I essentially built it myself.
I think it's a fantastic option for people who really love their cat companions!"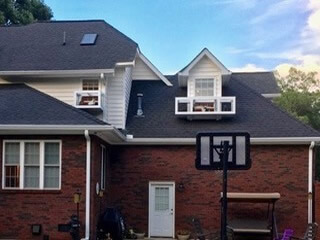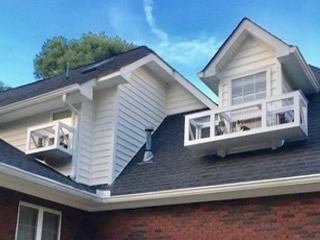 "We built and installed the window box catios and the cats love it!  We installed them on the second floor windows (one small and one large catio) and made a few changes so the angle braces worked well with the roof line.  There is plenty of room for the cats to stand or sit. They really do enjoy being able to go into the window catios to enjoy fresh air and it's really great for them.
Thanks so much for your DIY Catio Plans!"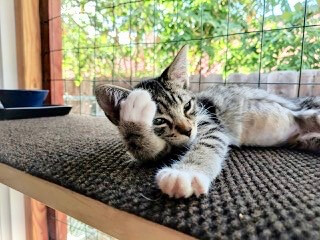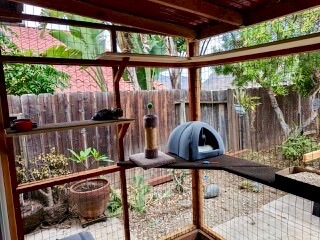 "Coyotes rule my neighborhood and I have a garden designed to attract birds. I knew I needed a strong enclosure that would provide safety as well as stimulation. I spent weeks searching the Internet for ideas. The Sanctuary from Catio Spaces was close to my concept  but I wanted my enclosure to fit into a smaller space. Before I purchased the plans, I sent an email to make sure I could modify the structure without too much difficulty. I was thrilled with Cynthia's quick response and encouragement.  I couldn't be happier with the result!"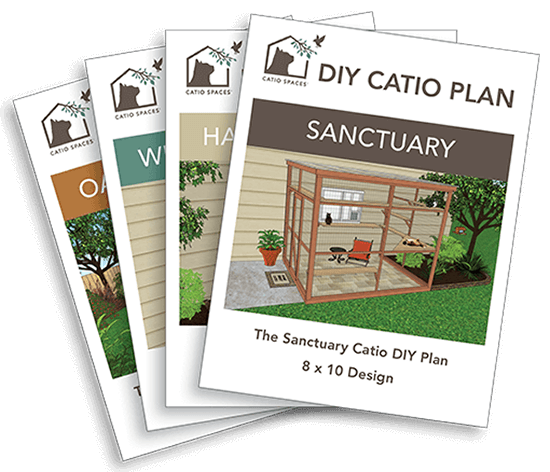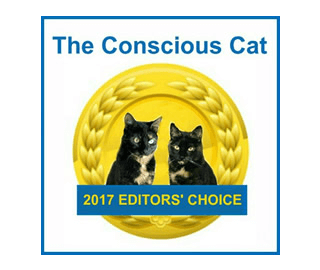 Our DIY Catio Plans were chosen as one of the "10 Best Cat Products of the Year" by The Conscious Cat!
Build one yourself…or hire a carpenter to build a catio plan for you!
HOW DO I KNOW WHAT CATIO TO CHOOSE?
We offer a variety of DIY catio designs and sizes for a window, patio, deck, garden or yard. First, consider the location for your catio and how much space you have. Next, decide whether you'd like your cat to enter the catio through a cat door in a window, wall, or door. That's the basics. If your space is limited, consider our compact Window Box™ or Haven™ catio plans. Looking for a catio you can enjoy too? The Sanctuary™ and Oasis™ plans are a purrfect choice with space for human seating.
PICK YOUR PERFECT DIY CATIO PLAN
- and see our new litter box plans!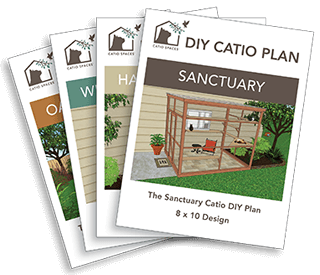 DIY Catio plans save you time & money
Take the guess work out of building your very own catio.
DIY Gift certificates also available!
WHAT MATERIALS WILL I NEED?
All of our DIY catios can be constructed with materials available from your local home improvement or lumber store. Basic materials include framing lumber, escape-proof galvanized wire, cedar shelves and roof options including wire mesh or polycarbonate panels so your cat can enjoy a catio all year long.
Don't worry – each DIY plan includes an easy, detailed shopping list. All catio plans are designed for the average person to make the process easy-to follow and rewarding to build.
WHATS INCLUDED:
Step-by-step instructions including diagrams.

Material list  (materials are available from your local home improvement or lumber store)

Tool list

Catios are designed as panels for ease of assembly (or removal if you move in the future.)

Roof rafters accommodate a wire mesh roof or a clear, polycarbonate weatherproof roof for year-round enjoyment.

Door placement options for human access into the catio.

Shelf design maximizes vertical space for cat exercise and enjoyment.

Adjustable catio height. (Adjustable width for window box catio plans.)

See specific plans for dimensions and design features.
PLUS BONUS information including:
Tips for acclimating your cat to a cat door and new catio space.

Tips for cat safe plants, enrichment, decorating and more!
All DIY Catio Plans are a pdf download so you can get started right away!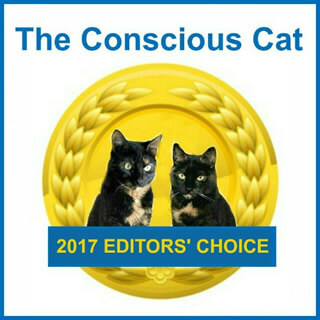 "Catio Spaces' DIY Catio Plans were chosen as one of the 10 BEST CAT PRODUCTS OF THE YEAR!  Between what I saw at Global Pet Expo and the products that were sent to me over the course of the year, I saw thousands of pet products in 2017.  It's hard to choose only 10 favorites, but with the help from my two product testers, and my cats (Allegra and Ruby), we've selected Catio Spaces' DIY Catio Plans as one of our 10 best cat products of 2017!"