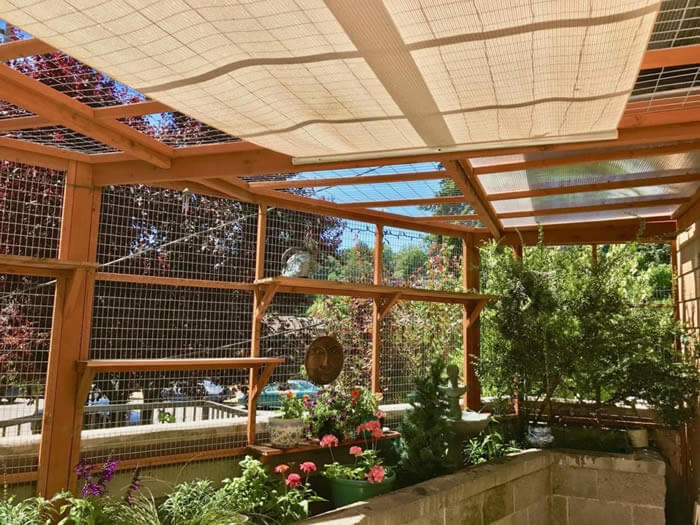 The warm summer sunlight is a welcome change for many of us, especially in the cooler climates. And while many kitties love to hang out (and catnap!) in the sun, summer heatwaves may prove a little extreme for both our cats and us. Heat stroke or exhaustion can be prevented—shade, water, cool places to rest, and indoor access are key ways of doing so.
Some cat breeds, like Persians, can be especially sensitive to over-heating because of their luxurious locks and smooshed faces. Their shorter airways can make it harder for them to cool down adequately.
So, in celebration of summer, I'm highlighting a few quick and easy ways you can keep your catio both cool and inviting for your cat during the deliciously hot summer.
Always include a shaded area or canvas top where your cat can relax away from the sun. Just because your cat loves the sun doesn't mean they want to be in it all the time. And vice versa, a cool-loving kitty may enjoy some sunlight once in a while. Aside from temperature preference, there are plenty of other things to consider when building a catio.
Here are some quick accessories to add to help create some shade:
Cover the top of your catio with a shade or canvas.
Add a bench or structure your cat can lay in, or under. A side-lying basket or a large, open umbrella may be novel additions.
Add some plants that provide shade underneath. Not only are they beautiful, they can provide plenty of protection from direct sunlight. Check out some cat-safe plant options here.
Provide fresh water sources. Water should be changed daily. For some extra summer fun and enrichment, consider a kitty fountain! They'll have a drinking source and a place to play to help keep cool.
Ice cubes! Some cats love to bat these around and others just like to lick them. Ice cubes can be added to the water bowl or given to your cat directly. Either way, they're a great way to help kitty cool off and have a little fun!
Last and most important: ALWAYS have the cat door unlocked and accessible for your cat when they're in the catio. If your cat gets too warm, it's vital she be able to get back inside. Ahhh, there's nothing as refreshing as walking into the air conditioning or fan after being in the heat.
Keep in mind, if your cat shows any signs of heat stroke like rapid breathing, excessive lethargy, unbalanced walking, vomiting, etc., seek medical attention immediately.
Not sure if a catio is right for you and your cat? Check out what Catio Spaces has done for these pet parents and their beloved kitties.