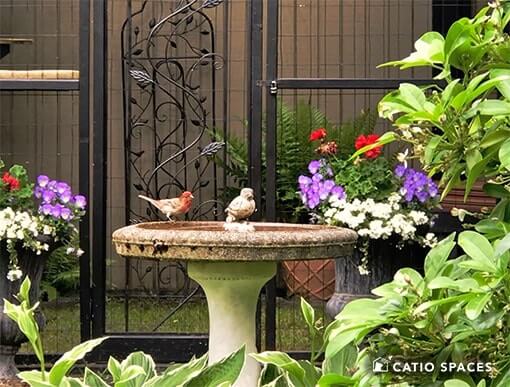 Like many cat lovers, I also enjoy having birds around my home, so I've worked to create safe and stimulating spaces for all. Whether your outdoor garden areas are large or small, with a little planning it's easy to enhance them to protect both pets and wildlife.
Keeping animals safe is a desire shared by many pet parents, conservationists, and animal welfare advocates. We understand even well-fed domestic cats are highly skilled predators with fine-tuned hunting instincts. However, it may surprise some to learn free-roaming cats are responsible for killing billions of wild animals, including local birds, every year.
As the National Park Service noted, birds benefit our gardens and natural areas by pollinating plants, spreading seeds, and controlling insects, but they risk becoming the prey of cats that are not in enclosures or on leashes.
My preference, of course, is for catios, where safely contained cats can exercise, enjoy fresh air, a leisurely nap in the sun, bird watching and the stimulation of ever-changing surroundings.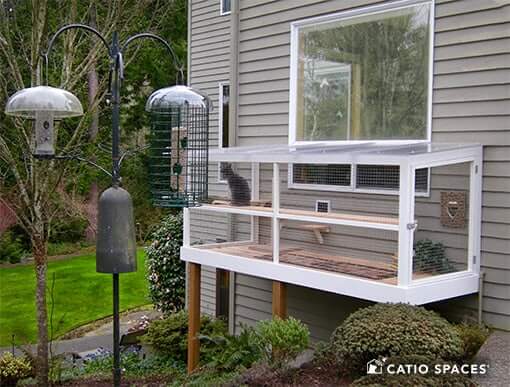 For more than two decades, the American Bird Conservancy (ABC) has offered solutions to conserve native birds and their habitats. In collaboration with cat dad Grant Sizemore from ABC, we're pleased to offer some tips on how to create a bird-friendly garden where people, their beloved pets, and wild birds can all coexist and thrive.
Grant and I agree outdoor enrichment can be a healthy component of a cat's life, if done responsibly. A bird-friendly garden is an ideal source of enrichment. Bird watching stimulates a cat's mind while also offering fun family activities, such as identifying various species and learning about their life stages, nesting preferences, and ways to provide natural food resources.
We hope these five tips will inspire you to create your own bird-friendly garden haven.
Contain cats in a catio or on a leash. There are many outdoor hazards for cats including vehicles, predators and diseases from other animals. Keep your cat safely contained when outside, whether in a catio or on a leash. Catio Spaces has a list of 10 benefits of catios and Modern Cat Magazine offers five tips for walking a cat on a leash.
Plant native plants. There are many resources on native plants and cat-safe plants. Grant suggests the work of wildlife ecology professor and author Doug Tallamy, including his books Bringing Nature Home and The Living Landscape. Other useful resources are the National Audubon Society's native plant list localized by zip code. Also be mindful to use cat-safe plants, especially if you will be incorporating them within a catio.
Avoid pesticides. Opt for chemical-free garden supplies. Pesticides can be toxic to birds, cats and humans, and have a long-term negative impact on the eco-system. Many retailers and online stores offer natural lawn and garden care products for healthy landscaping.
Help birds avoid colliding with windows. Have you ever walked into a glass door? Glass can sometimes be difficult even for people to identity. "Birds do not understand the cues that people use to 'see' glass, and too frequently they fly into it, resulting in serious harm or death," says Grant. Window strikes cause up to one billion bird deaths every year in the United States. ABC has a list of homeowner products for reducing these mishaps. Grant notes many of these solutions are easy to install, long-lasting and inexpensive.
Take other simple steps to create safe havens. For starters, see the list of 5 ways to turn your outdoor spaces into habitats for wildlife, courtesy of the Humane Society of the United States. Also, the National Wildlife Federation has a program where you can turn your yard, balcony, or container garden into a certified wildlife habitat.
With a little planning and taking action in our own backyard, we can make a significant difference for cats, birds and wildlife. And by spending more time outdoors, we can reap the benefits of nature, too.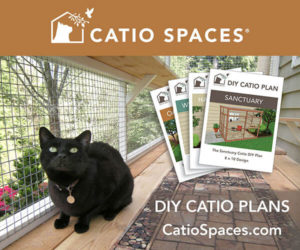 For more free tips on safeguarding cats outdoors and to view various styles of catios for a window, deck, patio or garden (including DIY catio plans), sign up for our newsletter.