Kept indoors due to coyotes in the neighborhood, Carter and his buddy, Bandit, now enjoy the "wind in their whiskers" and outdoor catio time with their nature-loving mom.
HOW CAN I HAVE A CATIO FOR MY CAT?
We offer a variety of award winning DIY Catio Plans that you can build yourself (or hire a local carpenter to build it for you). We also design and build Custom Catios in the greater Seattle area. Looking for the purrfect gift for the cat lover in your life? DIY Gift Certificates are available.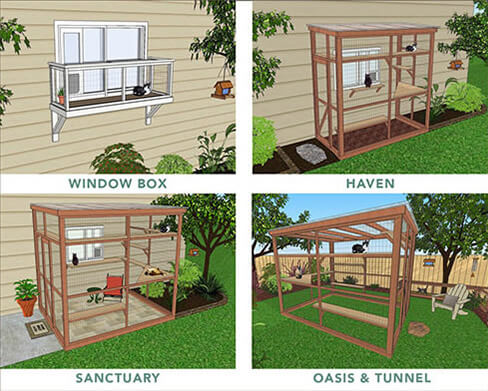 Do you want to build a catio? Or hire a local carpenter to build one of our award winning catio plans for you? We take the guesswork out of building a catio to save you time and money!
WHAT CAT PARENTS ARE SAYING ABOUT CATIOS….
"We have two cats, Bandit is the oldest. He is a tuxedo. And then we have Carter, a Maine Coon who was outdoors with his previous home. I wanted to let him out at our house but we have so many coyotes in our backyard. We live on a greenbelt and I didn't want to lose him to a coyote.
I wanted a catio because I wanted to let the cats outside and I wanted them to be safe.
It just makes me so happy to see the cats outside enjoying nature and being outdoors when I am outdoors gardening. And to be able to watch our dog Dylan, and the squirrels and the birds in the backyard. I think it makes them happy too.
I wanted the catio to blend in and look as natural as possible, to appear like it belonged there.
The most surprising thing was Carter, who is the Maine Coon. He is very shy and timid in the house but he immediately went outside and just loved it! It brought out more confidence in him, and his whole personality just blossomed.
I just think it is really important that they have a venue to be able to go out and enjoy the outdoors like I enjoy the outdoors."
– Barbara Beard, Cat Parent