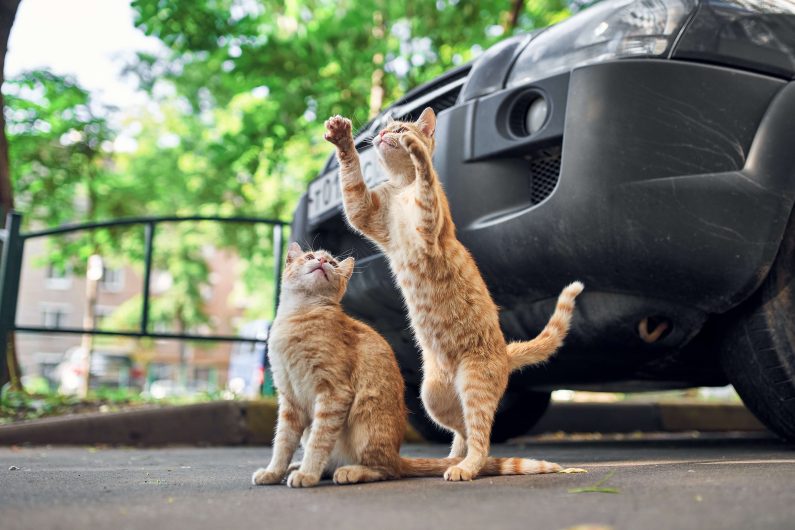 This beautiful crisp, cool weather of autumn ushers in a flurry of animal activity every year. Wild animals are stashing away winter food and plumping up for cold weather. Deer are becoming less cautious as they search for mates. Brisk air and falling leaves tempt dogs and cats with a frisky sense of fun after a long hot summer. And we humans want to jump in our cars and head out for some autumn adventure, too.
World Animal Road Accident Awareness Day on October 10, 2022, is our reminder to be extra watchful for animal activity when we hit the roads this fall. November, October and December (in that order) are historically the most dangerous months for animal collisions. At some point, every driver experiences that awful heart-stopping moment when an animal darts into the roadway, resulting in a collision or a near miss. Notifying a grief-stricken pet parent that their cat or dog has been hit is extra heartbreaking.
As the founder of Catio Spaces, my mission is to keep cats safe in outdoor cat enclosures or "cat patios" and help protect birds and wildlife. The National Traffic Safety Administration has estimated that as many as 5.4 million cats are killed by cars every year, and US drivers have a 1 in 116 chance of striking an animal. So, I'm sharing some important information to help people become animal-aware drivers this fall. Just a few extra steps can help increase safety for wildlife, cats, drivers, and their passengers on the road all year long.
8 Safety tips for animal aware drivers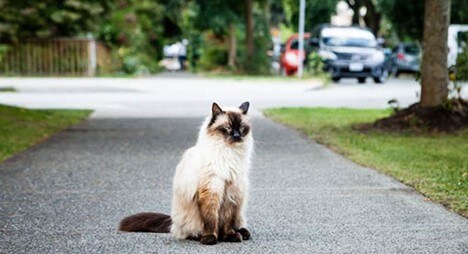 Obey speed limits and slow down between dusk and dawn so you have extra time to stop for unexpected hazards like pets, wildlife, and pedestrians.
Wear your seatbelt! If you hit the brakes to save an animal, you don't want to put yourself or your passengers at risk.
Be especially cautious on two-lane roads, where 89% of animal collisions occur.
Watch for a second animal when you see the first one cross the road. Deer, ducks, and other wild animals often travel in groups, and feral kittens will sometimes skitter out after their mother.
Scan the sides of the road for animal activity, use your high beams to watch for eye-shine when possible, and slow down when you note deer crossing signs.
Update your cell phone contacts with direct numbers for your local police, animal shelter, and wildlife conservation agency.
Add a towel or small blanket, slip leash, leather work gloves, a pillowcase, and flares to your regular vehicle emergency kit, and store everything in a small animal carrier. All of these come in handy for both human and animal emergencies.
Take a quick look under your car, thump the car hood, or beep your horn before starting your vehicle in cold or rainy weather, in case a kitten or cat has taken refuge there.

5 questions drivers ask about animal encounters
1. Should I swerve to avoid an animal on the road?
Avoid the sudden swerve. While a driver's first alarmed instinct may be to yank the steering wheel to avoid hitting an animal, insurance experts like Geico and State Farm advise that it's probably safer to brake than swerve when an animal darts in front of you. Veering suddenly – especially while braking hard at the same time — can cause you to lose control of your vehicle. Animals are unpredictable and may also change direction once they see your vehicle, so swerving away doesn't guarantee you'll avoid a collision. It's better to stay in your lane and slow down via controlled braking.
2. What should I do first if I hit an animal with my vehicle?
Make sure you and your passengers are safe. Pull your vehicle off the road if there is room, use your hazard lights or flares to warn other drivers – especially if the animal is still in the roadway — and tell your children to stay inside the vehicle. A kind-hearted kid's first impulse may be to jump out to help, putting themselves in danger of being hit by an oncoming car.
Call an expert for assistance. Even if you can assist the animal yourself, it's best to notify police for help or advice. Don't hesitate to dial 911 if you are hurt, your vehicle is heavily damaged, or accident is creating a risk to other drivers. Otherwise, call the police non-emergency number, where the call representative will have more time to help you. If an animal control officer, wildlife conservation officer or wildlife rehabilitator should be notified, the police can usually help you connect with them.
Look for a collar ID tag and quickly check the nearest houses to see if the pet is theirs. If you are alone, give a call or send a text to a friend or family member with your location and let them know you are going door to door. A friend can also help by calling the local animal shelter to see if the pet has been reported as lost, if you haven't already.
3. Should I move an injured wild or domestic animal out of the road?
Get help for an injured animal, but don't risk your own safety. You might feel comfortable gently scooping up a bird or carefully sliding a stunned animal out of harm's way, but if the animal is struggling or trying to bite out of fear, alert oncoming drivers with your hazard lights or flares and wait for expert help. The antlers or hooves of deer and livestock and the sharp talons and beaks of hawks and owls can cause serious injury. If you have training in animal handling or are certain you are safe, wear gloves and ease the animal to the side of the road. Covering a frightened cat's head and body with a towel, jacket, or blanket can help calm them. If you plan to transport a smaller animal, move it gently into a covered cardboard box.
4. What do I do if an injured animal runs off?
Mark the location. If an injured animal runs after being struck and you can't see them nearby, flag the location with a bandana or cloth tied to a guard rail or shrub. Note the nearest mile marker if you are on a highway. Notify authorities with the location and a description of the pet, so a police officer, animal control officer or the pet owner will know exactly where to begin their search. If you plan to search for an injured cat yourself, Cats Matter has search tips here.
5. Should I stop to move or check ID on a deceased animal?
Safety is key. I understand why many animal lovers can't bear the thought of leaving a deceased animal alone in the middle of the road. Nonetheless, stopping alongside a road and stepping into the lane of traffic is dangerous. If stopping to move the animal or to check for ID seems risky, call the police or your local humane agency with the location and a description of the pet. If you do move a pet to the side of the road, make sure they are still visible for a searching pet parent to see. If you decide to take the deceased pet with you, an animal shelter or veterinary clinic can scan the pet for a microchip and hold them for a searching owner.
You can help a pet parent locate their lost pet by notifying the animal shelters in your area and by reporting the pet on Nextdoor or other online community forums. American Humane offers this guidance to help locate the guardian of a lost cat.
How can I keep my cat safe from road hazards?
If you've ever lost a cat, you know the heartbreaking anxiety of searching your neighborhood, hoping to find them before they wander into the road. We have an entire article on lost cat prevention, but here are a few ways to lower the risk and help get your lost cat home.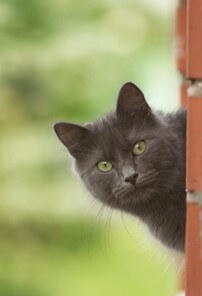 Be alert for possible escape routes. Check the security of window screens, add automatic closers to storm doors, and double-check that carrier doors are latched when you transport your cat.
Microchip your cat. If your stealthy cat does slip out and is rescued by a Good Samaritan, they can reach you more quickly when the chip is scanned at a veterinarian or animal shelter. You can get your cat to your own trusted veterinarian if they are injured or bring them safely home.
Train escape artists to wear a reflective breakaway collar and an ID tag. If your feline is a regular Houdini, gradually introduce them to a collar and tag. Microchips are permanent, but ID tags are the fastest way to get a lost cat home. A reflective collar alerts nighttime drivers to slow down or stop to help if your lost cat does wander near the road.
Consider pet insurance. If you worry that you might not be able to spring for 100% of the cost of emergency veterinary care if your cat is seriously injured by a car, the more manageable monthly cost of pet insurance might be a better option for you.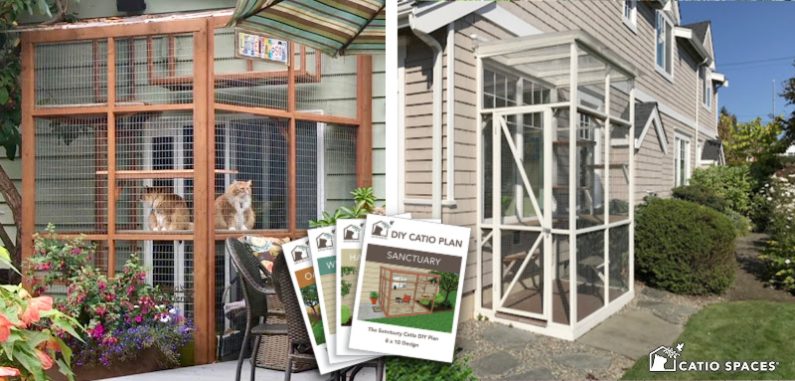 Build a catio! Your cat will be far less likely to try to dash out the door if they can experience the joy of nature safely within their own catio. Catios are the best option to protect cats from all outdoor hazards, including roads, predators and poisons, and they also keep birds and wildlife safe from feline hunting instincts. You can get started on your own with one of our many versatile DIY Catio Plans that you can build yourself or hire a contractor to build the plan for you.
Support animal rescue organizations. Well-funded animal organizations are better able to help when you find an injured cat, dog, or wild animal. Here at Catio Spaces, we donate 10% of DIY Catio Plan purchases to animal welfare organizations to help them with their life-saving work.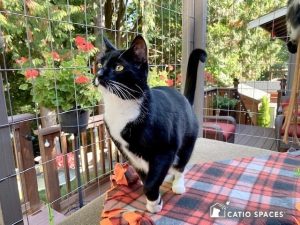 Enjoy the beauty of autumn!
Help make the season safe for both cats and wildlife by becoming an animal-aware driver – and let your cat enjoy the enrichment of the outdoors from the secure vantage of their very own catio.
You'll have peace of mind and a happy and healthy cat.