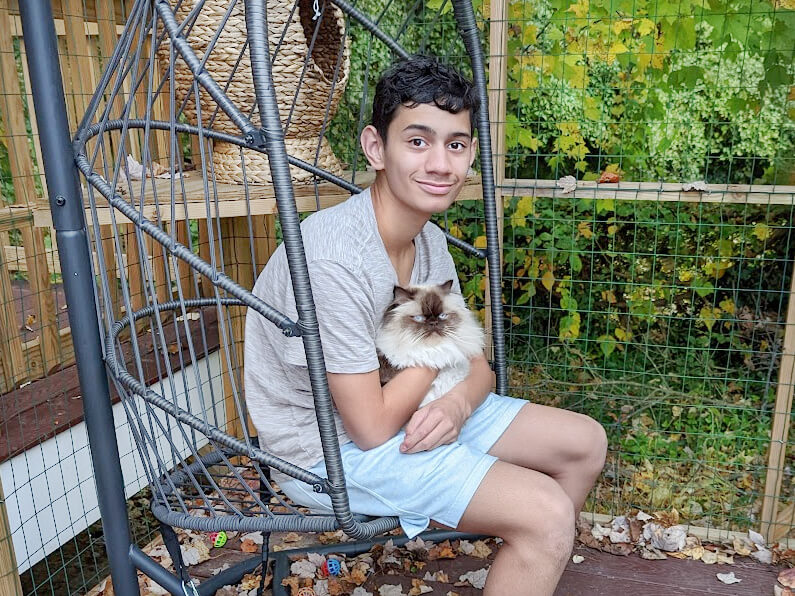 I recently had the opportunity to be part of something truly life changing. Catio Spaces was one of the wish-granters for a special 13-year-old boy named Toa, in partnership with WINN Design+Build and the Make-A-Wish Foundation, a non-profit organization that helps fulfill the wishes of children with a critical illness.
Toa and his family were grappling with his diagnosis of Acute Promyelocytic Leukemia (APL). With COVID keeping everyone close to home, Toa's Wish wasn't just for himself but for his entire family and his two beloved cats. He dreamed of a large outdoor deck where they could all spend time together. For the cats to be safely included, a catio became part of Toa's Wish, too!
Planning a wish and watching it come to life allows a kid to look beyond their illness and get caught up in something truly magical.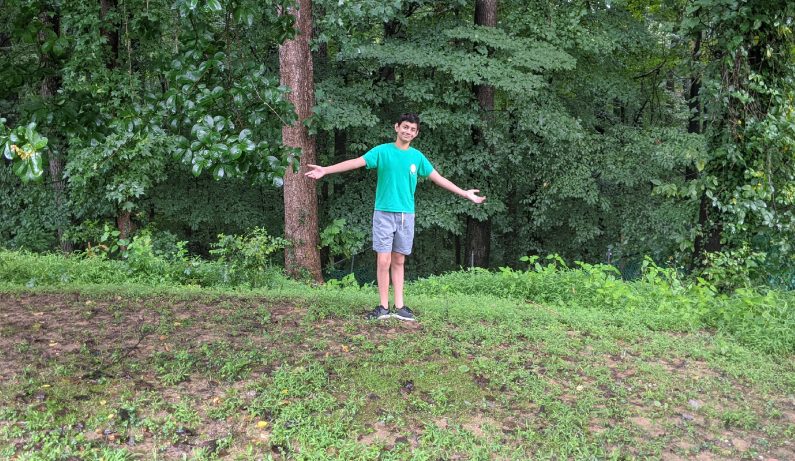 This is the spot! Toa envisions a deck and catio for his whole family to enjoy.
Meet Toa
Toa was just starting his fifth-grade year in September 2019 when he was diagnosed with Acute Promyelocytic Leukemia, a cancer of the bone marrow. It was a very difficult transition for his parents, Ise and Thomas, and little brother, Vasa. Neither of the kids really understood what was happening, according to Ise. "Toa's father and I took time off work to take care of them both. We took turns sleeping at the hospital with Toa so one of us could be at home with Vasa and walk him to school the following day," she explains. "It all went by so quickly it's hard to look back now, two years later."
When asked about his personality, Toa's mom says he is a quick study, sometimes shy, knows how to entertain himself, and enthusiastically plays Virtual Reality games like no one is watching him. Toa is also convinced he is hilarious and doesn't care if people sometimes don't get his sense of humor. He likes his role as an older brother to eight-year-old Vasa, a mischievous and energetic boy whom his parents call their "little Tasmanian Devil." He secretly shows Vasa affection when he thinks no one is looking.
"Toa has a forgiving soul and believes all people are good, and he'll give them endless do-overs to prove they have the capacity to change."
Cats are Toa's spirit animal
Toa loves his cats because they are calm, cute, and soft, and they make him feel at peace.
Sweet Alana is nine years old, and her personality is much like Toa's. Geo is four and energetic like Toa's brother, Vasa.
Toa not only loves his felines – he connects with cats as his animal spirit.
Just like a curious cat, Toa is drawn to fascinating things and is compelled to check them all out. His other feline qualities include being comfortable in his own skin and luxuriating in a good stretch whenever he feels like it.
According to his mom, "Toa enjoys being alone but will not scoff at your company if he looks up and sees you sitting nearby."
Toa's Wish: A Deck and Catio for Family Togetherness
Toa's wish began with Cathy D. Bottrell, a Pediatric Oncology Clinical Therapist at Inova Schar Cancer Institute in Virginia, who referred the family to the Make-A-Wish Foundation. A regional volunteer specialist became the family's liaison, and a Parent's Guide to Wishing guided Toa's parents through the Wish submission process.
Toa's Wish was a special gift for his family. What he wanted more than anything was to spend time outdoors with his parents, brother, and his indoor-only cats, Alana and Geo. He dreamed of a large outdoor deck and a safe space for his feline companions. Toa and his mom started searching online, and the end result was, of course, a catio. And not just any catio!
Bringing Toa's Wish to Life
WINN Design+Build were in the permitting process for Toa's deck project when they reached out to Catio Spaces. James Finn, Architect, and Jennifer Hall, Coordinator, led the project at WINN, and I was thrilled to get involved. Initially, they were interested in one of our DIY Catio Plans however, after I reviewed the location and learned more about the project, a custom catio design would be the best option.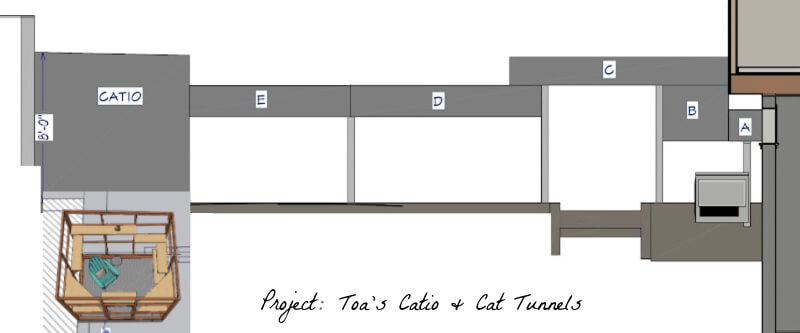 Since the deck would be located 30 feet away from the house, I designed several elevated tunnels for the cats to safely travel from the house to the catio, accessible through a cat door in the laundry room window. This would eliminate the risk of the cats escaping rather than carrying them back and forth. Located near the steps to the new deck, the catio features space for Toa and multiple cat shelves for exercise, lounging, and watching family activities. Once the Catio Spaces design was finalized, WINN's team of carpenters got started building the catio structures, and they did a great job!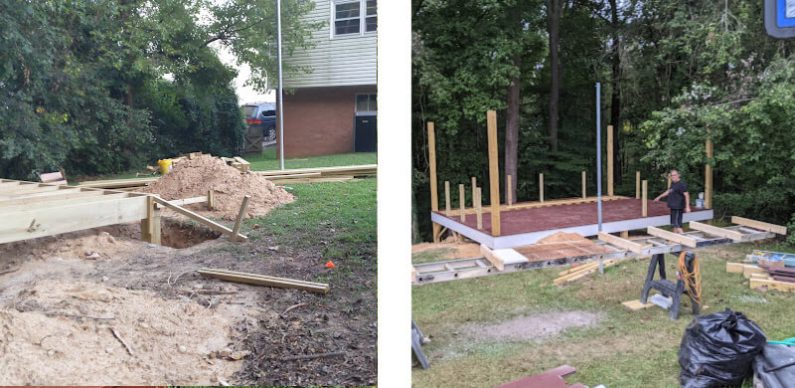 The deck footings, floor frame, and railing posts are under construction.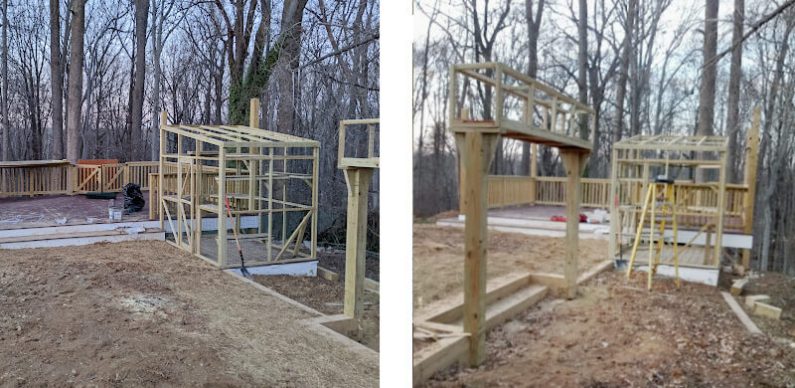 The catio and elevated cat tunnel start to bring Toa's wish for his cats to life.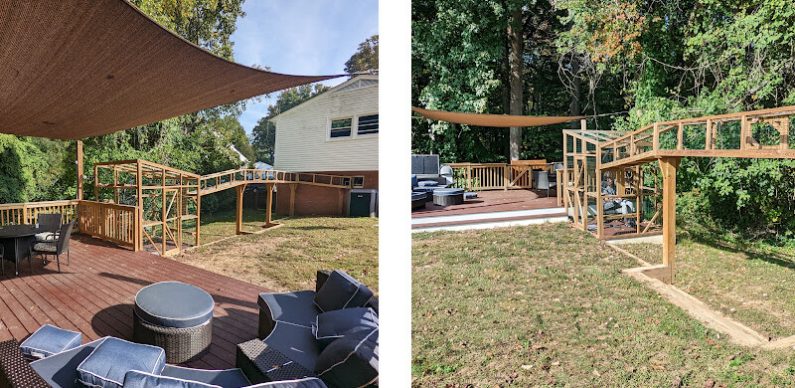 Catio Spaces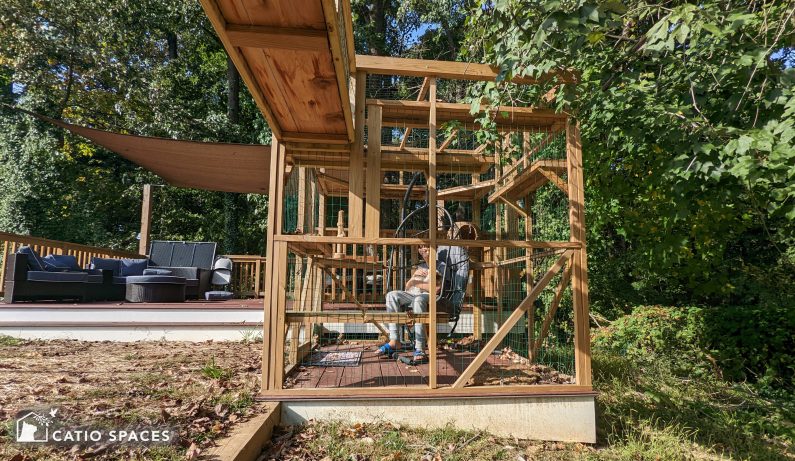 In February 2022, Toa's deck and catio were complete! Surrounded by nature, Toa now spends time outdoors with Alana and Geo in a catio that he decorated in a natural minimalist style.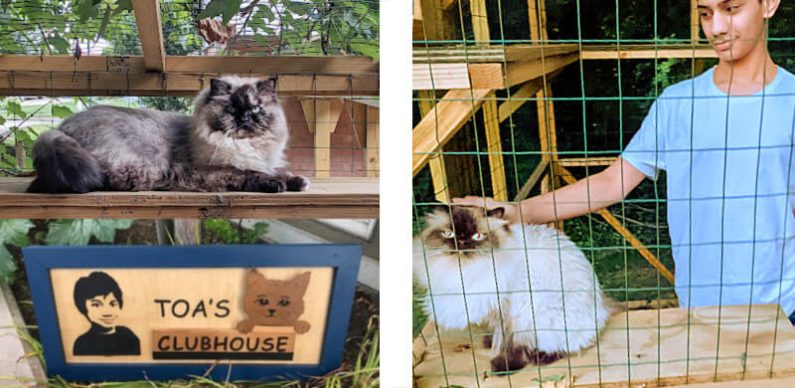 Alana and Geo love their new catio. Their favorite time to lounge and explore is during the early morning and evening hours. Alana will lay for hours on a cozy upper shelf near the entrance. Geo also likes being near Toa's dad and will walk across the cat tunnels anytime he sees him go outside.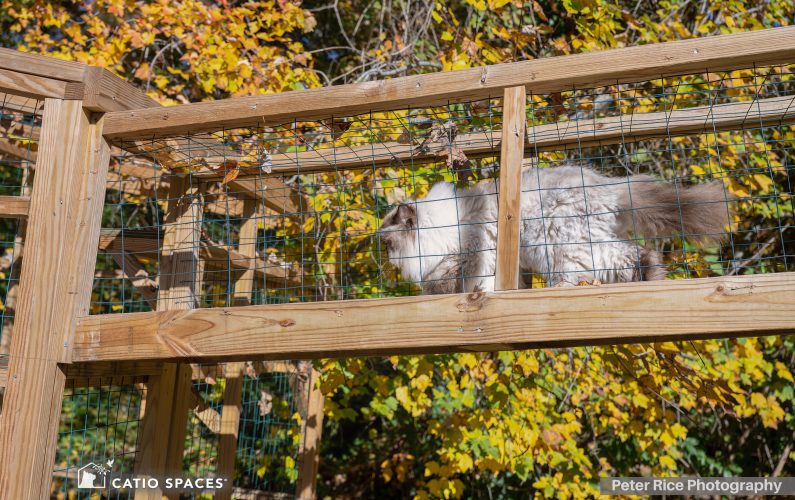 "Our summer was lovely, and the new deck and catio are everything Toa had wished for!"
Special Finishing Touches for Toa's Catio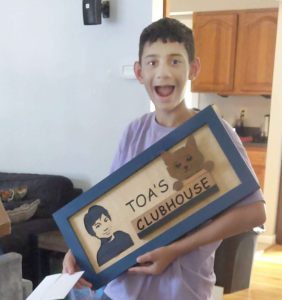 Toa has a lot of love for his family and his cats. So, in addition to the custom catio design, I wanted to give him some special gifts that would add joy and help make his new catio a space of his very own.
Catio Spaces donated a gift certificate to help Toa decorate his catio, a cat door, and a custom clubhouse sign.
It was a joy to get to know Toa, his family, and of course, their cats! Toa's Wish was a very special opportunity to be part of a community of caring people working together, bringing happiness to one very special family.
The WINN team remembers Toa's family warmly as well. Their memorable moment? It was their first meeting with Toa's family and Make-A-Wish. Everyone was so excited to get started and see Toa's wish come true.
You can help make a child's wish come true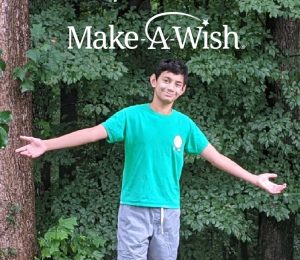 Every 33 minutes, somewhere in the United States, another child's greatest wish comes true through generous donations to Make-A-Wish America.
When a wish becomes reality, it creates strength, hope, and transformation for a child.
If you'd like to help change a child's life, you can donate to Make-A-Wish America, the national non-profit organization that helps support local Make-A-Wish chapters.
Or you can choose to support your local Make-A-Wish chapter that serves children near you. Wishes impact everyone involved—wish kids, volunteers, donors, sponsors, medical professionals, and communities.
Do you wish for a catio of your own?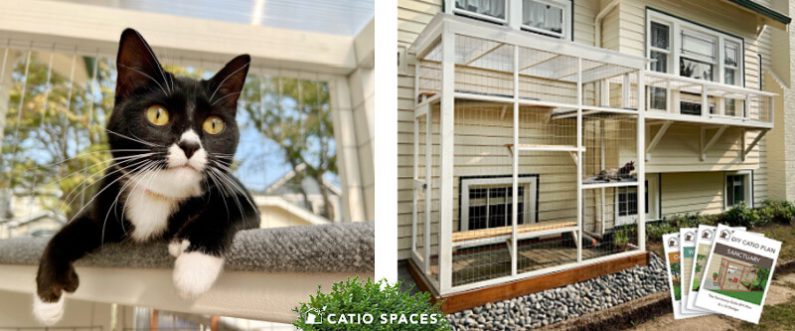 If Toa's journey has sparked a wish for your favorite feline, you can make your cat's wish come true with a catio. You'll also enjoy peace of mind knowing your cat can always be safe and happy outdoors. A variety of DIY catio plans are available, from small to larger catios with space for humans, too. You can build the plan yourself or hire a contractor to build it for you. Plus, you can paint and decorate your catio to suit your personal style and your feline's fancy!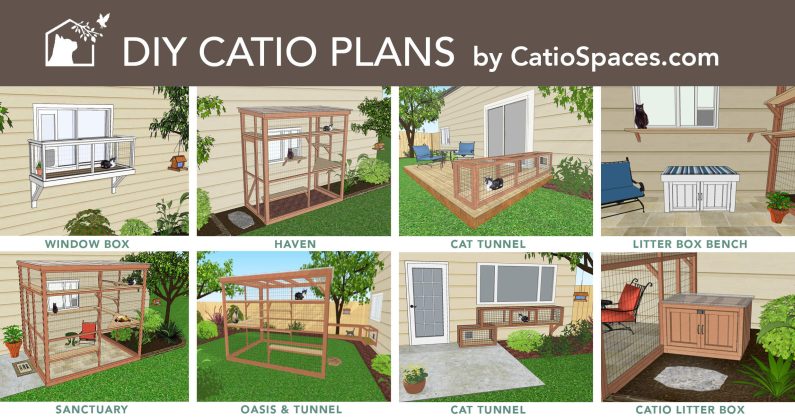 Use Promo Code HOLIDAY50 at checkout.
LEARN MORE ABOUT DIY CATIO PLANS >>
Paws up for making catio wishes come true!