We know how curious pets can be, especially now that the weather is cooler and we are in and out of the house, completing our countless pre-winter projects. Whether you have cats or dogs, an exploring pet can quickly swallow unattended objects, munch on toxic plants, dash out the door, or push out a loose screen on a window we've opened to enjoy fall breezes.
Most common pet hazards are preventable with a little foresight. October is National Animal Safety and Protection Month — the ideal time to review simple ways to keep your beloved pets safe, healthy, and happy at home. Just a few safety measures and modifications to your home, garage, and yard can head off pet accidents, avoiding unnecessary (and costly) trips to the veterinarian or hours of panic searching for a lost pet.
8 TIPS FOR PROTECTING YOUR PETS, INDOORS AND OUT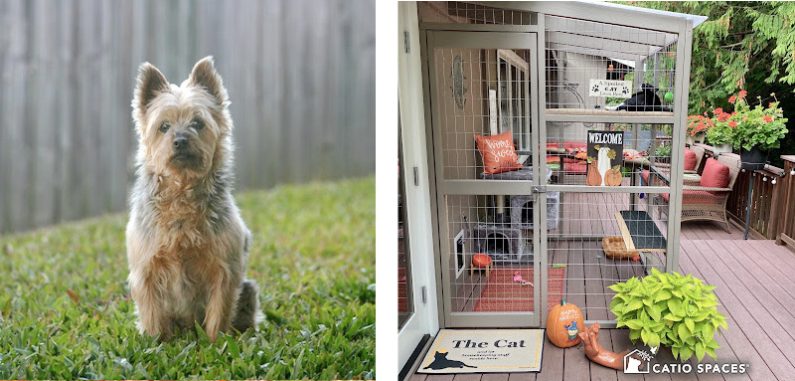 1. Add a dog fence or a catio, an outdoor cat enclosure, to contain your pets. A catio haven provides the stimulation and enrichment of nature while you enjoy peace of mind knowing your cat is always safe outdoors. (See Cassie's catio story below). Remember: Dogs in fenced areas should still be monitored, because digging, climbing, and open gates happen!
2. Add childproof latches to cupboards and keep counters clear. Closed and fastened cabinets keep food, wrappers, cleaning products, medications, chemicals, laundry supplies, and trash out of reach.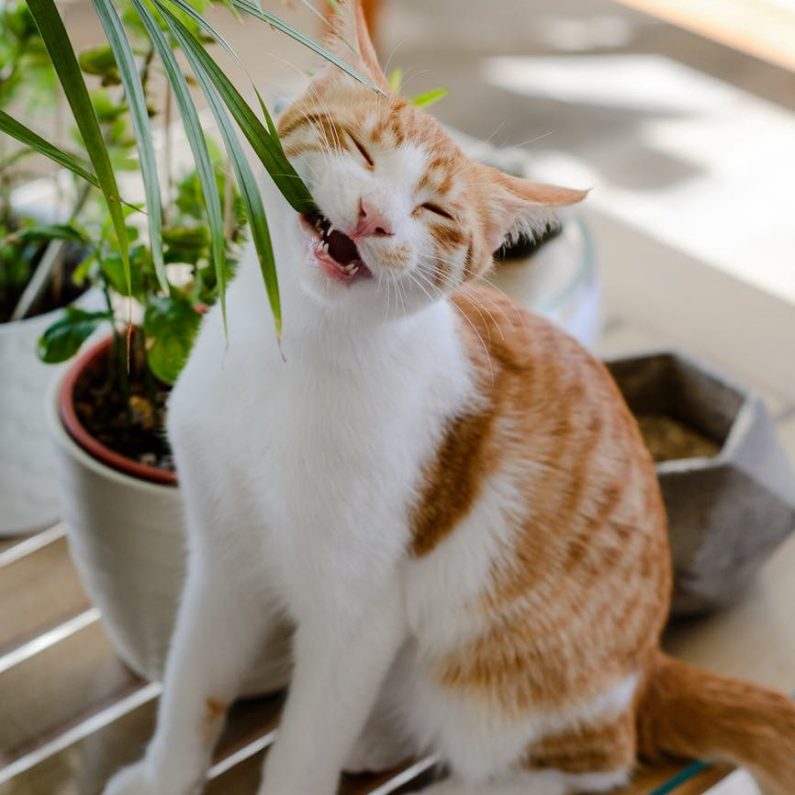 3. Store choke hazards out of reach. Put away toys, games, and craft supplies and keep knick-knacks, medications, and cosmetics off all accessible surfaces.
4. Keep toxic plants out of reach both indoors and outside. Check out this toxic and non-toxic plants list compiled by the American Society for the Prevention of Cruelty to Animals (ASPCA) to help keep pets safe.
5. Keep garage floors and driveways clean. Eliminate the temptation for pets to lick up lethal antifreeze, spilled chemicals, or other harmful substances.
6. Tag and microchip your pet. Providing clear identification helps neighbors, veterinarians, and animal control reunite you with your lost pet.
7. Add pet alert static decals to windows near your home's entry. They help alert emergency personnel that your pets may be inside during fire, flood, or welfare checks.
8. Include pets in preparedness and evacuation plans in the event of a disaster. Don't be left scrambling in a panic if the unthinkable occurs. ASPCA has a disaster preparedness checklist for pet safety. Be sure your pet has annual vet checkups so that required vaccinations are always current if you need to board your pet in an emergency.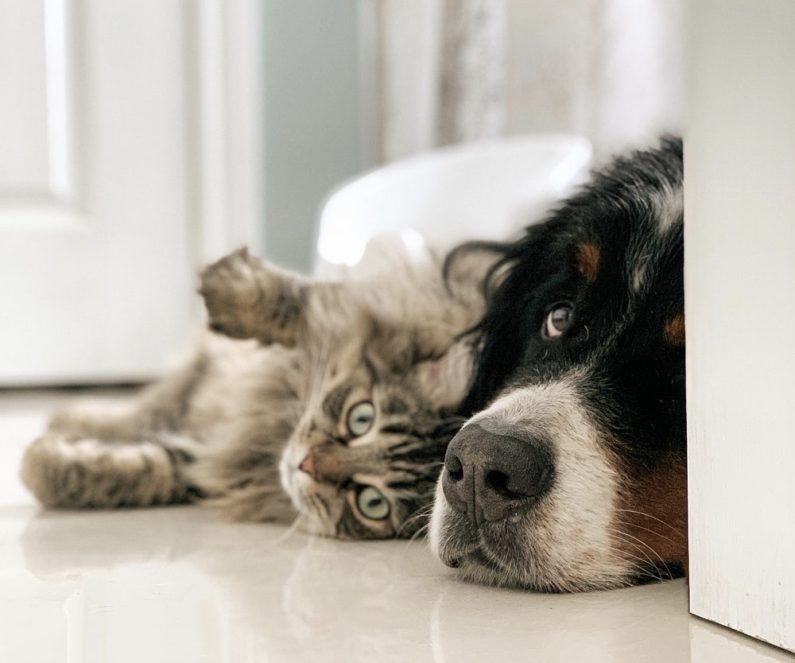 CREATING A PET-FRIENDLY AND HARMONIOUS HOME
There are so many ways you can make your home both safe and pet-friendly, especially if you are remodeling or simply want to enhance your pet's life. Changes don't need to be drastic or change the human functionality of the home. In fact, designers recommend that home modifications to accommodate pets should be multifunctional so they could be repurposed by a future, non-pet owner.
Need ideas? Here are some examples of pet-friendly additions to your home:
Pet doors create easy access to a fenced backyard, a catio, or enclosed porch. Special window and door inserts keep walls intact and are removable in the future.
A litter box bench in an enclosed deck or catio helps reduce litter odors and adds an extra relief area for cats.
A non-slip pet washing station and waterproof flooring reduce stress at bath time.
Comfy nooks, crates, or high perches add safe pet retreats throughout your home.
Ramps or low-rise steps assist senior pets when they want to snuggle with you on the bed or couch.
Built-in or raised feeding areas make dinner time more comfortable for your pet.
A soundproofed laundry room or secure area can be a haven for cats and dogs who experience sensory overstimulation from fireworks, thunder, or loud noises.
CASSIE'S COMFY CATIO
Cat parents Judy and Doug attended the Seattle Catio Tour and asked Catio Spaces to build a custom catio so their beloved indoor cat, Cassie, could safely enjoy the enrichment of the outdoors. Adopted from Homeward Pet in Woodinville, WA, Cassie quickly made herself at home and has since become Queen of the household. Whatever Cassie wants, she gets (she even paws at Judy's leg to fetch her toys and to get off her living room chair when it's time for an afternoon nap!). A catio was a purrfect project to expand Cassie's domain to the great outdoors.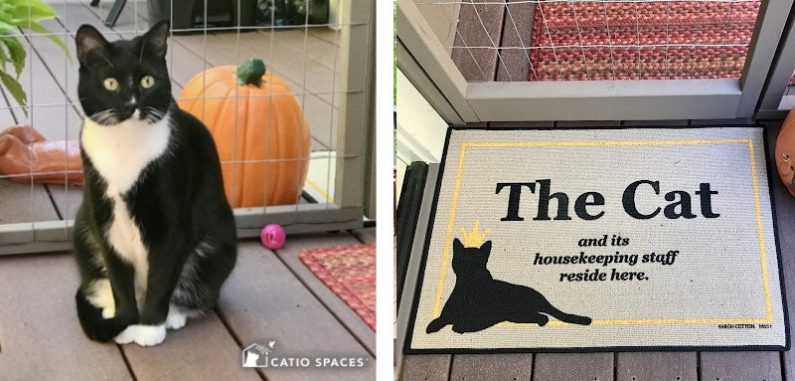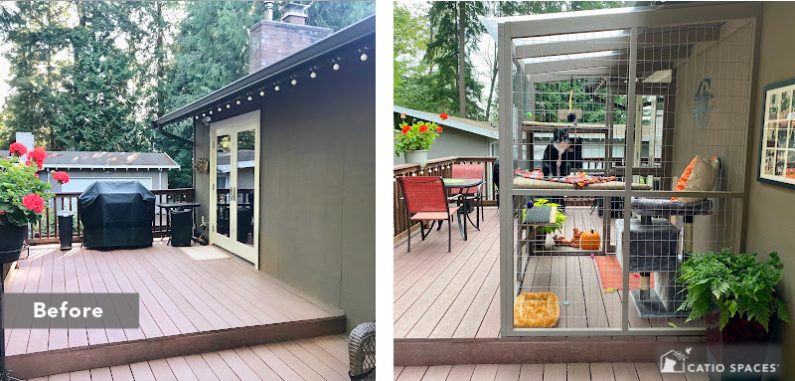 The custom catio is located on a lovely backyard deck surrounded by human seating, plants, and expansive views of the garden– a place where the whole family can be outdoors. The painted catio matches the house color, and interior furnishings include shelves, a cat tree, pillow, welcome mat, and seasonal décor.
THE CATIO: A SAFE HAVEN THAT'S NOT JUST FOR CATS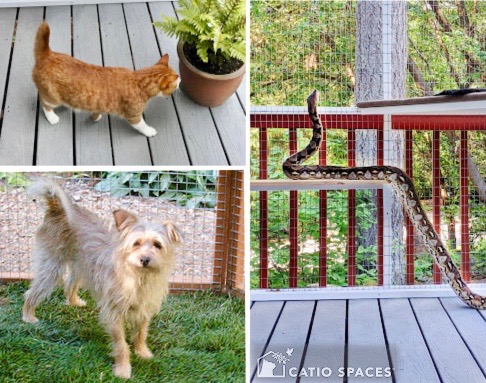 Catios could easily be called a petio, dogio — or snakio! Cats, dogs, ferrets, tortoises, and even scaled and slithery pets can safely explore the outdoors in their very own enclosure or timeshare catio. Just use an appropriate mesh size for their species.
Catios also protect songbirds, wild mammals, and fluttering insects like butterflies from the natural hunting and chasing instincts of wandering cats and dogs. Catios are a safety win for both pets and wildlife.
Catio Spaces' founder-designer Cynthia Chomos believes that protecting pets at home is a responsibility every pet parent should take seriously, especially cats. "We've all seen neighborhood posters and online forums for lost, missing, or deceased cats, and it's both heart-wrenching and preventable. We don't allow dogs to roam freely outdoors, and several cities have adopted leash laws for cats as well. There are lively debates on the indoor/outdoor dilemma between homeowners, cat parents, veterinarians, and wildlife advocates."
The one thing everyone agrees on, Cynthia points out, is that catios keep cats safe no matter what side of the debate they are on. That's why she advocates for community education and has made catios, and the comfort, function, and beauty of home design for pets and humans, her life's passion.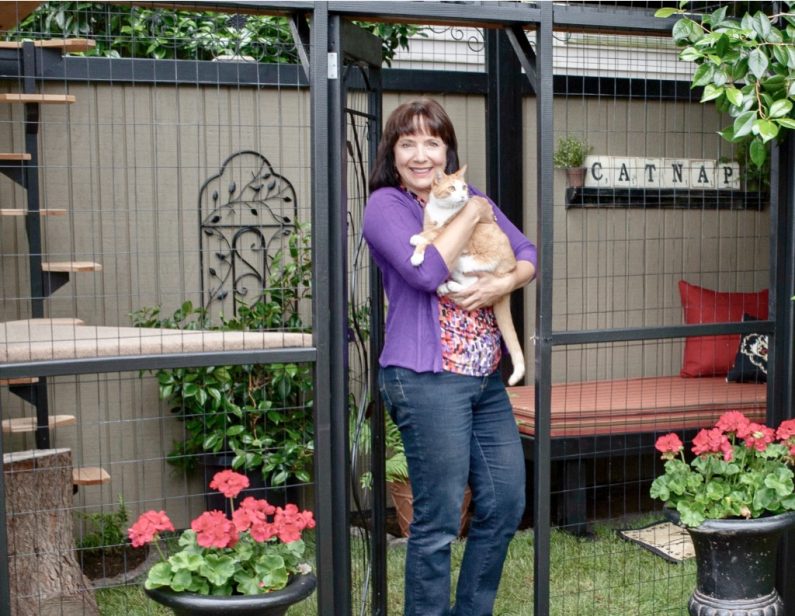 As a feng shui expert and catio designer, Cynthia believes we should be mindful of creating both indoor and outdoor spaces that cater to a pet's wellbeing without compromising the aesthetics of your home or garden. (If you are curious to learn how feng shui can make your home more welcoming for you and your cat, check out Feng Shui for Felines blog). Even small and simple changes can make a difference in your pet's life.
Are you ready to create a safe and feline-friendly home by adding a catio?
Get inspired with our video showcase of catios, and explore all of our DIY Catio Plans here!
See why life is good in a catio!