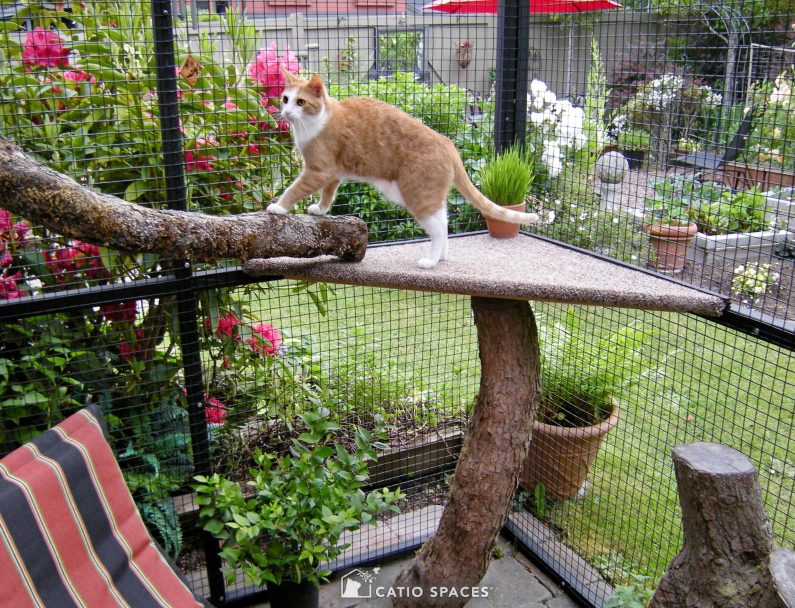 More and more cat parents are exploring the concept of a catio to provide their cat with the enrichment of fresh air, sunshine, and the fascinating activity of nature without the risks of a free-roaming outdoor life. Putting time and money into a catio is a worthwhile investment for both you and your cat's wellbeing. But here's the question you're likely considering: Does it make more sense to build a catio from a ready-made kit, purchase a DIY Catio Plan to guide you or go for a custom build? Which option gives you more bang for your buck?
The answer isn't as simple as an initial price tag. As a general contractor and founder of Catio Spaces, I frequently get asked about the best catio option. Whether you request a design-and-build quote from a carpenter, purchase an "almost-done-for-you" kit, or decide to DIY your catio from a plan (or hire a carpenter to build the plan for you), there are important factors to consider. Let's explore the key points when budgeting for your future catio.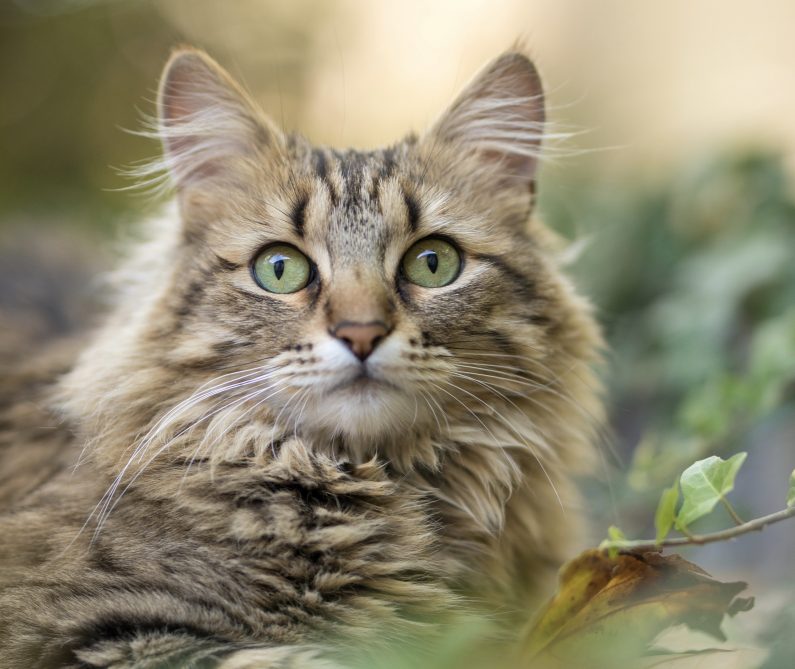 Your cat's safety is your most precious asset
Before we start talking construction dollars, the most important thing to consider is your cat's safety when it comes to the overall cost of building a catio. It's tempting to go for the most economical online option and save a few bucks at the beginning. But what if your cat manages to escape from a budget catio kit or slips out of your arms while carrying them to a free-standing enclosure? The money you saved won't be worth the veterinary bills or the heartache you might experience if your cat gets hurt or goes missing.
So, when tallying up the expense of building a catio, remember that you're not just buying lumber, wire mesh, and hardware. The dollars you invest should also bring you years of peace of mind and the joy of knowing that your cat is always safe in a quality-built catio. It's about giving your cats the outdoor enrichment they crave and ensuring you can relax without worrying.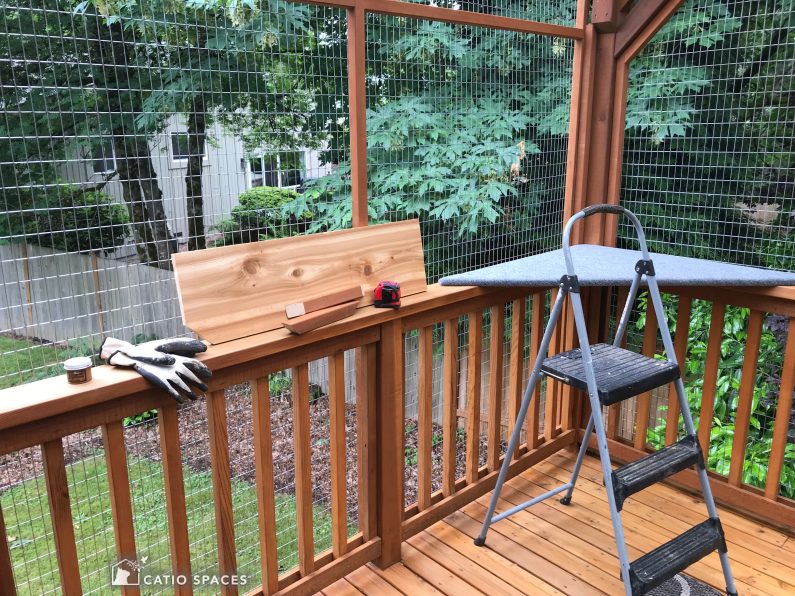 What are the cost-of-a-catio considerations?
When starting any cat enclosure project, whether you're following a DIY Catio Plan, using a kit with pre-built panels, going custom with a catio designer/builder, or just winging it, it's crucial to consider both the time and expenses involved to budget wisely.
Here's a handy list of costs and things to think about while you're dreaming up your catio masterpiece.
Materials. You'll need all the essentials for your catio, like wood, wire, roofing, hardware, screws, and paint or stain to make it look purr-fect. Quality materials are essential for a catio built to last.
Labor. If you'd rather kick back and watch your catio come to life under the hands of an expert, you'll have to factor in labor costs. That means hiring a skilled carpenter to handle everything from leveling the site to project completion or asking a friend to help you out. If you have basic carpentry skills, DIY catio plans take the guesswork out of building a catio.
Permits or HOA approval. Depending on the size and location of your dream catio, you might need to get a building permit or approval from your homeowners' association (if you have one). You may need to check local rules and regulations beforehand regarding height and side and backyard setbacks.
Transportation. If you decide to order a kit, shipping costs will be added to the bill. If you're building your own catio but lack a truck to haul materials like lumber, wire, and roofing, you might have to arrange for delivery. Many lumber yards offer this service for a minimal fee. For smaller catios, you could have the lumber cut to size and transport it in a smaller vehicle.
Design and planning. If you have a vision for a custom catio but lack carpentry and design skills, you can hire an experienced carpenter to bring your project to life. Just be sure the carpenter you hire is licensed and bonded. (Learn more about this topic near the end of this article).
Maintenance and longevity. Once your catio is complete, remember to factor in ongoing maintenance with seasonal cleaning of the catio floor, roof, and an overall visual inspection. We've designed our award-winning DIY Catio Plans to last for years. For catio kits, you'll want to dig deep into online reviews for info on longevity.
Decor. Depending on the size of your catio, you may want cubbies for shade, cat-safe plants, scratchers, and perhaps an extra litter box for your cat, and comfortable human-sized furniture for you, too! See what's possible here in our article on catio decor.
Catio trial and error:
One cost of the catio journey that's seldom considered is the tendency of cat parents to dabble their paws in cat enclosure experiments. This can become a more significant overall investment as they buy a series of economical or easy-up enclosures until they finally find a catio that meets their needs. Or they jump so quickly into building a catio that they stumble into an avoidable building mistake, like failing to prepare a level building site or planning a safe way to get their cat from the house to the enclosure. (Check out these eight common cat-building mistakes to avoid and cat door options).
I recently met a cat parent with two cats who wanted them to experience the stimulation of the outdoors safely. First, she purchased an affordable pop-up porch tent which quickly proved to be too small and a bit risky due to predators in the neighborhood.
She graduated to a catio kit that had a bit more room, but she had to carry her cats outside to enjoy it. While her cats liked having more space, the upper shelves were a bit too small for anything more than sitting, and it also had a sun-blocking roof. (Cats love the sun!) So, she sought another solution for a taller and more spacious catio with lounging shelves for her cats to sprawl out comfortably and enjoy catnaps in the sun.
This is an expensive progression quite a few cat guardians experience and one you can now avoid!
What does your own cat need to be happy in an outdoor enclosure?
If leaping, climbing, stretching, and sprawling are important, think ahead to invest your time and money wisely for a catio that will be your own purrfect fit.
TYPES OF CATIOS:
Catio Kits: Here's what to consider.
Like all online shopping, buying a cat enclosure kit outright can be an emotionally satisfying experience. Who doesn't love comparing different online options, hitting "buy," and waiting for that exciting day when your purchase arrives on your doorstep and you can unbox it?
Catio kits come with a range of price tags, varying from a few hundred to several thousand dollars, depending on factors like size and quality of materials. You'll still need to prepare the building site before assembly to ensure that the site is level and of the proper size for the kit's fixed dimensions.
Just like any catio build, a catio kit will demand some basic building skills, patience, and the proper tools. If you feel that assembling the kit yourself is outside your capabilities or time constraints, you have the option to hire a handyperson or carpenter to handle the task for you.
When evaluating catio kits on the market, consider the expected lifespan of the materials used. Some kits utilize lightweight materials and sun-blocking roofs, which may degrade or loosen over time. This could result in the need for seasonal repairs or even necessitate the replacement of the entire catio after a few years.
DIY Catio Plans: Choice of quality materials and design options
When it comes to building a catio, opting for a DIY Catio Plan offers several cost-saving advantages. First, you'll have a detailed guide to follow, saving you time and money. The step-by-step instructions, diagrams, and a tool and materials list removes the guesswork for a successful weekend project. Buying your materials locally ensures quality and avoids delays. If you're hiring a carpenter to build the plan for you, it's also easier to obtain accurate quotes by providing them with a ready-made plan.
DIY Catio Plans offer various designs, sizes, a human size door for cat access, and the flexibility to adapt the plan to your preferences or budget. Catio plans range from $39.95-$69.95 and are a PDF download. Materials can vary from several hundred dollars up to a thousand dollars based on the catio size and location. A bonus? You can paint or stain the wood to complement your home and garden.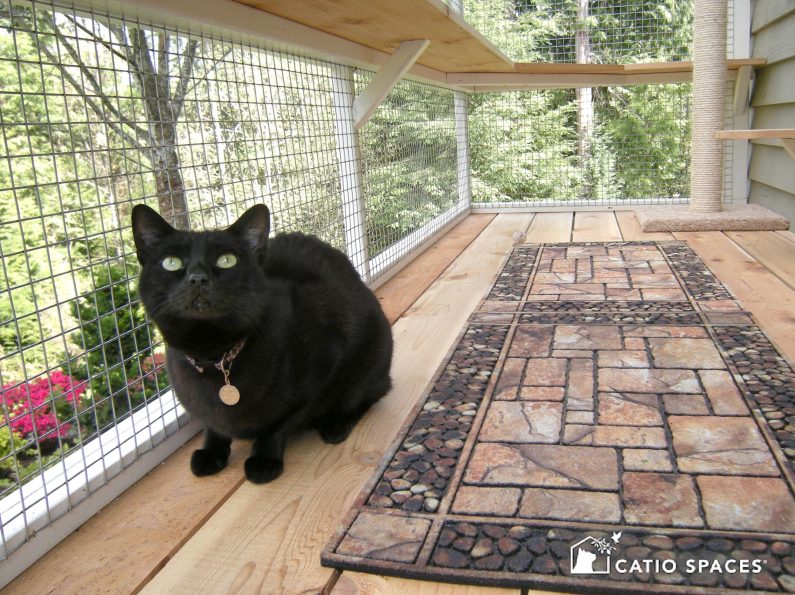 Furthermore, you can easily incorporate future expansions like a Window Box, Cat Tunnel, or even a DIY Litter Box Bench. Browsing through the Catio Spaces website can provide you with lots of visual inspiration.
The durability of the catio you'll build from a DIY Catio Plan ensures that your catio will provide long-lasting enjoyment. You'll spend less upfront than you might for a custom catio and less in the long run for maintenance or replacement of cat tents or catio kits.
Custom catios: Bringing your own dreams to life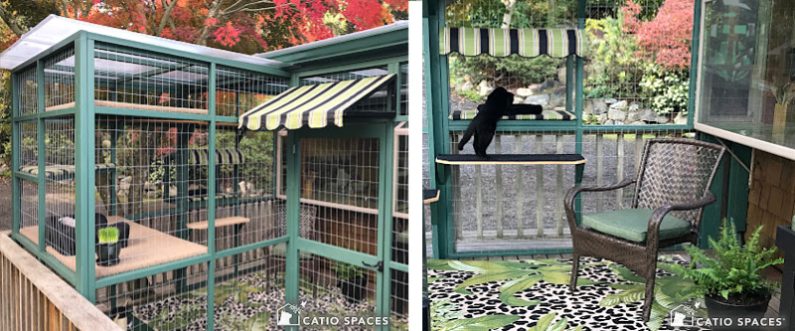 I've enjoyed overseeing the design of countless custom catios, and while it costs more than building one yourself, cat parents tell me it's a rewarding experience. If you decide to hire a professional, you'll need to factor in the cost of both design and construction. One of the advantages of having a designer involved is the freedom to customize the catio according to your specific preferences and site location. Moreover, they bring special insight and expertise, especially if you want to integrate the catio into an unusual shape of your home or position it on a balcony or rooftop.
Custom catios can range from $3,000 up to $30,000 or more, depending on the complexity. One of my favorite custom catio projects involved four catios and 150 feet of elevated catwalk tunnels so my clients' lucky cats could completely circumnavigate the exterior of the home and garden!
SHOULD YOU DIY OR HIRE A CARPENTER TO BUILD YOUR CATIO?
Hiring a carpenter
If building a catio on your own isn't your cup of tea, don't worry! You have the option to hire a professional. Just be sure the carpenter or contractor is licensed and bonded.
Request multiple quotes before choosing a contractor to get a realistic handle on costs. Carpenter's rates on sites like Thumbtack.com typically range from $35 to $90 per hour. Ask for recommendations from their previous customers to ensure they'll show up as promised and complete your catio in a timely manner. You can also ask your local lumber store or friends for referrals.
A busy carpenter will need advance notice to fit your project into their schedule, so be sure you are on the same page regarding the completion date. When choosing a professional to help you, it's all about finding the right balance of expertise, cost, quality, and timing. Never pay in full upfront. You can expect to pay a 50% deposit at the start of the project and the balance at the end of the project.
Building your catio on your own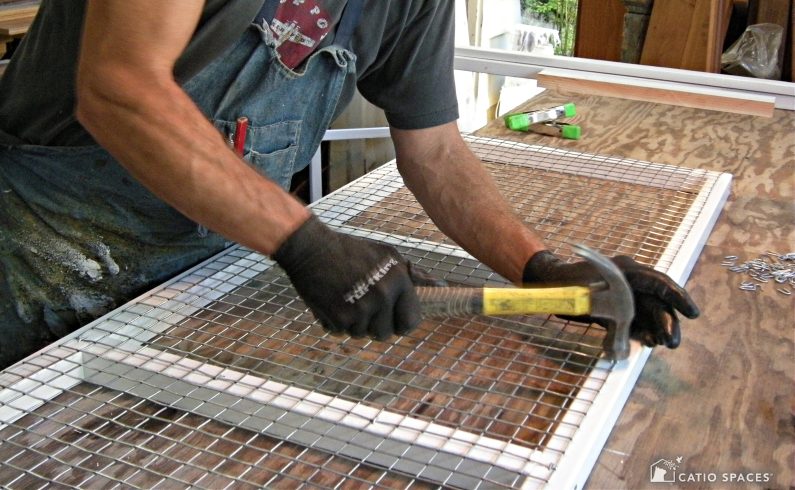 Building your own catio certainly can be a cost-saver if you enjoy outdoor projects. It will require some basic carpentry skills and a relaxed attitude toward following instructions. Modest catio projects can often be managed in a day or a weekend, especially if you have an extra set of hands. The good conversation also makes the work go faster! But if you only have a few hours a day to devote or are building a larger project, you may need to pace it out over a longer period.
If you are not using a kit, you'll need to purchase lumber, wire mesh, and hardware and either transport it home yourself or have the material delivered, usually for an added fee. Our DIY Catio plans include a list of everything you'll need. Store employees will usually be glad to help you out.
If you have more questions about hiring a carpenter or building your own catio, we have more guidance here.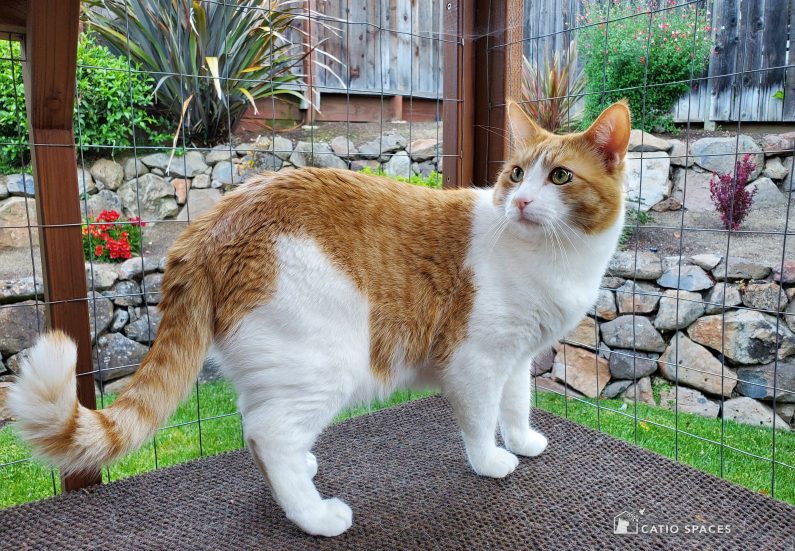 Your cat is both your first and final consideration
Before you hit that "buy" button, think about what is safest, most enriching, and the best investment for your cat's wellbeing. Catios not only provide your cat with a secure way to enjoy the fascination of fresh air, sunshine, and nature's activity, but they also provide you with joy and peace of mind.
Why not wander through our catio photo gallery and visit our DIY Catio Plans to explore what's best for you both!