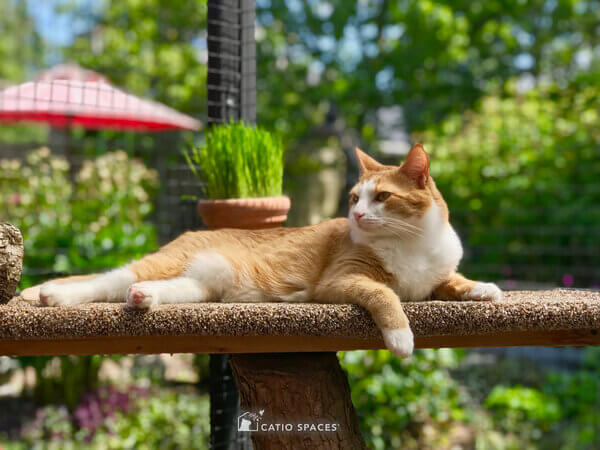 Now that sunshine and warmth are greeting you each daybreak (well, maybe a few summer showers or muggy mornings, too), it's time to tweak your outdoor catio into a warm-weather paradise for both you and your cat. While a catio gives your cat the freedom to safely revel in the natural wonders of the outdoors, heat and unpredictable summer weather can toss a few extra concerns your way.
No worries, though! A few moments of attention and additions to your summer to-do list will make this a relaxing and worry-free season for you and your cat. And your catio will be filled with additional beauty, comfort, and activity, too.
Let's explore a few essential hot weather do's and don'ts for your catio.
ENJOY CHECKING OFF THESE SUMMER CATIO "DO'S"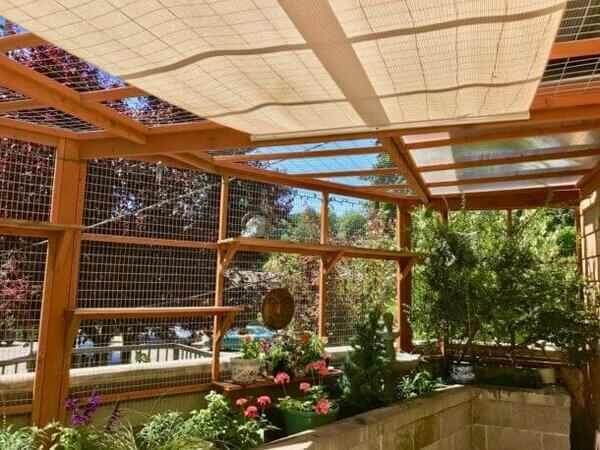 ✔ Do – Provide a shaded area for your cat to relax in comfort. Place a shade cloth in or over at least part of your catio, or add a bench to lay under or cubies to allow your cat to choose between basking in the sun or snoozing in the cool shade. Cats love to soak up the warmth, but they also need a place to retreat from the scorching heat.
✔ Do – Consider your cat's special health needs and brush up on the signs of heatstroke in cats. Persians and other stubby-nosed, luxurious-furred cats may have a harder time staying cool. Sphynx and light-skinned cats can be prone to sunburn. Hydration is important for all cats, especially senior, diabetic, or kidney-compromised felines. Here are our top 3 tips to keep in mind about summer heat and cats.
✔ Do – Keep your cat hydrated. Because any cat can become dehydrated in the summer heat, having a readily available water source is essential for their well-being. Include a clean water bowl or a water fountain in your catio. Pop in a few ice cubes to help keep the water cool and add a little cube-chasing fun, too (unless adding ice cubes causes your cat to avoid their bowl).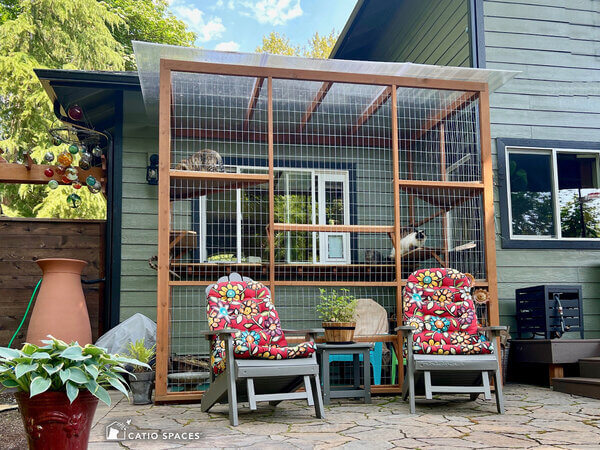 ✔ Do – Protect your cat from sudden rainstorms. Install a rain-proof roof, awning, or covered cubby to shield your furry friend from unexpected showers. This will ensure that your cat can stay dry even if they prefer to remain outside when the weather takes an unexpected turn. DIY catio plans by Catio Spaces include options for a full or partial roof of clear polycarbonate material for year-round enjoyment.
✔ Do – Allow easy access to the catio. Install a cat door that leads directly from the house to the enclosure. This way, your cat can come and go as they please if they need to cool off indoors or avoid a sudden rainstorm. Plus, you won't risk your cat jumping out of your arms to and from the catio. Learn more about cat doors here.
✔ Do – Incorporate cat-safe plants into the catio. Take advantage of the warm sunny weather by adding a pot of catnip or wheatgrass for your furry friend to nibble on. Colorful zinnias, ferns, and large plants provide beauty for you and shade for your cat.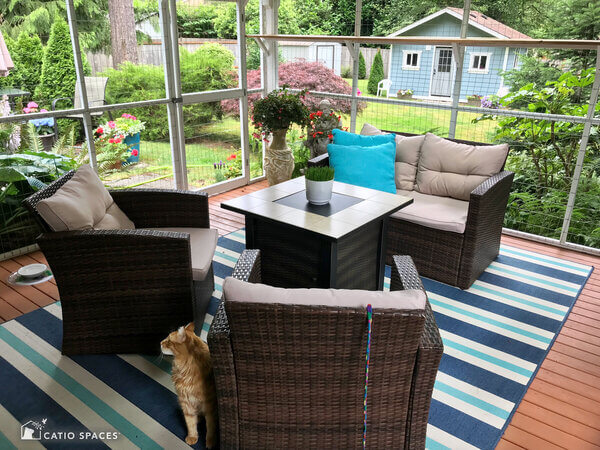 ✔ Do – Add comfortable seating for yourself. If your catio is spacious enough, why not join your cat in the sun? Treat yourself to that special lounge chair you've been eyeing and create a cozy space for both you and your cat to relax and bond. Solid benches and chairs also provide the bonus of cooling the floor with shade so your cat has yet another comfy spot to stretch out.
✔ Do – Add a touch (or more) of colorful decor to give your catio a fun summer vibe. Treat yourself to fresh and colorful decorations to enhance your own sensory enjoyment. Just make sure everything is safe and non-toxic for your furry friend. Need a little inspiration? Check out our ten tips for decorating your catio.
✔ Do – Bring the elements of nature into the catio. Cats love to climb and scratch, so include a big, sturdy branch for them to climb. Create a "nature box" where you toss some fresh catnip or other enticing, cat-safe textures and smells of nature. You can also plant a cat-sized flat of grass for your feline companion to nibble on and roll around in.
✔ Do – Stimulate your cat's senses with just-outside-the-catio elements. Bird feeders, sparkling suncatchers that cast chasable dots of light, and musical chimes can captivate your cat's attention. The change in sound, light, and visiting birds is a great way to keep cats fascinated inside their catio portal to the outdoors.
AVOID THESE SUMMER CATIO "DON'TS"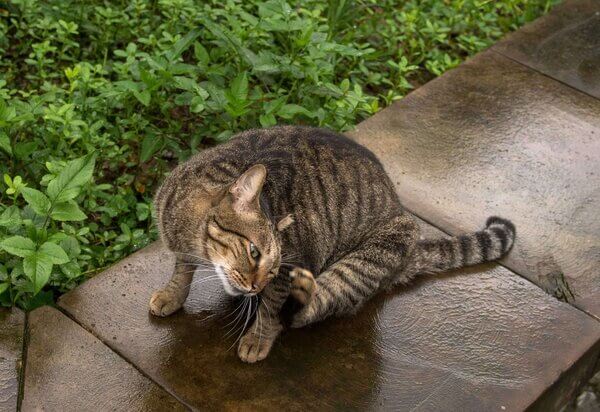 These "don'ts" will only take a small amount of time to check off your to-do list, but they can affect your cat's catio enjoyment if they are overlooked.
✘ Don't … forget about flea and tick prevention. Even though your cat may not roam outside of the catio, these sneaky pests can find a way onto your pet because other roaming pets and wildlife are hosts. Your veterinarian can advise you on safe options. Some topical flea-tick treatments helpfully include little stickers to post on your calendar as a monthly reminder.
✘ Don't … neglect the litter box. Make scooping part of your daily routine to prevent unwanted flies or bigger critters (like free-roaming cats or curious raccoons) from being attracted to the area. Your cat won't enjoy using a smelly box, and of course, the whole point of being outside is to enjoy fresh outdoor air. Catio litter boxes provide an al fresco experience and can help reduce indoor odors too.
✘ Don't … overlook the maintenance of the catio floor. If your catio has a grassy surface, trim, and water the grass regularly. Sweep up fallen leaves and pine needles from solid floors that can hold moisture and harbor insects.
✘ Don't … ignore ant and bug problems. If ants are invading your cat's water bowl, place it in a shallow water-filled dish to act as a moat barrier to these tiny intruders.
✘ Don't … put food in your catio! Keep your cats safe by not attracting critters and raccoons from venturing inside or close to the catio, potentially causing nose-to-nose contact or conflicts through the mesh.
✘ Don't … forget about summer fireworks or loud noises. If you live near a summer fireworks show or neighbors start to set off a backyard display, keep your cat inside the house if they show signs of nervousness or alarm.
✘ Don't … disregard the weather forecast. If you're going to be away from home and your cat will have access to the catio, pay attention to the predicted weather conditions. If severe storms or a blazing heatwave are expected, consider locking the cat door to ensure your cat stays safe inside the house.
BUILD A CATIO THIS SUMMER!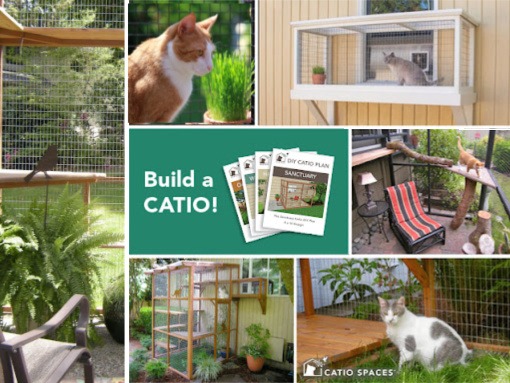 A catio is your cat's cherished space to relax and enjoy the sights and sounds of nature. By following these simple do's and don'ts, you'll ensure your cat's well-being and happiness all summer long in their warm-weather catio haven.
If you and your cat don't already have a catio space of your own, summer is an ideal time to build. You can incorporate our hot-weather tips into your project as you go! Explore our collection of DIY Catio Plans, ranging from the convenient and compact Window Box, Tunnel, or Haven catios (all purr-fect as second catios, too) to the airy and roomy Oasis and Sanctuary designs.
Plans are a PDF download so you can get started right away for a fun and rewarding weekend project. LEARN MORE>>
Summer is a great time to discover that life is GOOD in a catio!