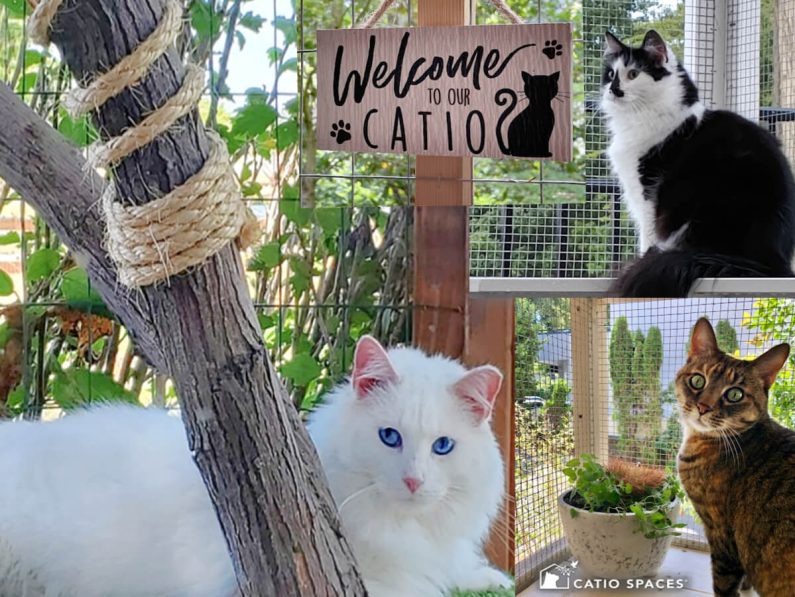 What do Finn, Danica, Twinkle, Yoda, Obi-Wan, and 30 other cats have in common? Their humans decided that a catio was the purrfect way to keep them safe and happy outdoors, and they built a DIY Catio Plan by Catio Spaces to bring their dream to life!
While every day is a happy day for catio cats, to celebrate Happy, Healthy Cat Month, we asked our cat parent customers to tell us a little about their DIY building experience and to share photographs of their cats enjoying their catios. We could never have anticipated the flood of photos and stories we received!
From our small and compact Window Box, Tunnel, or Haven catio plans to the larger Sanctuary and Oasis, many of the catios are painted, stained, decorated, and customized to suit their style and feline's fancy. Various catio locations include decks, patios, windows, and yards.
Check out these 12 inspiring DIY catios featuring happy catio cats. (Want to see more?  Follow us on Facebook and check our future blog posts as we share the rest!)
1. SECRET GARDEN CATIO
Judy and her husband wanted a safe place for their cat Ginger to enjoy the outdoors, so they built him our Haven DIY Catio Plan. Catering to his comfort, they added lots of enrichment, including beds, foliage, shelves, nooks, and decor for his very own secret garden. Judy says he doesn't always hide away and enjoys human company outside, too!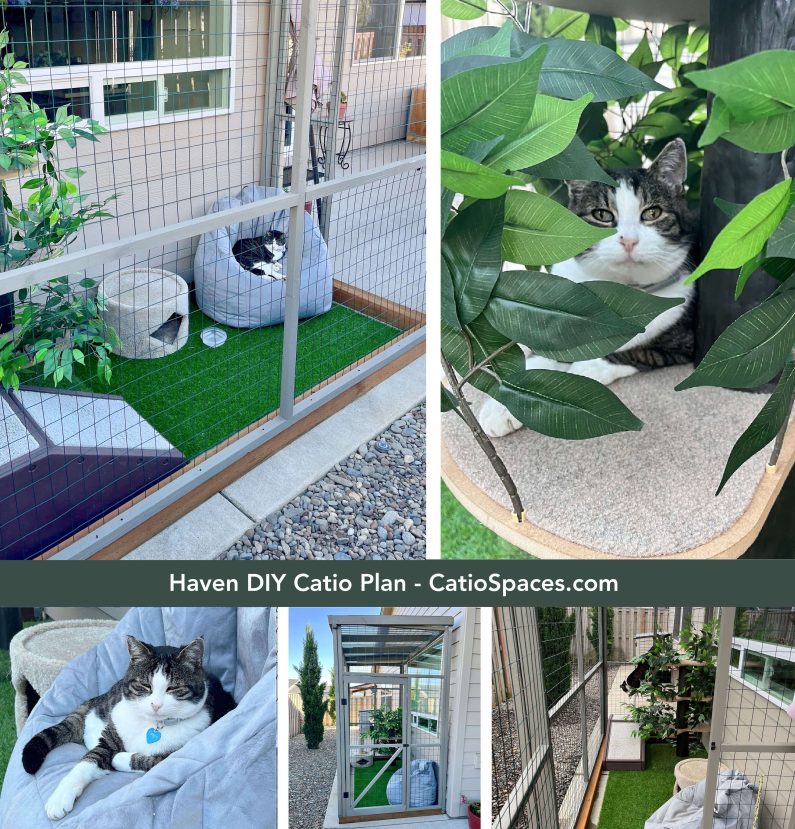 HAPPY CATIO CAT: Ginger
"Ginger enjoys finding hiding places in his catio. Sometimes I can't find him!"
– Judy S.
Haven DIY Catio Plan by Catio Spaces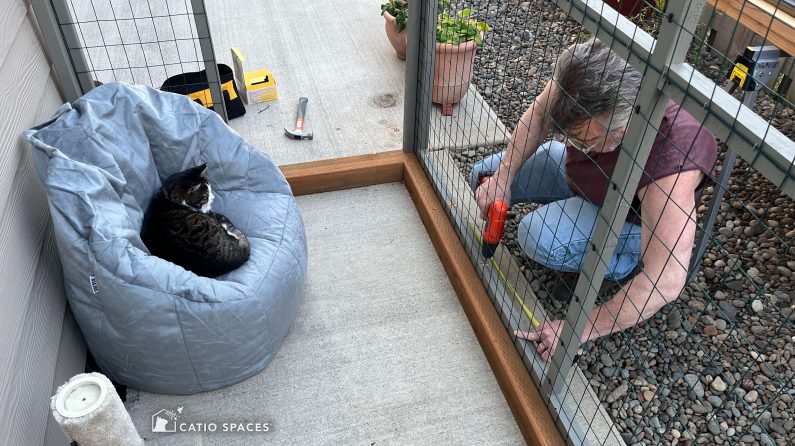 Reflecting on her catio-building experience, Judy shared it was a collaborative and fun experience "My husband and I enjoyed working on it together. We painted our catio to match the trim on our house, and we think it looks great!"
2. SANCTUARY OF LOVE CATIO 
With six lovely cats, it's no wonder Tracey felt she needed an extra cat-specific space for them to stretch their legs and enjoy the fresh air and natural beauty of their yard. She and her husband modified the Sanctuary DIY plan to fit their catio location, and their choice of natural wood framing blends nicely with their brick home. The deep green catio shelves and branches harmonize with the lush, leafy surroundings that her cats enjoy.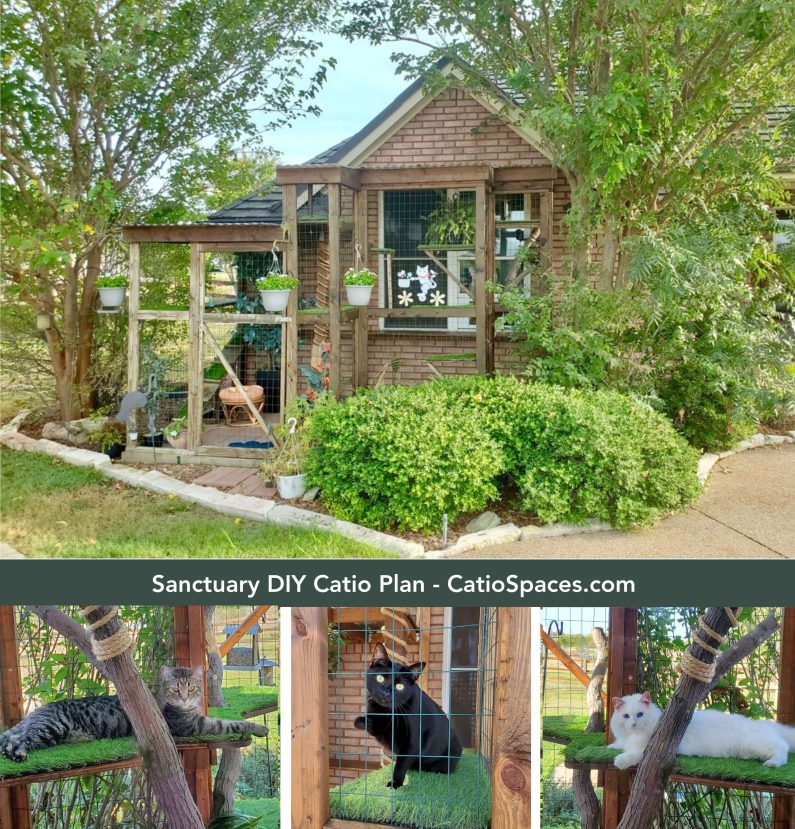 HAPPY CATIO CATS: Abra, Angel, Arya, Asher, Cami & Mira
"My cats enjoy staying out in the catio all day and night. I love seeing them lounging, jumping from ledge to ledge, and climbing up their roped post."
– Tracey L.
Sanctuary DIY Catio Plan by Catio Spaces
When building their catio, Tracey says they adjusted the DIY plan to fit the landscape outside their bedroom window so they could keep the existing trees or bushes. She shared, "After all is said and done, I think we have a really unique catio space thanks to the DIY plan as a guide."
3. SENSORY & SUNNY DECK CATIO 
Cat mom Michelle chose the Haven DIY Catio Plan to give her two cats, Jack and Danica, safe access to fresh air and the stimulation of the outdoors on her sunny deck. Little Danica is visually impaired, so the catio is a safe space where the cats enjoy all of their senses, from scent to sound and leisurely naps in the sun.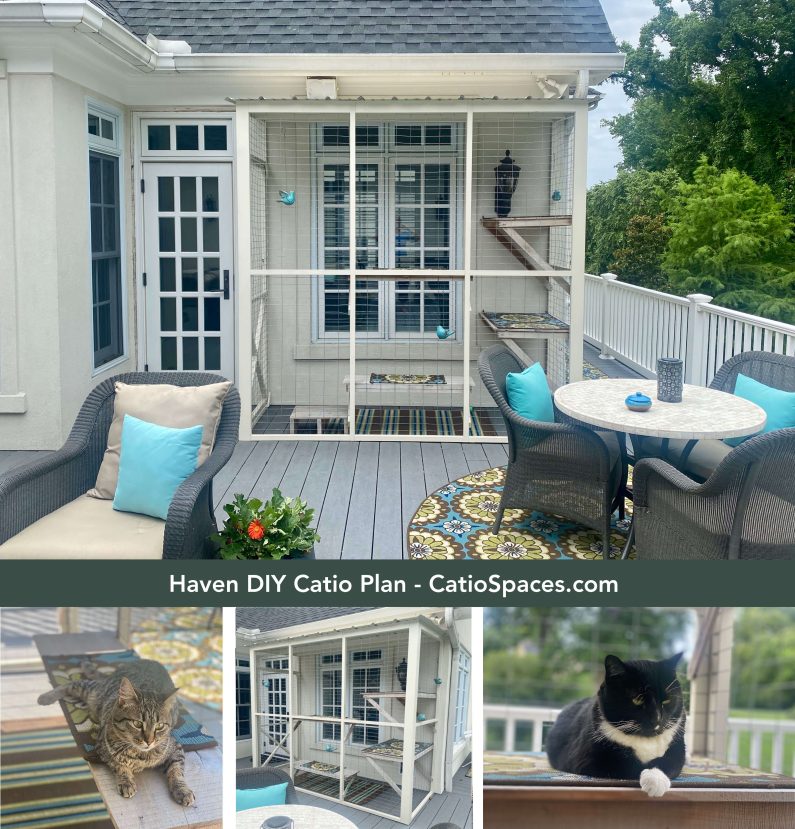 HAPPY CATIO CATS: Danica & Jack
"My cats love watching and listening to the birds, and warming themselves in the sun. My tabby kitten, Danica, is mostly blind but loves being in the catio with her partner in crime. She chatters when the birds sing and bravely jumps up to join Jack on a perch."
– Michelle C. 
Haven DIY Catio Plan by Catio Spaces
Michelle shared, "I had my contractor build the DIY Catio Plan for me and he got it done in two days." Her white painted catio complements her home, and with inviting deck furniture close by, Michele and her cats enjoy fresh air and sunshine together!
4. COYOTE-SAFE CATIO HAVEN 
Brenda had endured the heartache of losing cats to local coyotes and was determined to keep her cat Finn safe from the natural predators around her wooded home. The tall and compact Haven DIY Catio perfectly fits the garden space beside her house. A cat tree, toys, and nearby birds keep him fascinated. Spacious corner shelves are a purrfect catio napping spot, and a welcome sign invites others to enjoy watching his play and peace!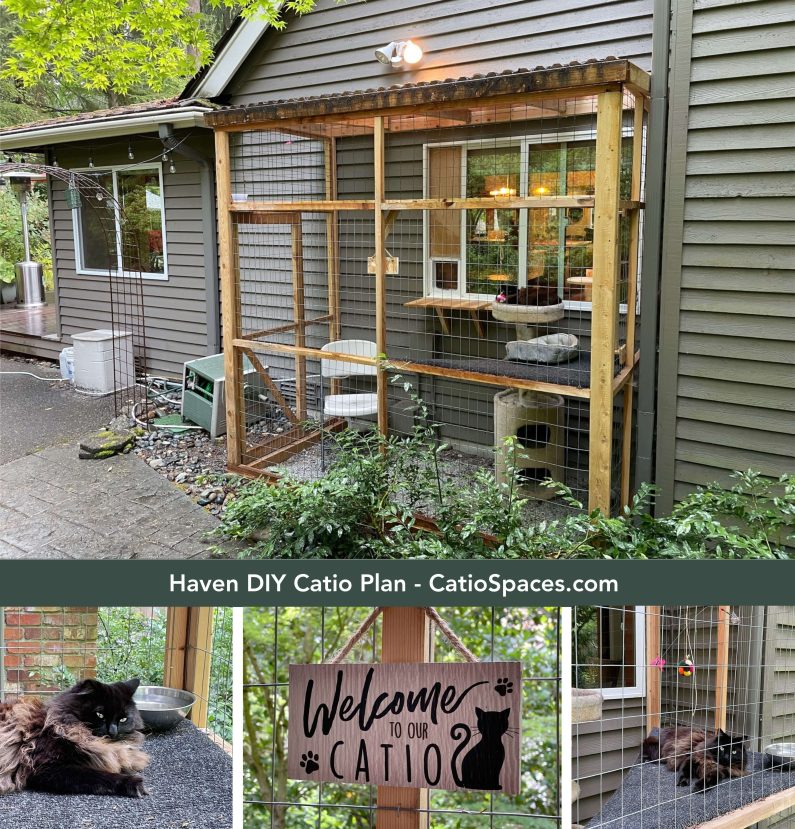 HAPPY CATIO CAT: Finn
"Finn enjoys sleeping in his catio, playing with his cat toys, and watching birds."
– Brenda H.
Haven DIY Catio Plan by Catio Spaces
Brenda says building her catio, "took me some time, but it turned out great!" She added a cat tree with nooks where Finn can hide, carpeted shelves for lounging and birdwatching, and a chair so Brenda can share Finn's special spot, too.
5. CROWS NEST WINDOW CATIO
Stephanie's cat Jack was raised with dogs and doesn't like other cats, so he lives on the second floor away from his first-floor feline housemates, Sasha and Kona, who enjoy their own full-sized catio. Jack battled bravely through cancer and diabetes and is currently in remission for both. To celebrate his return to health, Stephanie rewarded her brave boy with his very own "Jackio". Sasha and Kona aren't the only cats who get to live the catio life!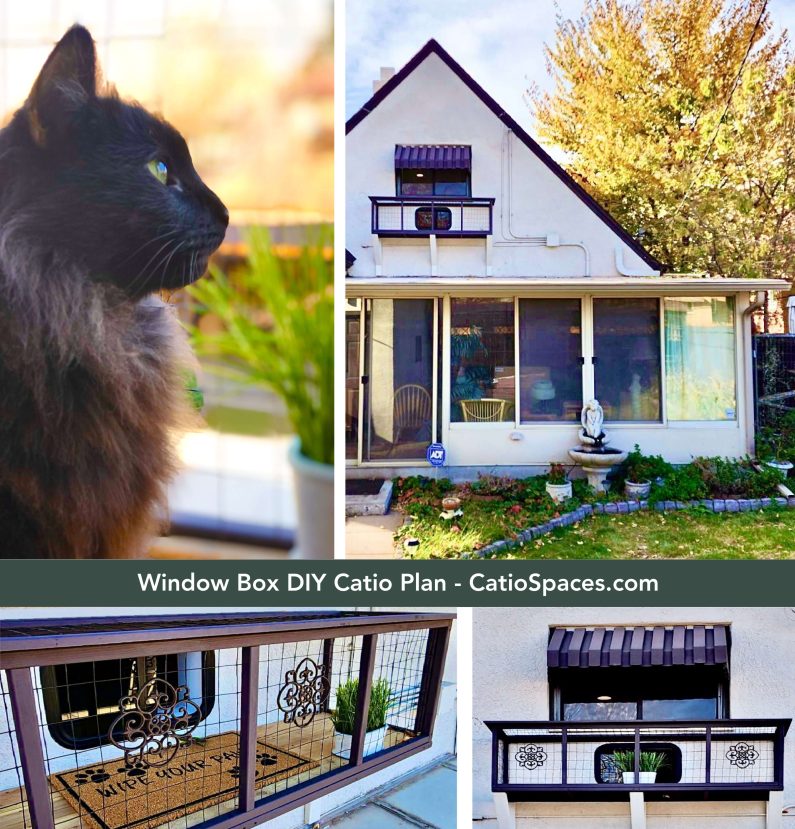 HAPPY CATIO CAT: Jack
"Jack has made friends with a flock of crows residing in our neighbor's tree!"
 – Stephanie S. 
Window Box DIY Catio Plan by Catio Spaces
Stephanie hired a carpenter to build the catio plan for her. She says, "After the window box was built, I had my husband hang it himself to ensure it was weight-bearing and sturdy to stand up to a Colorado blizzard. It passed the test!"
6. FABULOUS FOUR CATIO
While every cat is beautiful, you can't deny that Simon, Emma, Sylvia, and Everett are an extraordinarily gorgeous feline clan. But like all cats, these handsome felines are a bundle of instincts that want to feel the breeze in their whiskers, not just nap indoors on a pillow. Nancy chose the Haven DIY catio plan so they could safely enjoy the outside world, enriched by the sights and sounds of nature.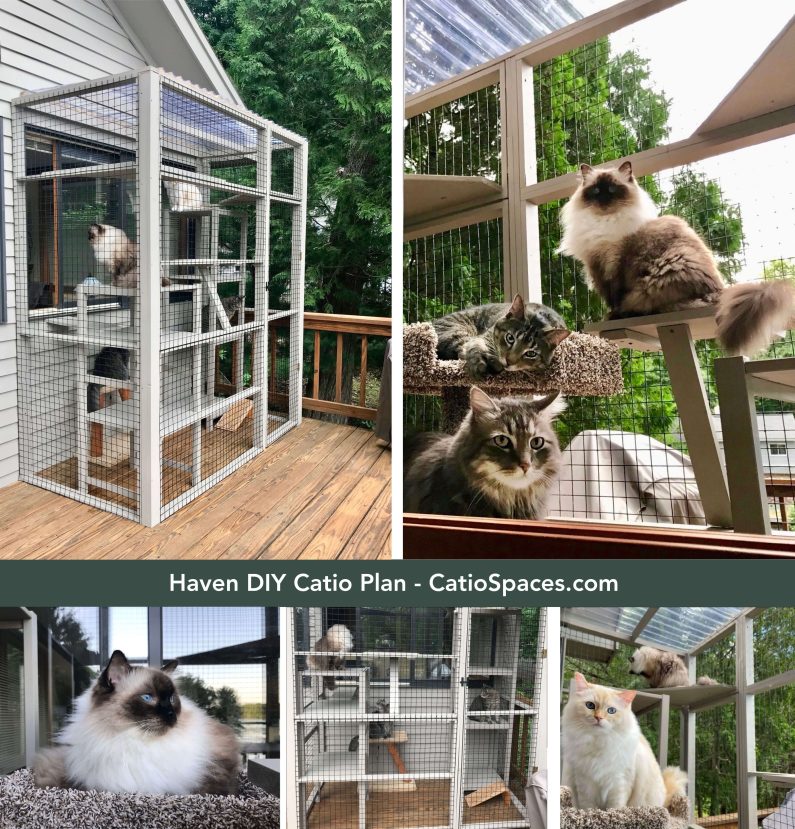 HAPPY CATIO CATS: Simon, Emma, Sylvia & Everett
"My cats ask to go out every single day and love spending time in their catio!"
– Nancy H.
Haven DIY Catio Plan by Catio Spaces
Nancy chose the popular Haven catio which purr-fectly fits over a large window on her deck with expansive backyard views. She hired a handy classmate to build the catio plan for her. Now her cats enjoy a royal life, surveying their safe and stimulating outdoor kingdom.
7. PENTHOUSE WINDOW BOX CATIO
Jenn, an apartment dweller, could see how desperately her two cats wanted to be outdoors. "I had no safe space for my cats to go outside, even on a leash." She chose our Window Box DIY Catio Plan so her cats could survey the neighborhood and bask in the sun.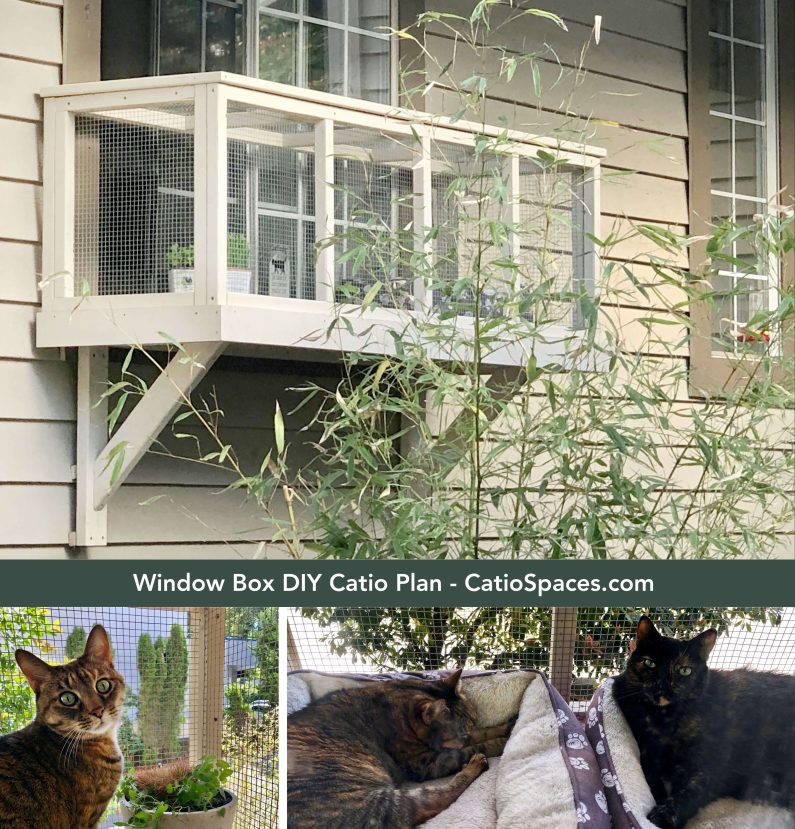 HAPPY CATIO CATS: Atosha & Tuddy
"I thought I was building this catio for my younger tabby cat, Atosha, but my older cat, Tuddy, has essentially moved into the catio and now spends 80% of her time out there. I'm grateful when she actually comes inside and snuggles with me! I bought them matching cat beds and monitored them daily for about two weeks until I finally caught them lying in their beds at the same time. I was ridiculously overjoyed .It's the little things!"
– Jenn F.
Window Box DIY Catio Plan by Catio Spaces
Jenn had help with the construction and said, "I'm deeply grateful for my brother for his skills in building the DIY plan. The overall design is beautiful and is clearly meant to last. I'm especially grateful it was designed to be removed so it can go with us whenever we move! My cats absolutely adore it, and my only gripe is that I waited so long to do this, as it's the best purchase I've ever made for them!"
8. TRADER STEVE'S CATIO
Here's a wild and colorful theme catio that can't help but bring smiles checking out every nook and corner for furry faces and tropical decorations. Steve wanted to be sure his seven cats could go outside for fresh air on the patio with views of his pool and backyard. He chose the Oasis DIY Catio to provide plenty of room for his fur kids to explore – and lots of space to exercise his decorating spirit, too!
His inspiration for the theme was a tiki hut/hunting lodge for cats in the tropics. Inspired by many vacations to Disneyland, it has evolved to include tropical birds, flowers, fish, and trophy rat heads. His son-in-law made the Trader Steve's sign and used a blow torch to create the burned look on the wood.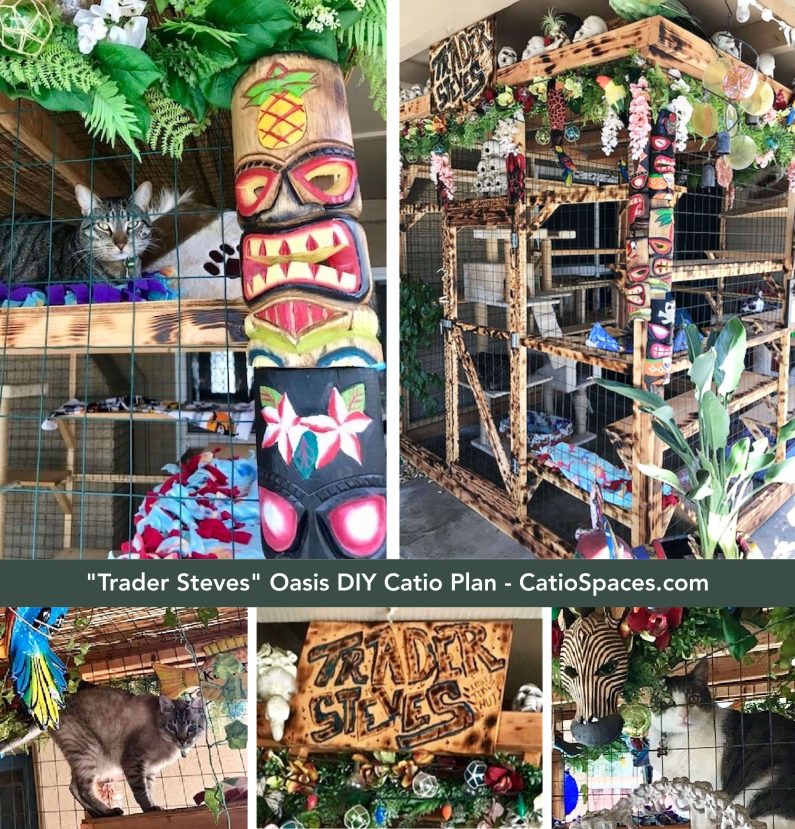 HAPPY CATIO CATS:  Pepe, Kimba, Sophie, Rocky, Tommy, Butters, & Meiko
"The cats love to go out into the catio every day. They enjoy the morning sun and watching the squirrels and birds."
– Steve H.
Oasis DIY Catio Plan by Catio Spaces
"The building experience was great," Steve shares. "I had good times building the catio with my son-in-law during the summer. We listened to great music and it was a bonding experience. I am grateful for the DIY plans, as it would not have come out as nice if I tried to design the overall structure from scratch. That said, it wasn't as much fun as decorating!"
(If you'd like to see how other cat parents have decorated their catios, check out our decor tips here!)
9. STEPPING STONE CATIO
Catios are a fantastic outdoor experience for indoor cats – but they can also be a home base for outdoor cats who are being introduced to indoor life. Allison rescued Cricket as an outdoor stray. This shy cat needed a safe outdoor transitional space as a stepping stone to explore indoor life at her own pace with her new feline friends, Apple and Goose.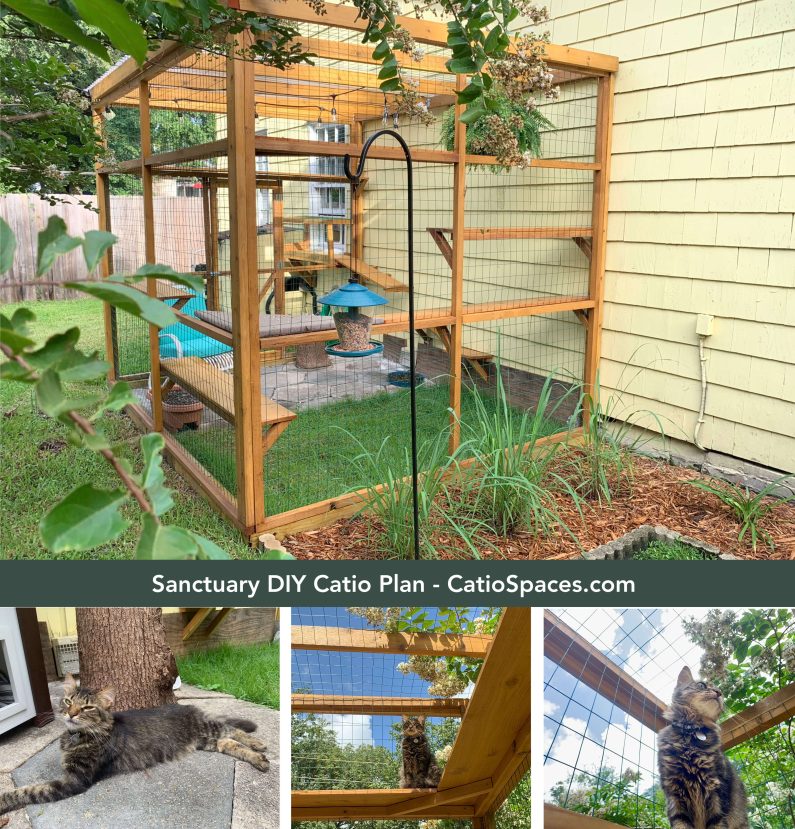 HAPPY CATIO CATS: Cricket, Apple & Goose
"I love watching the cats be more instinctive without worrying about their safety or wildlife safety. We hung a bird feeder outside of the catio and I love hearing the cats chirp and trill out of excitement while watching the birds."
– Allison B.
Sanctuary DIY Catio Plan by Catio Spaces
Allison says of her experience building a catio, "It was a fun challenge because I've never built something like this." The large Sanctuary catio gave Cricket, Apple, and Goose plenty of room to share and a comfortable and safe space for Cricket to call home. Now, Allison says, all three cats wait at the cat door in the morning for her to let them out into the sunshine!
10. DELIGHTFUL DECK CATIO
Like many conscientious cat parents, Carolyn explored the idea of building a catio so her cats Jinx and Jasper could safely enjoy the outdoors. She chose the Sanctuary DIY Catio Plan with a larger footprint for her deck and to fit in with the architecture of a home. Jinx and Jasper scored lots of safe outdoor space to leap and lounge in their catio with expansive backyard views.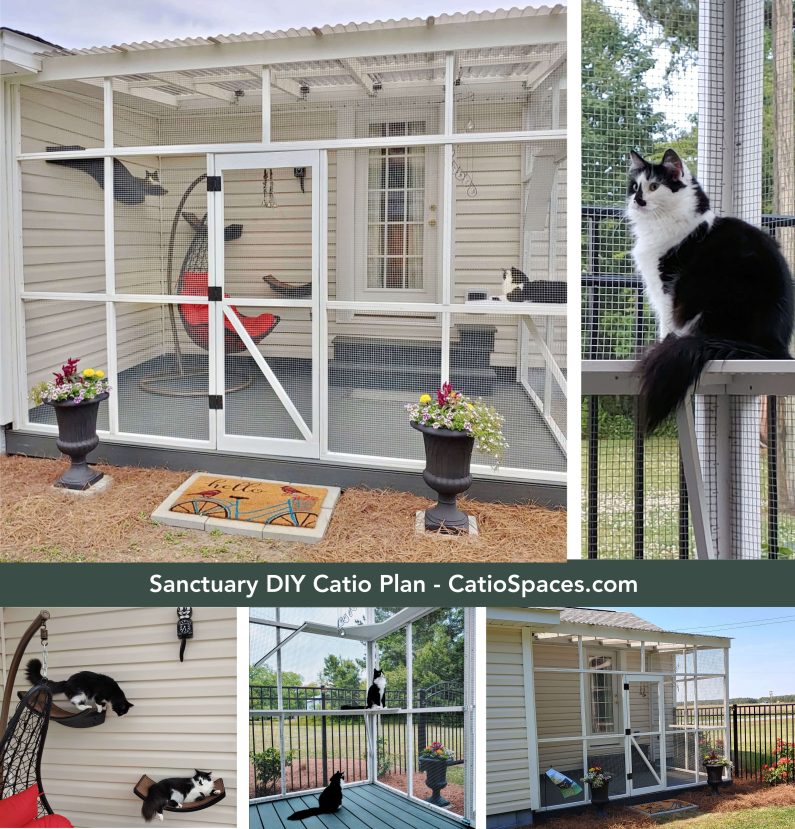 HAPPY CATIO CATS: Jinx & Jasper
"The first time they entered the catio was very exciting for me. It was a little nerve-racking for them at first but it didn't take long for Jinx and Jasper to start enjoying the outdoors. Now they  spend hours in the catio every day, enjoying the wide open spaces and incredible views."
– Carolyn H.
Sanctuary DIY Catio Plan by Catio Spaces
Carolyn and her brother constructed the catio plan as a team. Carolyn built the panels herself, and he helped her assemble them on the deck. The catio is painted to complement her home and includes shelves for napping and a cozy hanging chair where the cats can cuddle up with the humans they love – or claim as their own.
11. STARSHIP KITTIES CATIO
Cats love heights – and some cats love heights more than others. Jody built the Sanctuary DIY Catio plan for her two cats, Yoda and Obi Wan, to enhance their lives and give the sky-loving Yoda more room to climb. With their Star Wars themed names, is it any surprise that Yoda wants to reach for the stars?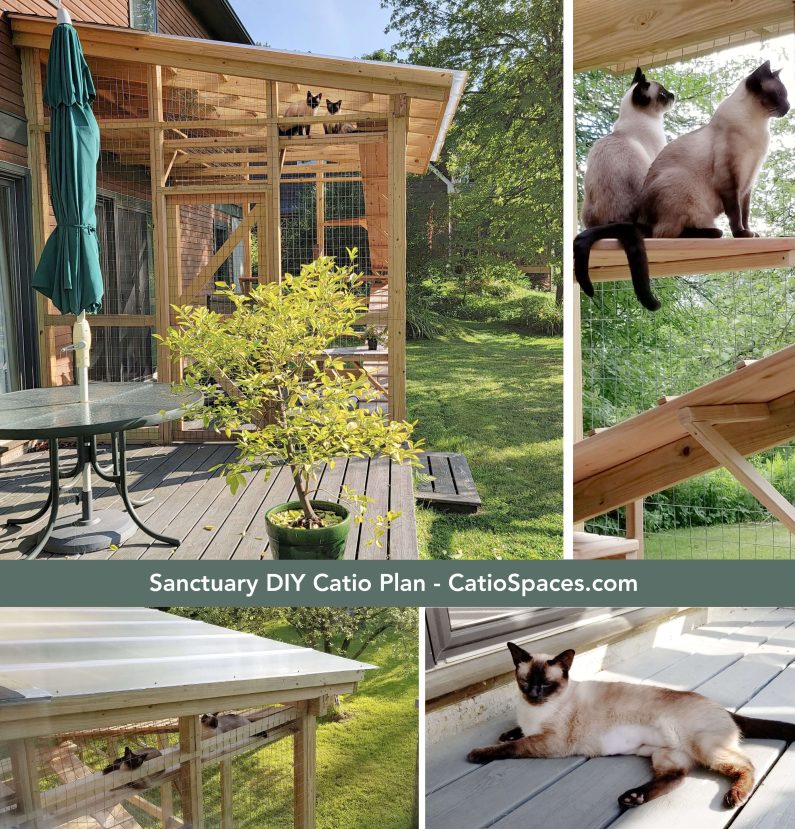 HAPPY CATIO CATS: Yoda & Obi Wan
"I needed lots of high places for Yoda. When the catio was initially enclosed for the first weekend, before the ramps and platforms were built, Yoda climbed straight up the metal fencing!."
– Jody P.
Sanctuary DIY Catio Plan by Catio Spaces
Jody hired help to build the customized Sanctuary plan during the first year of the pandemic when building materials were hard to find, but they persevered!
11. FOREVER FUR KIDS CATIOS
Kimberly has a life full of cats – and catios! She originally constructed our Sanctuary DIY catio plan for her cats Sousa,Twinkie, and Mia, her senior cat. Mia spent her final years just basking in the sun as often as she could. Kimberly then gifted her current young cats, BJ and Hawkeye, a catio using our Haven DIY Catio Plan. They love their catios so much they are reluctant to come back inside in the evening!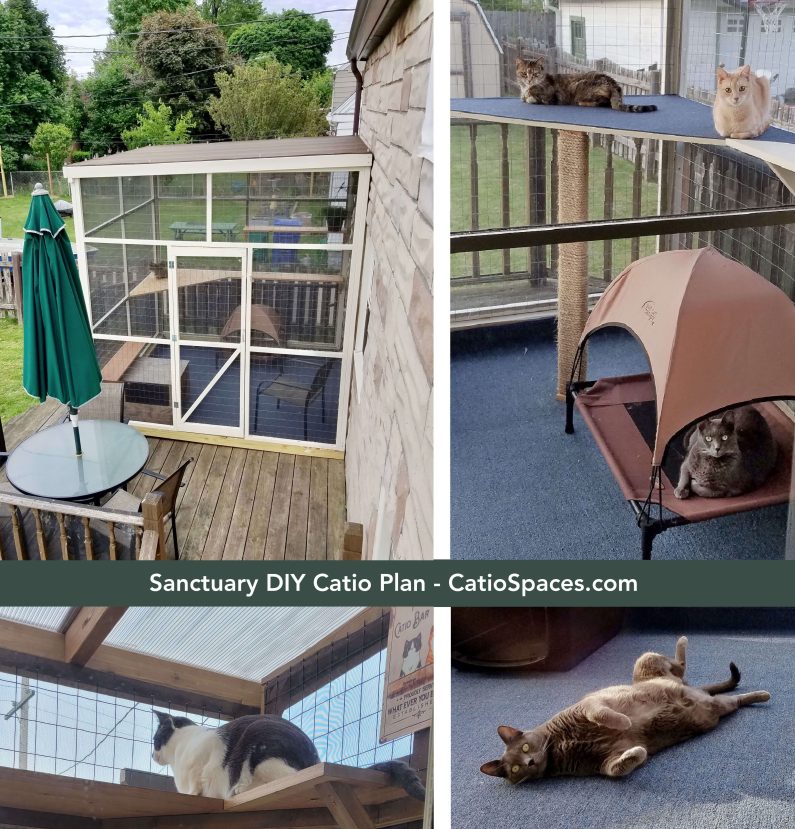 HAPPY CATIO CATS: BJ, Hawkeye, Sousa, Mia & Twinkie
"My cats are my children and I want to give them the best life possible."
– Kimberly D.
Sanctuary DIY Catio Plan by Catio Spaces
Having constructed both the Sanctuary and the Haven DIY Catio plans for her beloved fur family, Kimberly has gained confidence in building catios. "This was a fantastic experience. I was able to build them 99% on my own!"
WHAT KIND OF CATIO WILL YOU BUILD YOUR HAPPY CAT?
As you can see from these 12 inspiring catios, the catios built from Catio Spaces' DIY Catio Plans are attractive cat enclosure structures that complement a variety of home locations. They keep cats safe, healthy, and happy, protect birds and wildlife, and provide peace of mind and a satisfying building experience. Even when built from the same plan, each catio is unique due to the home and landscape it's paired with and the enriching decor chosen!
You can join these cat parents and their happy catio cats. Whether you build a catio plan yourself or hire a contractor to build the plan for you, choose from one of our award-winning DIY Catio Plans here, and then send us photographs of your happy catio cat, too!
Life is good in a catio!