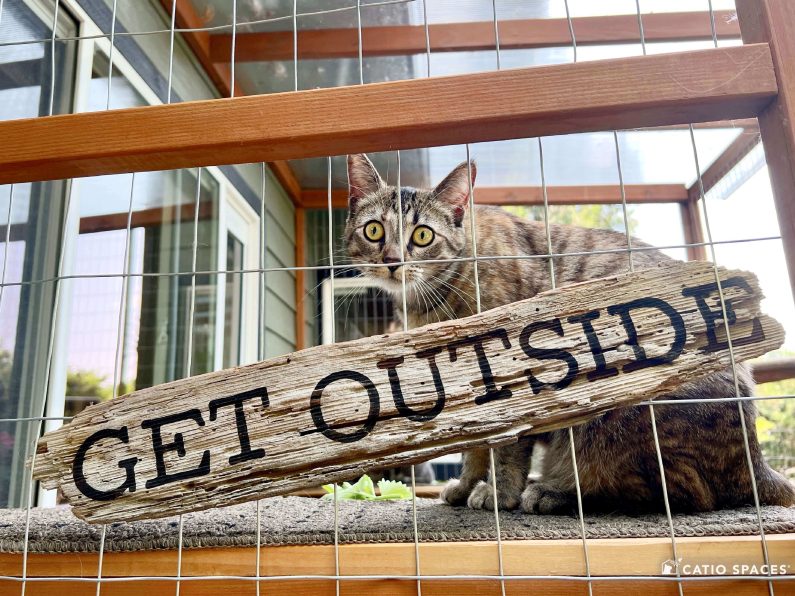 There's nothing like the great outdoors. For cats and humans alike, it provides the enrichment of fresh air and the sights, sounds, and stimulation of the natural world. However, for cats, there are many outdoor dangers.
Amy, a devoted cat mom living in the Pacific Northwest, contacted Catio Spaces with a special request for a custom catio to keep her three cats safe outdoors. She also envisioned one that would be spacious enough to accommodate her husband and herself.
Amy loves being surrounded by trees and nature. "We love wildlife and it's quite abundant here, with resident bears, bobcats, coyotes, deer, flying squirrels, oodles of birds and an occasional raccoon and cougar."
But Amy worried that her cats could become tasty morsels if they wandered outdoors among such an abundance of wildlife. Once, her cat Daisy was out in the backyard when Amy spotted a shadow beneath some trees. "I realized it was a bobcat, about thirty feet from Daisy. I dropped my coffee on the deck, yelled, and flew down the steps." Daisy dashed safely indoors.
Then one summer evening, Amy and her husband woke up to a bear ambling by at 1AM as they slept on their deck. No wonder Amy asked for a catio with lots of space: the cats might not be the only ones snoozing safely inside their new cat enclosure in the future!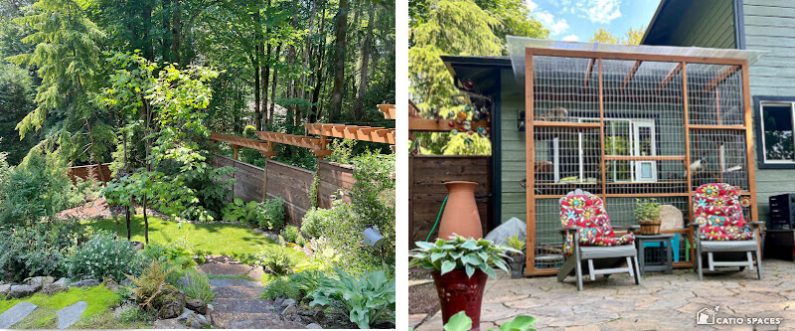 To complement Amy's backyard garden and arbors, Catio Spaces built a custom Sanctuary style catio with plenty of space for feline and human enjoyment. The spacious catio features multiple shelves for vertical and horizontal movement, carpeted lounging areas, and creative touches by Amy to suit her style and felines' fancy. Plus, it's big enough for human and feline naps.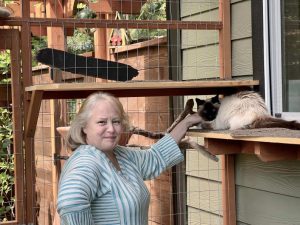 "I always felt guilty when I couldn't allow our cats to go outside," Amy confessed.
As a protective cat mom, she knew a catio would be the perfect way to give her cats a taste of the outdoors while safeguarding them from potential wildlife threats. Plus, catios protect birds and wildlife from cat predation.
If one catio is a feline safe haven, then two catios makes life purrfect!
Amy considered that with three cats, it made sense to expand their living area even further by adding a window box catio. This elevated enclosure offers scenic views and a secluded spot where a cat can enjoy some solo time.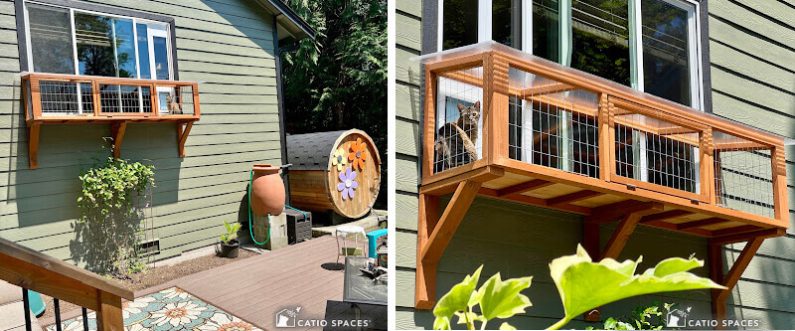 Quite a few cat parents choose to add a second catio after building their first one, particularly in households with multiple cats. The additional space not only adds outdoor enrichment options but also helps alleviate stress for cats who may not always relish the presence of other cats or people.
Meet the Catio Cats: Daisy, Charlie and Bug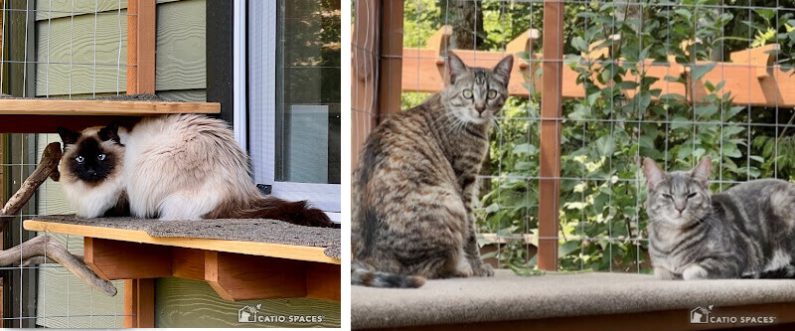 Daisy, a 14-year-old Himalayan mix, and two youthful tabbies, Charlie and Bug, were all proudly adopted from local shelters. Daisy is a little on the anxious side. "She thinks no one can see her if she hides her face behind a curtain." But she can be tempted with catnip and loves a good brushing.
Charlie is a talkative female brown tabby who doesn't like being told no. She's the queen of zoomies in the house – especially when rushing to a window to check out an outdoor feline stranger – and loves to walk on her leash.
Bug, a gray tabby, enjoys nuzzling into Amy's neck and making biscuits with her paws. "She's a little bow-legged and walks with a swagger," Amy laughs, "like she should be wearing chaps and a leather gun holster!
How do Daisy, Charlies, and Bug show that they love their new catio space? 
Each morning they queue up by the window, eagerly awaiting the opening of their catio entry door before they've even had a taste of breakfast.
Despite being free to come indoors at any time, they spend nearly their entire day in their spacious cat enclosure. Around dusk, Amy ventures outside to gather them up and coax them reluctantly back indoors. They play hard to get, darting just out of reach on the highest catio shelf before eventually surrendering with an adorable pout.
When Amy and her husband need to keep them indoors intentionally, this trio of feline catio enthusiasts will playfully march across keyboards and desks, disrupting video meetings and vying for attention, just in case their humans simply forgot to open the door to their sunny catio.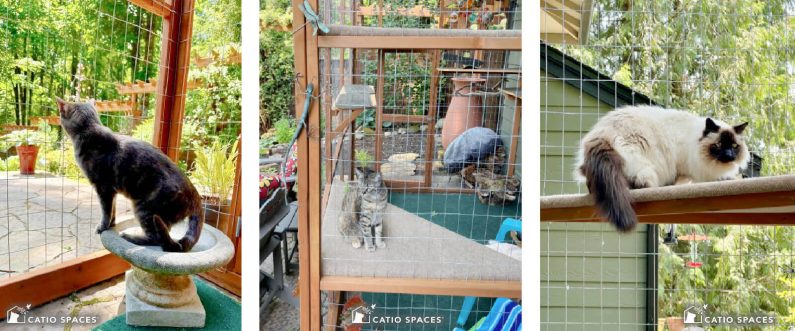 Cats learn to love catio living even if they've sniffed the free-roaming life
All three of Amy's cats have had a little taste of the wild life. Charlie and Bug were rescued kittens, so they probably had some time outside on their own. They now love watching the birds and squirrels outside their catios or chasing the bugs that venture inside.
Daisy found catio life a tougher sell, as she's a bit shy and has had lots of experience "shrewin'" outdoors. But once she discovered how to get through the cat door into the catio, she became the first to line up at the window for access each morning. Daisy loves laying on the top catio shelf and basking in the sun, and she and Bug often snuggle up together. The cats have their own little swinging hammocks and often hang out in (or under) them. They run from shelf to shelf, chirping and playing with their toys and catnip.
Catios provide peace of mind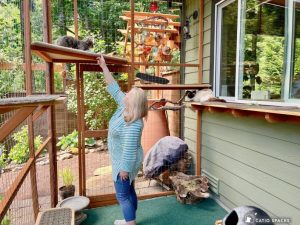 One significant advantage of catio living extends beyond the safety it provides cats. It also offers peace of mind to those who cherish their feline companions.
For Amy, knowing that her cats can savor the natural world without the risk of coming face to face with free-roaming pets or curious wildlife is a source of immense relief.
Most importantly, Amy and her husband can now enjoy the beauty of their yard and deck together in the delightful company of their cats.
October is National Animal Safety and Protection Month, and a purrfect time to consider a catio for your own cats, or perhaps a catio addition to safely enjoy the outdoors all year long.
Build a catio or two of your own with a DIY Catio Plan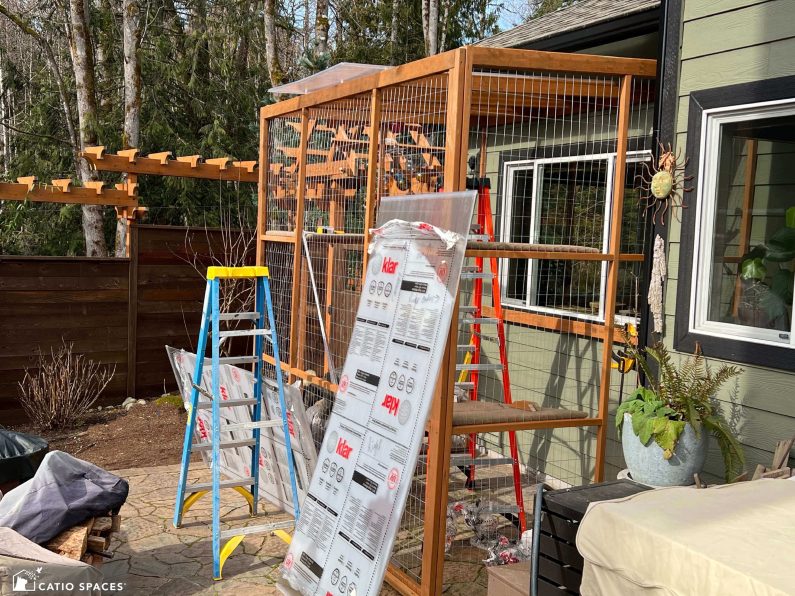 Catio Spaces offers a variety of DIY Catio Plans for a window, deck, patio, garden, or yard.
If your space is limited, consider our compact Window Box, Cat Tunnel, or Haven catio plans. If you're looking for a catio you can share with your cats, the Sanctuary and Oasis plans are a purrfect choice with space for human seating.
All plans include a tool and material list, step-by-step instructions, and diagrams for a successful project. Build the catio plan yourself over a weekend, or hire a carpenter to build the plan for you. You'll enjoy peace of mind with a quality-built structure, and your cat will enjoy many safe outdoor adventures.
Life is good in a catio!
Browse through all of our DIY Catio Plans here.