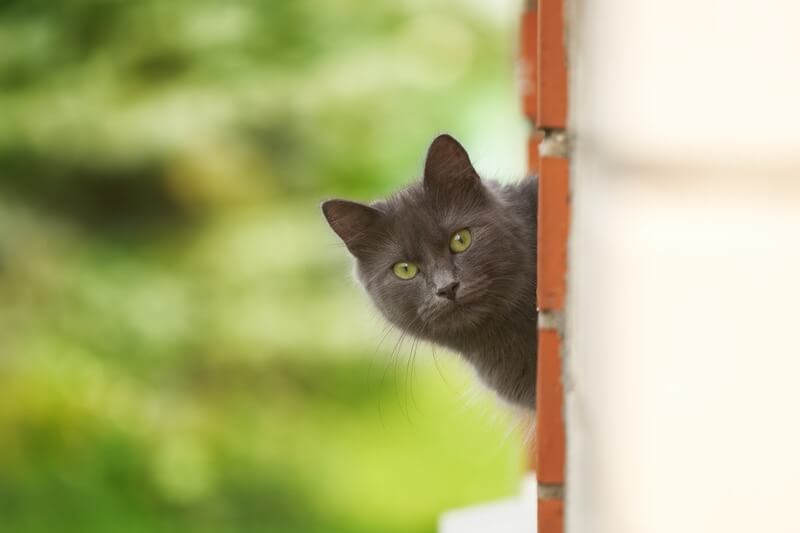 At Catio Spaces, cat safety and wellbeing are our top priorities. There are some very special reasons for this. First, our feline family members tend to hide their discomfort when they aren't feeling their best. We need to be extra alert for signs of illness or injury and be ready to act quickly. Second, our cats are also a little too smart for their own good! They can dash out a cracked door or curl their way around a loose window screen at the first sniff of an opportunity. Free-roaming outdoors presents a flurry of unexpected dangers to cats, as well as to the birds and wildlife that cats are naturally inclined to hunt.
Savvy cat moms and dads need to be one pounce ahead to safeguard our furry feline Houdinis — especially once spring is in the air.
April is Pet First Aid Awareness Month – and it's the purr-fect time to take a few simple steps to reduce safety risks to your beloved cat and prepare for unexpected health emergencies that may arise in the future. A little advance preparation is guaranteed to provide a lot of peace of mind!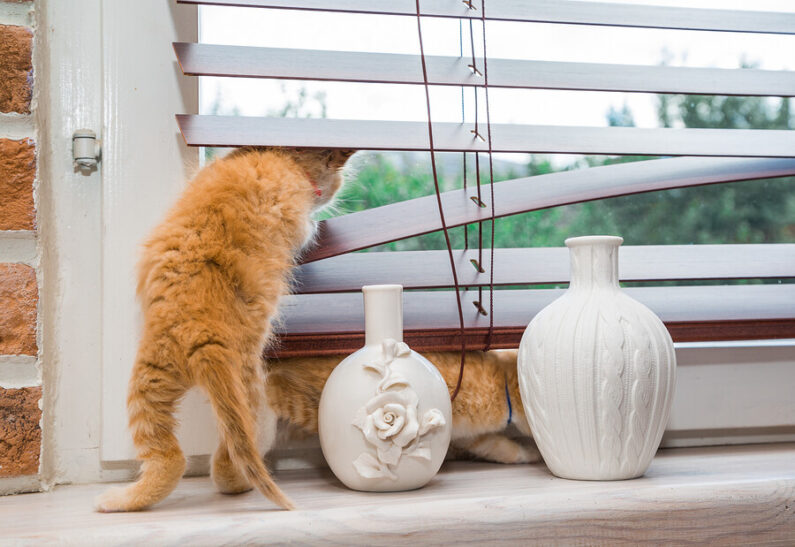 The first days of spring call for every living thing to awaken to fresh new energy.
Once you crack a window to enjoy the first fresh spring breeze, it's likely your cat will settle on the windowsill, intent on catching every sight and sniff of outdoor glory. Their curiosity and natural desire to feel the grass under their toes and breathe fresh air is understandable – we humans feel the same way! Once outside on their own, however, cats can come in contact with pesticides as neighbors begin their spring lawn and garden rituals. They can be chased by dogs, coyotes, climb up a tree, dart in front of a car, or be exposed to disease while squabbling over territory with other cats.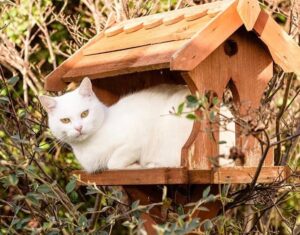 Feline lives aren't the only ones at risk. Some cats instinctively stalk birds and other wildlife, and each songbird that is reduced to a sad fluff of feathers under the bird feeder is probably leaving nestlings unhatched or orphaned, too.
As cat guardians, we face quite a dilemma:
How do we create a space where all of the living creatures sheltering in our home and yard can safely enjoy the unfolding seasons together?
In the spirit of Pet First Aid Awareness Month, let's explore how we can prevent and prepare for the health and safety dangers our companion cats might face or unwittingly cause.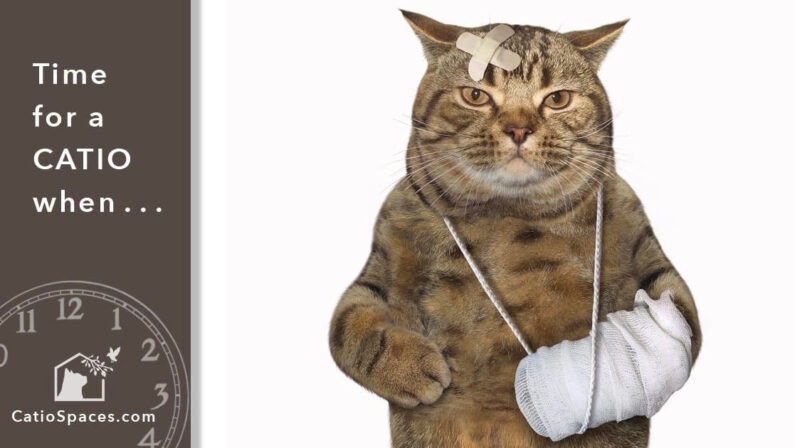 7 Tips for the Preparation and Prevention of Feline Emergencies
1. Eliminate easy escape routes.
Check to be sure window screens are secure and untorn and that screen doors have working automatic closers. There are a variety of affordable types: pneumatic, self-closing hinges, or spring closers. Be sure your doors actually latch securely – cats are smart enough to learn all they need to do is push an unlatched door! Remind children to carefully secure doors behind them as they run in and out to enjoy the warm weather.
2. Your cat can never carry too much ID.
Microchip your cat and be sure the registration is kept up to date. National Chip Your Pet Month is coming up in May to remind pet parents that warmer weather brings an increase in lost pets. Gently train your cat to accept a breakaway collar and ID tag. Petfinder has some great advice on gradually introducing your cat to a collar.
3. Spay or neuter your cat.
To help reduce the free-roaming cat population, spay or neuter your cat by 5 months of age so the urges of spring don't compel them to break out for feline meetups. If your spayed or neutered cat does get lost, they won't have the added stress of kittens or tom-cat battles to contend with as they try to find their way home.

4. It's time for a catio!
There's no reason for your cat to sacrifice all that outdoor goodness in the name of safety. The easiest way to resolve the indoor/outdoor dilemma is your cat's very own catio! One of our DIY Catio Plans is certain to fit your home and garden-design aspirations, from a small Window Box Catio perch where your cat can sunbathe and birdwatch, or a larger catio for both of you to enjoy. Check out our Top 8 Tips to DIY a new catio this spring or summer. We could go on and on about how a catio is the perfect indoor/outdoor cat solution. In fact, we've got ten more reasons for you here, not to mention heartfelt "catimonials" from these two families whose door-dashing kitties are now safely enjoying their own catios.
5. Gather and post your cat's emergency contacts.
Is the phone number and address of your regular and emergency veterinarians handy in case it's needed right away? Include the ASPCA Animal Poison Center as well as the phone number of a family member or friend able to care for your cat if you aren't able to. Refrigerator doors are a commonly checked spot for emergency info, so keep a copy there as well as with your personal papers. (Keep reading for a free app where you can store this info as well.)
6. Build a pet first aid kit.
If you don't already have a first aid kit for humans, be sure to get one. Many of the products in your "people kit" are also helpful if your cat is sick or injured. However, there are some products that you'll want to duplicate for your cat's care only:
Antibiotic ointment for cuts and scrapes
Saline eye solution to help flush dirt, chemicals or foreign objects out of the eyes
Self-adhesive veterinary bandages. You can purchase a single roll at farm supply stores or buy a multi-pack online and give a roll to friends as a gift for their own pet kit.
Oral dose syringes to administer a little water to follow a pill when needed, or to feed a pureed diet if your sick cat is reluctant to eat.
The ASPCA has a list of supplies they suggest you have on hand for pet emergencies. Pet-specific first aid kits can also be purchased online or at pet supply stores.
7. Advance your purr-sonal first-aid expertise with a course or app.
The Red Cross has a fantastic and free pet first aid app with dog and cat-specific categories. It has friendly, easy-to-read text, simple navigation, and a compact library of cat health emergencies, first aid instruction, video, and quizzes. From wounds to urinary blockages or low blood sugar – you'll find most cat emergencies included. You can even upload your cat's image, medical info, and the emergency contact info mentioned above, so you'll always have it at your fingertips.
Dive even deeper into feline health care with the Red Cross online pet first aid course or the Rutgers University 3-hour online Pet First Aid and CPR certification course. A certification course is especially helpful if you are (or want to be) a pet sitter, pet boarder, or dog-walker and care for lots of different pets.
Spring is a time to look forward!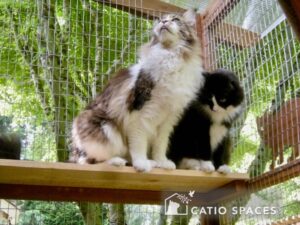 Give yourself peace of mind this spring by preparing in advance to prevent or respond to future medical pet emergencies. If you'd like more prevention advice, we have even more ways to reduce outdoor risks to your cat, or just start catio-dreaming by visiting our DIY Catio Plans.
After all… Life is good in a catio!
Are you ready to build a catio? Choose your Catio Plan!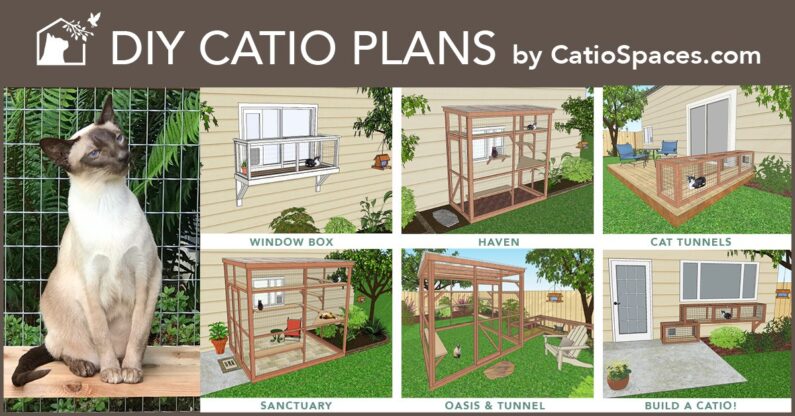 DIY Catio Plans by Catio Spaces are available in a variety of designs to complement your home and yard. Our award-winning plans include a material and tool list, step-by-step instructions, and diagrams for a successful project. Build the catio plan yourself or with the help of a local carpenter. Your cat will thank you for it!