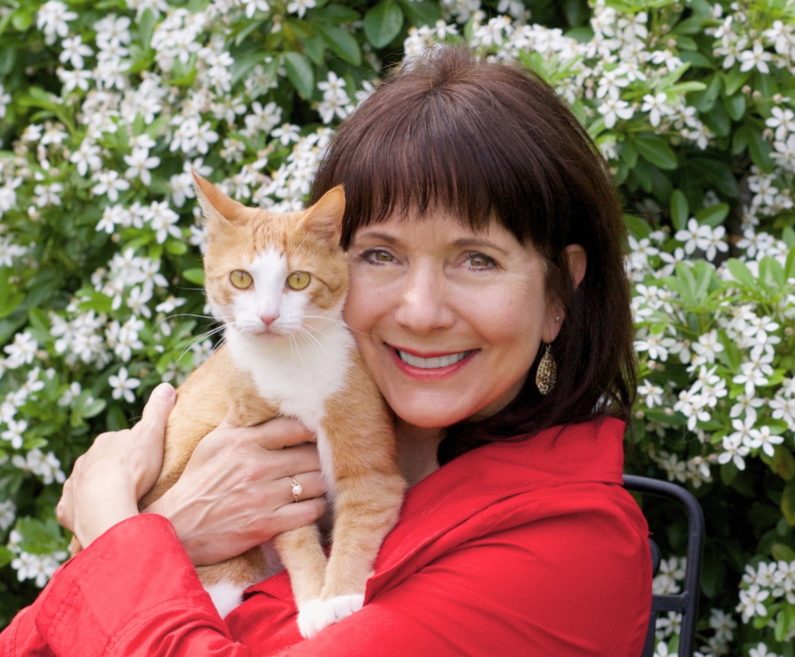 Happy 2021, cat lovers! The New Year is often celebrated as the start of new beginnings where we make deeper commitments to ourselves, our dreams, our relationships, and, of course—our beloved felines.
After a challenging and unprecedented year, I think we could all use a big pandemic pivot. Let's turn the page on 2020 and welcome the new, promising energy 2021 brings. May our homes continue to be safe havens as we move forward, and may they support us as we turn our dreams into reality.
Cats, Catios & Commitments for the New Year
The end of 2020 was very busy in my home. I recently completed, and survived, a major house addition and kitchen remodel. Now I'm finally enjoying the newly created spaces that I've dreamed of for ten years. It's also purrfect for my tabby, Serena, who loves soaking up the sun that shines through several south-facing windows, or frolicking in one of her four catios.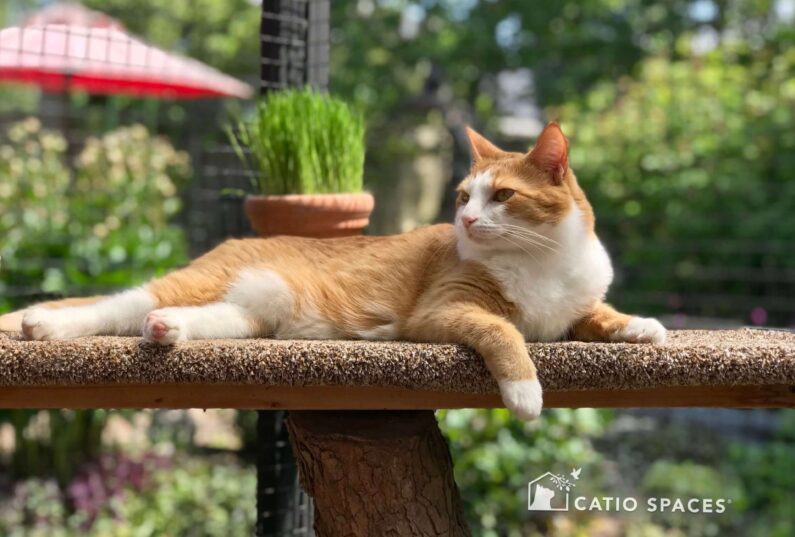 Serena, just like many cats, follows the warmth of the sun, trusts her instincts, and knows the purpose of life is to enjoy it. I'm forever grateful for this daily reminder to take time to enjoy the experiences that make me happy to be alive.
Have you reflected on your dreams and commitments, big or small, for the New Year?
If your cat could tell you his or her dreams for the New Year, what would it be?
More playtime with you?
Some healthy and tasty treats?
Scooping the litter box more frequently?
A new toy or a catio, an enclosed outdoor "cat patio," to stimulate their daily routine?
Whatever it is, a commitment to enhancing your cat's life is always time well spent, and your cat will thank you for it.
Business and Belief Go Hand-in-Paw
For many of us, and certainly here at Catio Spaces, the New Year is also a time to renew our long-term commitment to what we most strongly believe in. Since I'm passionate about design, nature, and cats, it's vital that my business be a reflection of and emanate what I truly believe in. Catio Spaces is committed to enriching the lives of cats and solving the indoor/outdoor dilemma for cat parents while running an ethically and consciously focused business.
Helping Cats, Birds & Wildlife
Free-roaming cats face many dangers and put wildlife at risk. Even more heartbreaking, free-roaming cats have a significantly shorter lifespan on average. While many cat parents struggle with how to let their cat express their natural desire to be outside, Catio Spaces has developed a solution. Our custom and DIY catios help everyday people prevent the hazards of free-roaming to keep cats, birds, and wildlife safe and healthy.
Creating Partnerships
Even in the beginning of Catio Spaces, I've always believed it was important to create partnerships with others doing similar work. It's like the old adage goes—there's strength in numbers.
If you belong to an animal, bird, or wildlife welfare organization, we'd love to have you join the Animal Welfare Affiliate Program. It's a great way for us to support and work with other people who love animals as much as we do!
Giving Back
Contributing and giving back is an important part of our mission. That's why this past October, I sponsored a DIY Catio Plan Giveaway. Catio Spaces gave away 25 catio plans and was able to positively impact the lives of 25 families. It was such a great success that it will now be an annual event in honor of National Animal Protection and Safety Month.
Along with the 25 winners, I also wanted to support cat welfare organizations. I planned to give the one affiliate animal welfare organization with the largest number of referred giveaway entrants a $1000 donation. However, because two groups were so close and were both doing such great work on behalf of cats, rather than just rewarding a single organization that was ahead by a whisker, I felt Catio Spaces should celebrate both of them. Both organizations received a $1000 donation.
The Michigan based rescue, Paws for Life Rescue, was one of our winners. The organization helps alleviate congestion in local animal shelters by taking in animals from them. This actually helps save multiple animal lives: it clears space in the local animal shelter so they can continue to serve animals while giving the rescued animal a new place to live. They then work tirelessly to find homes for these abused, abandoned, or neglected animals.
Our second winner was The Feline Foundation of Greater Washington. They are an all-volunteer, nonprofit that helps homeless cats and kittens in northern Virginia and the metropolitan Washington DC area. On behalf of Catio Spaces and The Conscious Cat, our cat advocate partner who helped share the giveaway with their readers, the $1,000 donation to FFGW will support their ongoing efforts to make a difference in the lives of precious felines.
Pawsitivity Matters
Along with creating meaningful partnerships and giving back, it's important to me to create positive energy in the world. I do this in my work as a Feng Shui expert and in my work at Catio Spaces. The energy we take in from the world and the energy we send out matters. Our homes are important havens providing shelter from the outer world. Cats, even more than humans, are sensitive to their surroundings, and it's important to create harmonious spaces for all family members to thrive.
Catios are an extension of the home and a great way to enjoy fresh air and the enrichment of nature. Creating beautiful and synergistic spaces that support positive energy flow makes me happy and brings joy to the many families I've been able to help. There are easy things anyone can do to enhance physical space and change their lives with Feng Shui.
Catios are not just about creating a safe enclosure and adding living space. It's about enhancing the lives of cats and their parents in a positive and beautiful way. After all, catios and nature are good for humans too!
My work is my mission in life and I love waking up every day with the opportunity to make a positive impact. I'm pleased that Catio Spaces, and many other petpreneurs, can make a difference in the lives of cats, birds, and wildlife while also running a successful and heart-centered business. What about you? The New Year is a great time to reflect and re-ignite your own passions and dreams, and I encourage you to decide to make them a reality.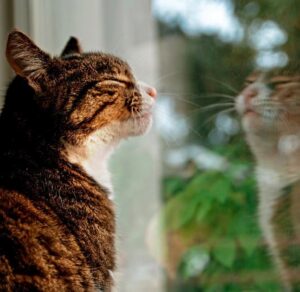 Is your cat dreaming of a catio?
If you're like me and want to provide the best life for cats, birds, and wildlife, consider a DIY or custom catio for your feline fur family.
Not sure if it's time for a catio? If you or someone you know is struggling with the indoor/outdoor cat dilemma, check out our seven signs that it's time for a catio.
Sending pawsitive energy your way as you enjoy the start of the new year!