Winners of Catio Plan Giveaway & Animal Shelter Donations
In Honor of National Animal Safety and Protection Month during October, 25 lucky cat parents won a DIY Catio Plan from Catio Spaces – and their cats are giving them a "paws up" to get started building their catios! Due to the amazing response to our giveaway, TWO animal welfare organizations were top contenders with the most mentions and both receive a $1,000 donation.
DIY CATIO PLAN WINNERS:
Betsy Callaghan, Tina Deming, Danelle Driscoll, Linda Eskildsen, Sarah Goblot, Stacy Goodwin, Diana Hain, Michael Hylton, Kim Kidder, Anne Lage, Wendy Lynn, Jocelin Malone, Vanessa McDermott, RJ McKenney, Sandy Middour, Heather Mohler, June Moore, Kelli Nachbar, Erin Pierce-Magdalik, Michelle Molinari, Susan S., Lisa Schweiter, Michele Stork, Kim Ward, Stacy Wonzy
ANIMAL WELFARE ORGANIZATIONS – $1000 DONATION RECIPIENTS: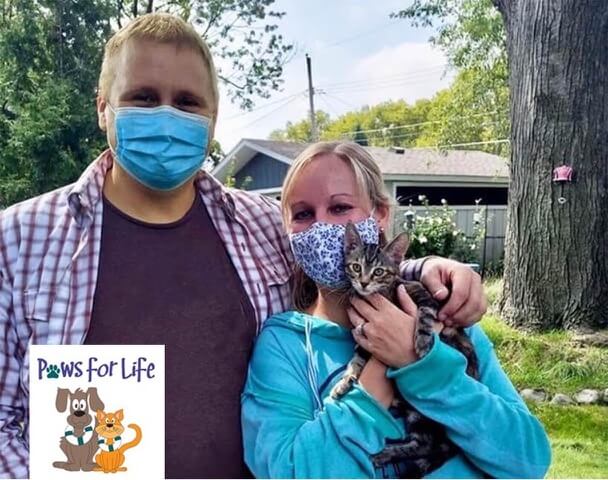 Paws for Life Rescue in Troy, Michigan was founded to help save animals from "kill lists" at high-volume, local animal shelters. The idea that such a partnership saves two lives instead of one – that of the animal being taken in by the rescue and the one that will fill the empty space left behind back at the shelter – is the foundation for PFL's shelter transfer program. Sleepy (pictured above with her forever humans), along with her six littermates, came to PFL from the local county shelter. They had been dropped off without a mom, underage and unable to be adopted to the public. Sleepy and her siblings needed a few more weeks to grow and learn before they could venture off into the world. PFL is happy to report that all "Seven Dwarf" kittens were adopted into loving homes, where they continue to grow and thrive. Catio Spaces is pleased to donate $1,000 to Paws for Life Rescue.

Our second animal welfare winner serves homeless cats and kittens in the Northern Virginia and metropolitan Washington DC area. The Feline Foundation of Greater Washington is an all-volunteer nonprofit dedicated to the rescue, care and adoption of cats in their community. On behalf of Catio Spaces and The Conscious Cat, our cat advocate partner who helped share the giveaway with their readers, the $1000 donation to FFGW will support their ongoing efforts to make a difference in the lives of precious felines.
Many thanks to all the cat parents and the animal welfare organizations who participated in the Giveaway by Catio Spaces. Thank you for keeping your cats safe and sharing the benefits of catios during National Animal Safety and Protection Month, and all year long!
Celebrate National Animal Safety and Protection Month with Catio Spaces!
Winners will be selected in a random drawing and notified via email. Good luck!