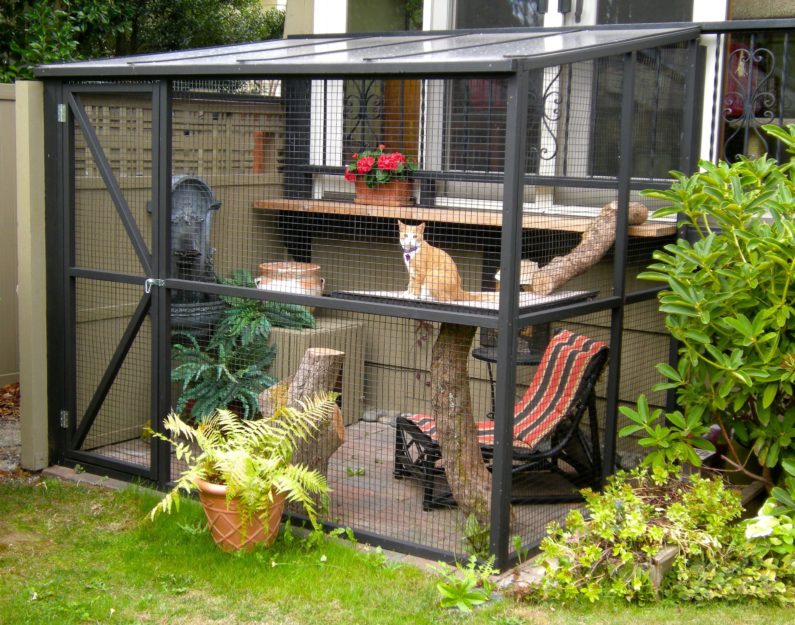 Every cat is unique and so is every home, garden and landscape. If you're considering a catio, a safe outdoor space or "cat patio" for your cat to enjoy the enrichment of nature, there are several factors to be aware of when choosing a location. Consider how much space is available, sunlight (cats love it), stimulating views, year-round use, and how your cat will access a catio.
As a catio designer and founder of Catio Spaces, I often get asked about the best location for a catio. The answer varies based on your own home and garden as well as your budget. From small and simple to large and luxurious, catios can be created in a variety of designs and sizes for your cat's enjoyment. Access points to the catio can vary including cat doors installed in a wall, window, door or patio door so your cat can enjoy the catio all year long.
Here are six catio locations transformed into safe, cat-friendly spaces.
PATIO CATIO: Serena's Sanctuary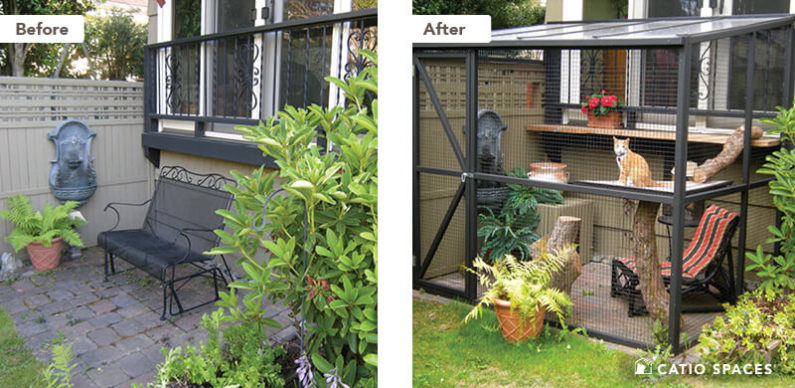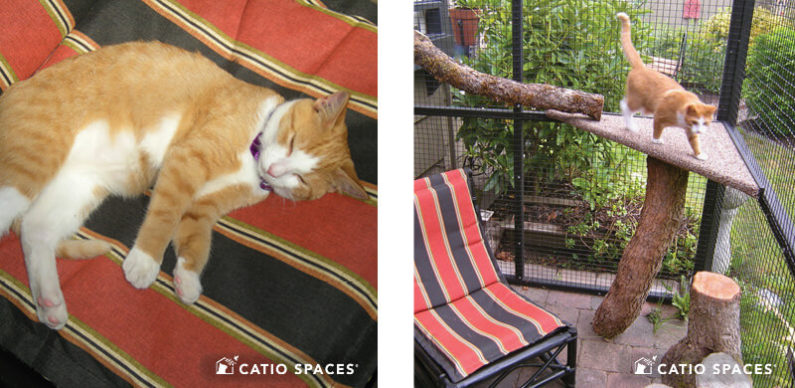 A small backyard patio was transformed into a catio for tabby Serena to safely enjoy fresh air and the enrichment of the outdoors. The catio features comfy seating, cat safe plants, a water fountain, branches, and tree stumps for Serena to enjoy exercise, garden views, and of course, a cat nap in the sun. She shares the space with her human who enjoys quality time and bonding with her outdoors. After all, fresh air and nature is good for humans too!
Cat access: Wall mounted cat door in kitchen.
PORCH CATIO: Sunny Spot on a Corner Lot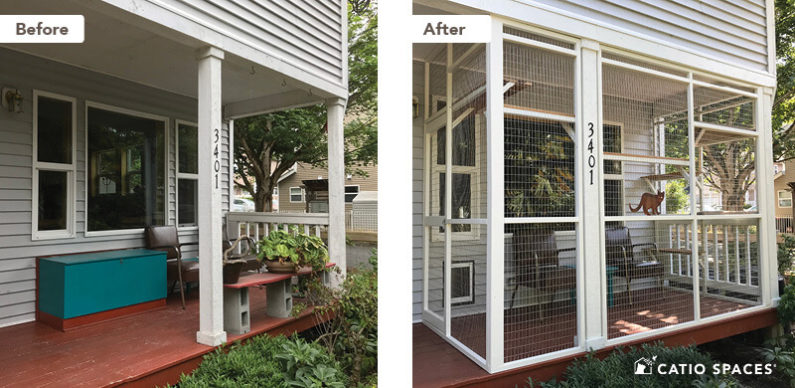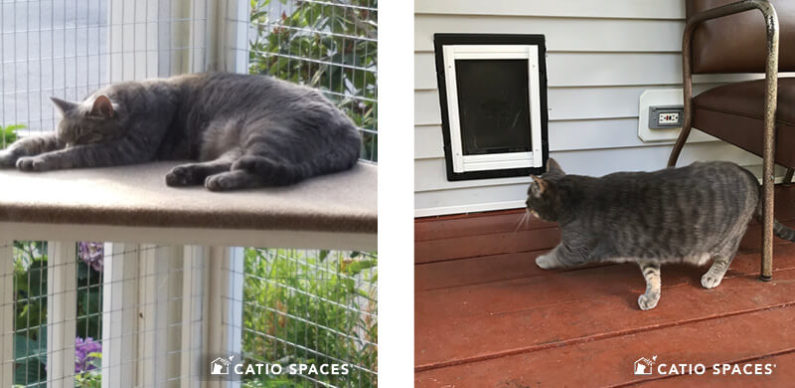 The porch of a delightful home on a corner lot was transformed into a "sun room" catio for human and feline enjoyment all year long. Curious cat mates, Precious and Otis, enjoy catio life and the stimulation of watching passersby, birds and neighborhood activities. Painted white to match the house trim, this porch catio complements the home and definitely provides "cat" curb appeal.
Cat Access: Wall mounted cat door in living room.
GARDEN CATIO: Safe Retreat from Coyotes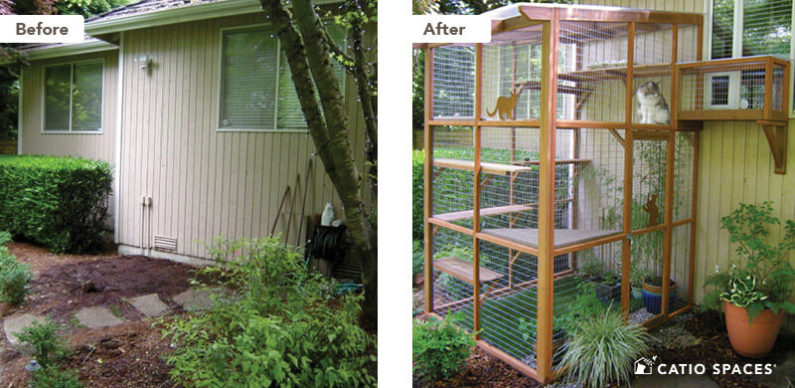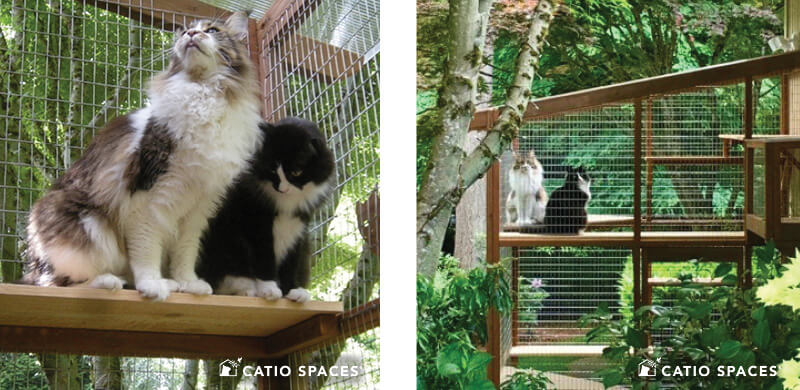 To keep Carter and Bandit safe from coyotes roaming the neighborhood, an area of the backyard garden bed was transformed into a catio retreat. Grass, cat safe plants, carpet covered perches, and upper and lower shelves provide high and low spaces for exercise and views of the garden. Their avid-gardener mom enjoys peace of mind knowing they are always safe. Check out this video to see more of Carter and Bandits catio retreat.
Cat Access: Window cat door with a small tunnel connecting the catio.
WINDOW CATIO: Bird's Eye View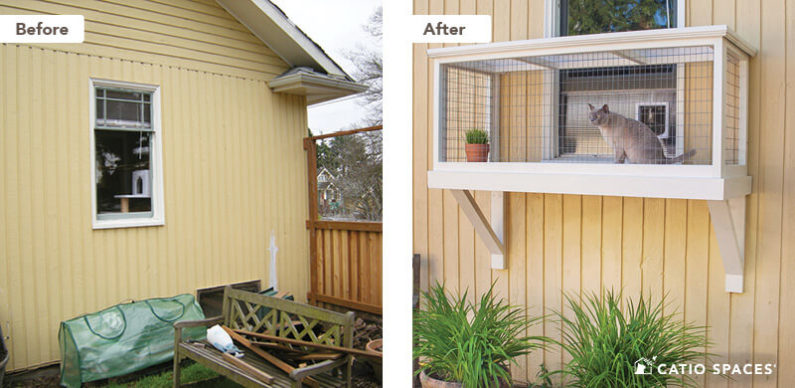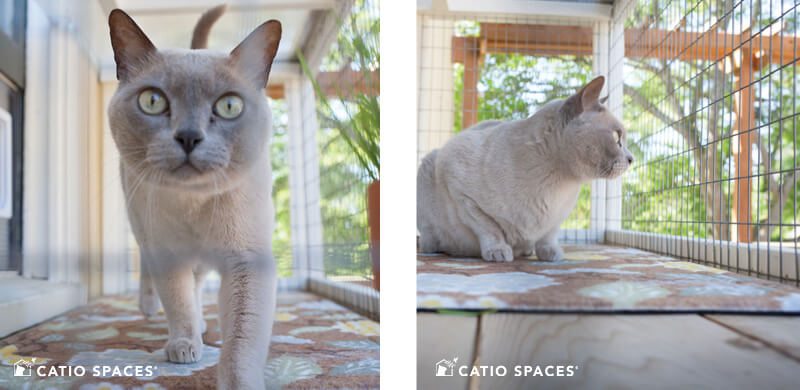 Windows are a purrfect place for an eleveated window box catio. Former indoor-only cat, Smudgy, now enjoys the wind in his whiskers and birdwatching. If space is limited, window box catios are a great option and can be built wider than the actual window to create additional spaces. Painted white, this catio not only complements the home, it inspired his owner to spruce up an unused space below into an attractive garden.
Cat Access: Window cat door in home office.
DECK CATIO: Multi-Cat Outdoor Playground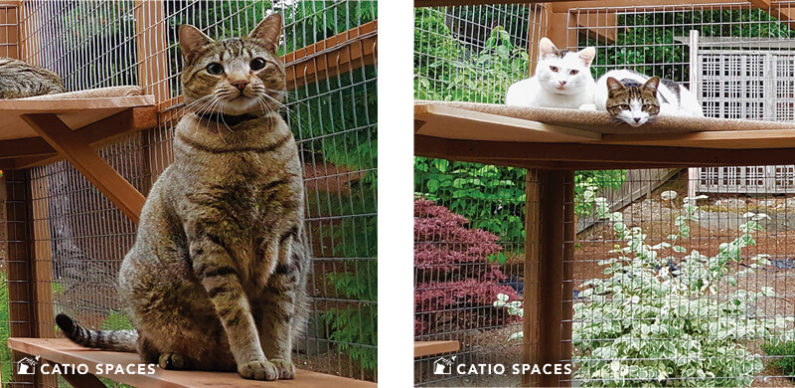 Nine cats, who formerly took turns lounging in a kitty walk tunnel on the deck, now enjoy a spacious deck catio with lots of playtime with each other and their humans. The safe, outdoor playground includes carpet covered corner shelves, cat safe plants, upper and lower shelves, and toys for a purrfectly stimulating day. Their humans say the multi-cat household is a lot more fun and they enjoy watching their fur kids from their living room. Life is good in a catio!
Cat Access: Cat door in slider doors from the living room.
BALCONY CATIO: High Life in the City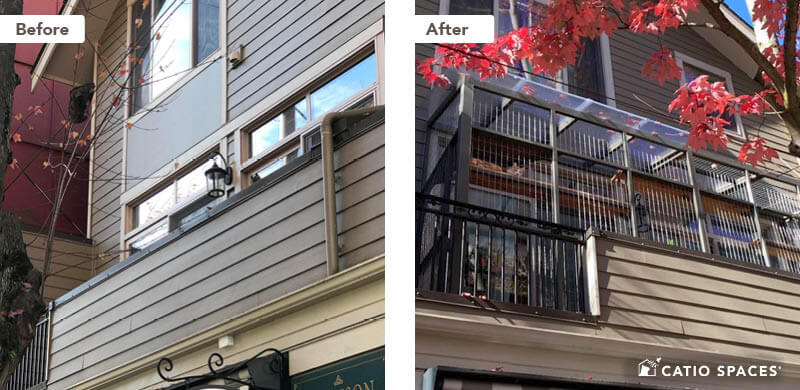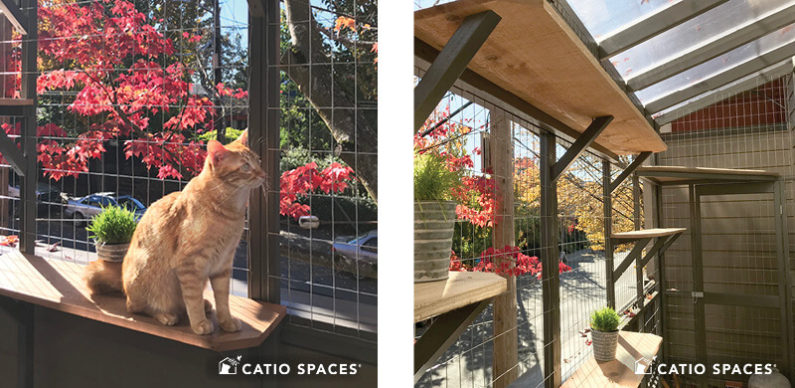 High above a bustling city street, Fanta and Finnegan are living the "high life" in their 2nd story balcony catio. Their human mom had limited space in their urban townhome so she transformed the unused long and narrow deck into a safe and stimulating outdoor space. These lucky ginger tabby felines enjoy fresh air, the wind in the trees, chasing leaves, people-watching and more!
Cat Access: Cat door for sliding doors from living room.
Watch Fanta and Finnegan enjoying catio life in the video below:
DO YOU WANT A CATIO FOR YOUR CAT?
A variety of catio resources are available including DIY Catio Plans that you can build yourself or hire a local carpenter to build for you. Catio Spaces offers plans for a window, porch, patio, deck or yard. If you're limited on space, consider a Window Box or Haven catio. If you want to experience catio life too, the Sanctuary and Oasis provide space for human and feline enjoyment. Each plan is a PDF download that includes a material and tool lists, step-by-step instructions and diagrams for a successful project. 10% is donated to animal welfare organizations.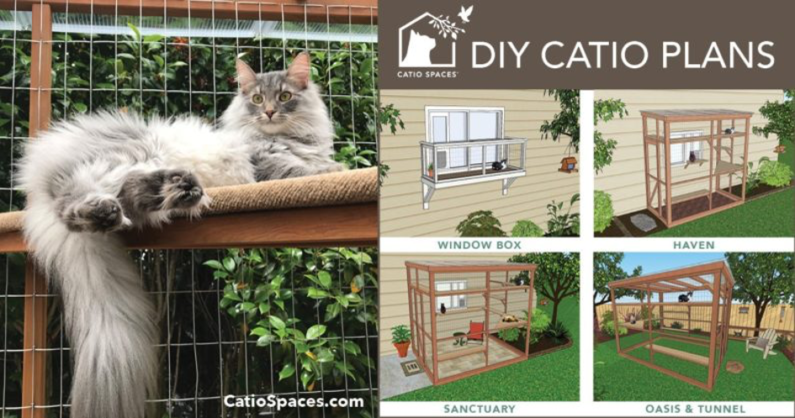 Not sure how to get started? Check out these free catio tips.
Life is good in a catio!