Cats naturally want to be outside—sun bathing, enjoying a game of chase, or exploring the landscape. Unfortunately, roaming freely outdoors holds significant dangers for cats, putting their loving cat parents in a bind that often results in vet bills. Add to this indoor kitty door-dashers who insist on feeling the wind in their whiskers – and you have a terrifying mix for any cat parent.
I had the opportunity to provide solutions for two families, each facing the door-dashing problem, and help them redirect that kitty determination in a positive way.
Meet "Tree-Climber" Beatrice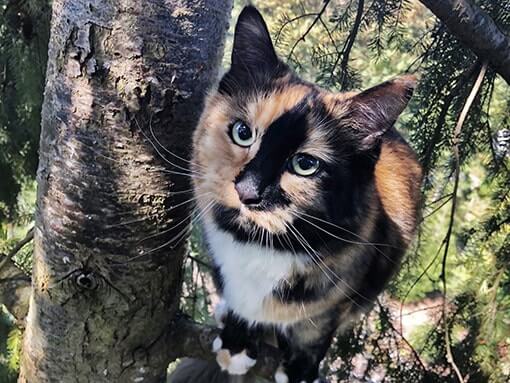 Beatrice is a gorgeous calico who longed for the stimulation of the outdoors. Despite her parents' efforts to keep her inside due to coyotes and eagles in their area, the clever cat would hide near the fireplace and make a run for the door whenever the opportunity struck. Not only was this distressing for her humans, her cat brother, Mr. Ginsberg, would meow until she came back home.
It was the final straw last fall when Beatrice door-dashed and climbed straight up a 90-foot cedar tree in their yard. Stranded, stressed, and not knowing how to reach her, Beatrice's parents called Canopy Cat Rescue who scaled the tree and brought the adventurer safely back down. While her parents were grateful for the rescuers, the couple knew it was time to get a catio.
Over a couple weekends, Beatrice's dad built the Haven DIY catio plan outside their laundry room window. Now she and her kitty companion have a safe space to enjoy birdwatching and views of their backyard. While Beatrice's tree climbing adventure did bring her fame (she's the cover girl on Canopy Cat Rescue's 2019 calendar!), she still manages to practice her climbing skills from inside her catio.
Meet "Boss of The Road" Mars
Mars is a highly intelligent and energetic Abyssinian who liked to dart out the back door any chance he could get. He was affectionately dubbed "the boss of the road" because he escaped so often! Oblivious to the dangers of the outdoors, Mars would traverse the neighborhood and frequently return home with unwanted "gifts" (birds and rodents) for his humans.
The stress of trying to keep Mars from door-dashing and the family's unsuccessful attempts to lure him back inside reached a peak. They needed a way for Mars to be happily outdoors and to be confident he would always be safe.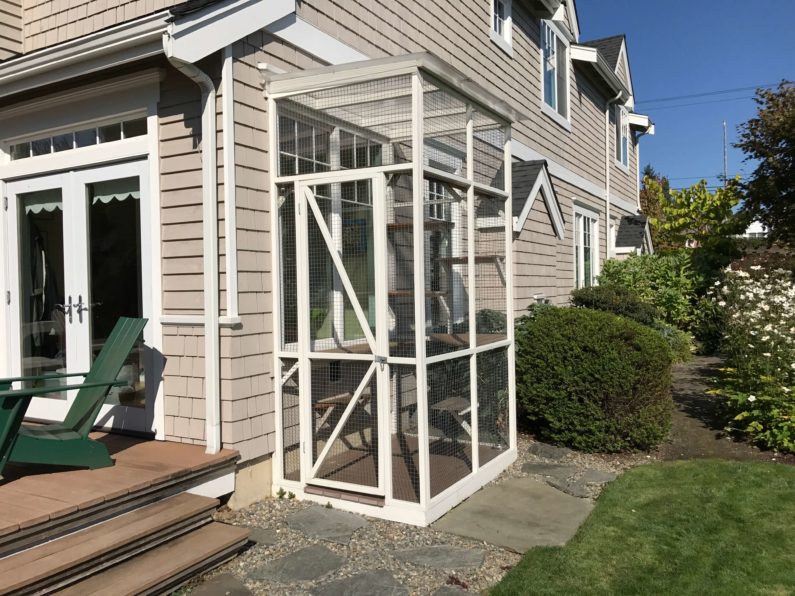 Catio Spaces built a catio for Mars in the garden area outside the family's mud room where he could watch family activities and wildlife. A cat door was installed in the wall, allowing Mars the freedom to go in and out at his leisure.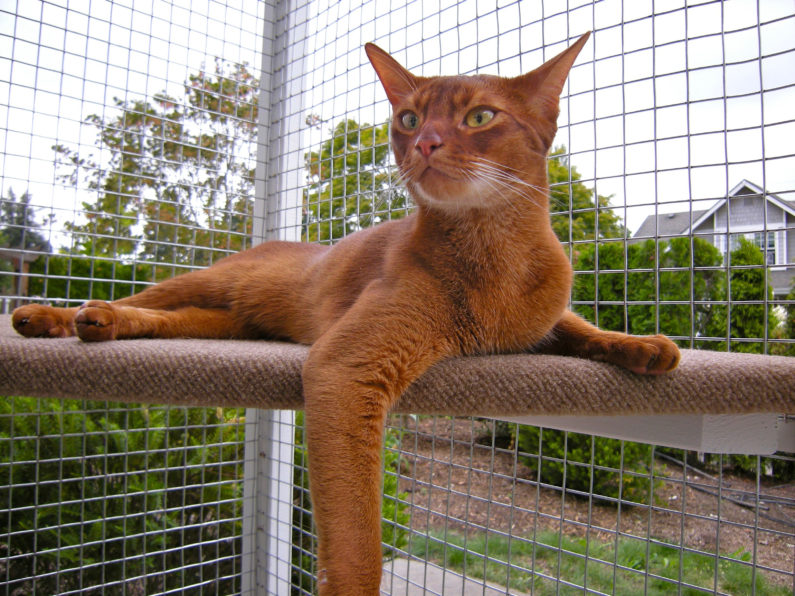 Mars now enjoys basking in the sun and watching birds—not catching them—from his catio while his family enjoys the peace of mind knowing he is always safe.
---
Is your door-dashing cat telling you it's Time To Get a Catio? Purrhaps the same solution that worked for these two families may work for yours. Consider our Haven DIY catio design, featuring lots of vertical space and multiple shelves for lounging, exercise, and a catnap in the sun.
We were honored to help both of these families find the purrfect solution to both nourish their cat's natural instinct to be outside and provide peace of mind.
Life is good in a catio!