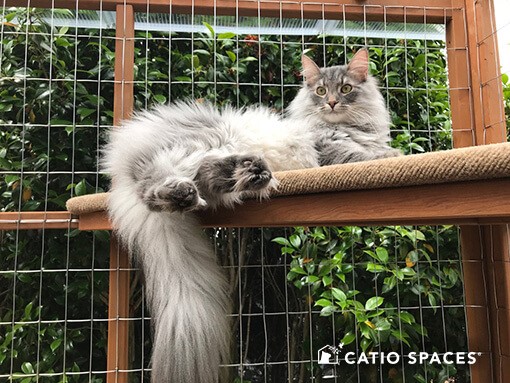 I hope you're ready to celebrate the cats in your life because September is National Happy Cat Month! Seeing a truly happy cat brings so much joy to our lives. Like humans, a cat's happiness depends on having their outer environment and inner needs met, including a safe place to live, healthy nutrition, fulfilling social interactions, and both mental and physical stimulation.
Maintaining health and being kept safe from hazards are also musts for cats to live a long and happy life. Cats deserve to have a life full of enrichment, to be loved, and to have their health looked after. I recently had the chance to talk with Dr. Lora Schuldt, DVM, from Cats Exclusive Veterinary Center in the Seattle area, for Take Your Cat to the Vet Day. Dr. Lora believes "catios are a fabulous way to allow outdoor activity safely".
I couldn't agree more! A catio is the purrfect way to keep your cat both happy and healthy, and here are several reasons why.
Watch some happy catio cats enjoying the enrichment of catio life.
5 WAYS CATS BENEFIT FROM CATIOS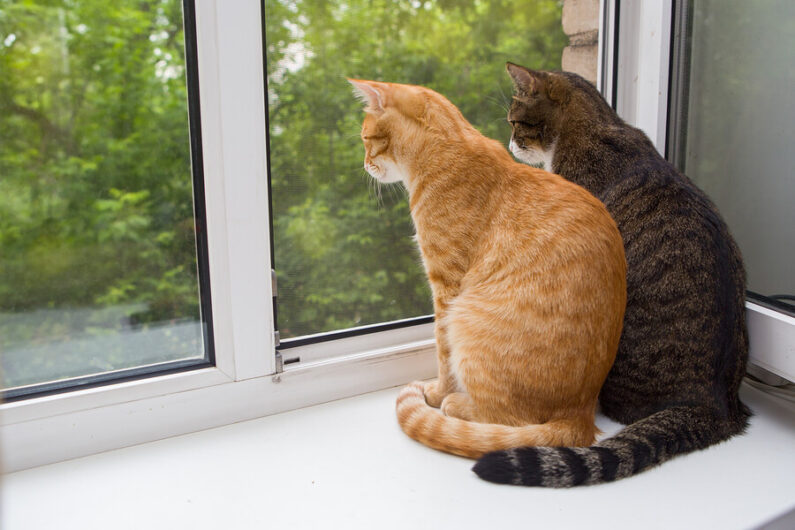 1. Cats are fascinated by the great outdoors.
If you have an indoor-only kitty, you've probably seen them staring longingly outside the window, dreaming of the outdoors. Almost every cat parent has pondered whether their cat would be happier outside. The indoor/outdoor dilemma is real. But letting your cat roam the great outdoors freely poses safety challenges including vehicles, predators, poisons and diseases from other animals. There are many ways to keep your kitty safe while outdoors including staying up-to-date with vaccines, leash training and making your yard cat-friendly with a catio.
Beatrice, an indoor only cat, would frequently dart out the door causing stress for her humans who were concerned she might encounter coyotes and eagles in their area. Her escapades came to an end (with a catio) when she had to be rescued from a 90-foot cedar tree! Learn more about her rescue and how her humans built it so they could enjoy peace of mind.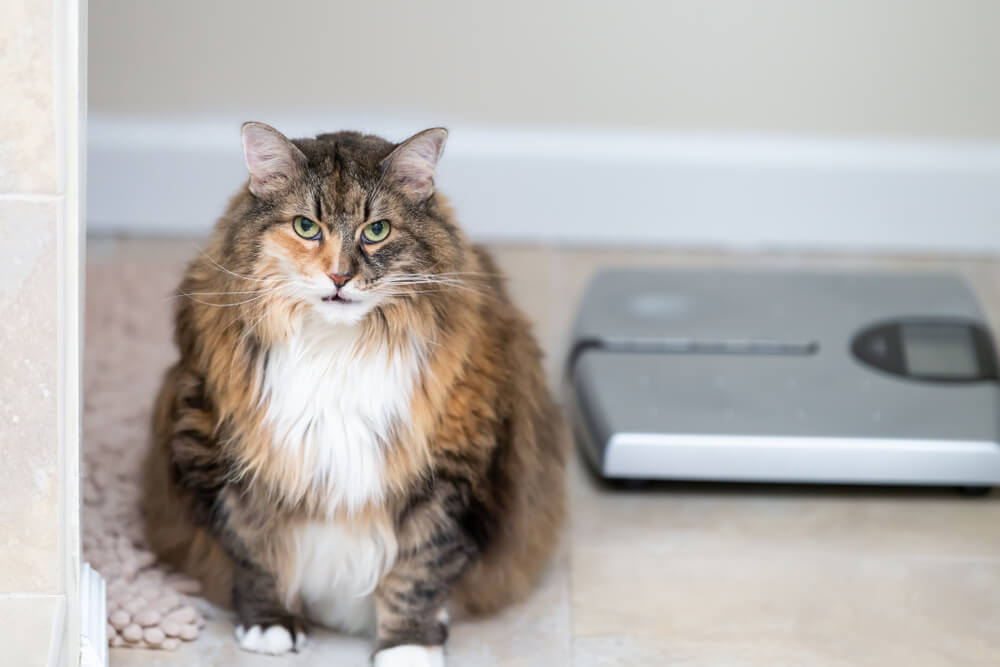 2. Exercise helps cats have more pep in their step to keep them fit and healthy.
The Association for Pet Obesity Prevention reports that in 2018, an estimated 60% of cats and 56% of dogs in the United States were overweight or obese. Like humans, cats experience health issues that can be complicated by obesity, including arthritis, diabetes and asthma. You can learn more on this interactive page from Banfield Pet Hospital.
Tabby cat Tom, a whopping 25-pounder, was adopted into a home with a catio and lost 8 pounds in six months! Catios range in size with shelves that provide vertical and horizontal movement for a cat. Even if you have limited space, a compact catio like the Haven or a Window Box catio can provide opportunities for exercise and fresh air.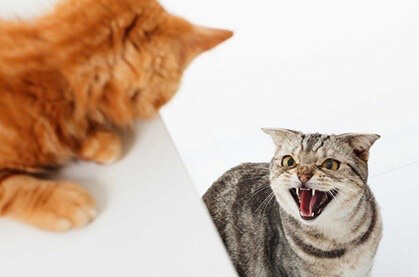 3. A catio can help reduce behavioral issues in multi-cat homes.
Contrary to popular belief, cats are social creatures who often enjoy having companions. Romping and cuddling with another cat provides healthful exercise and happy relaxation. Sometimes though, felines in multi-cat homes can have friction. If one cat is more energetic or dominating than the other, or if they are bored, you may encounter unwanted behaviors. A catio can help provide safe, outdoor distractions to restore peace in a multi-cat household.
Catherine, the cat mom for three adopted cats, Jake, Fergus and Finnegan, transformed her back deck into a catio. "Jake is a lot more mellow with Fergus than he was before," Catherine says. With all the extra space and enrichment, the three cat brothers have a lot to keep them occupied. Learn more about Catherine and her deck catio!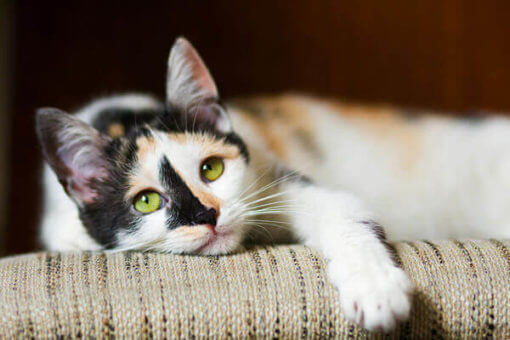 4. Catios provide daily stimulation and enrichment for your cat.
While indoor life remains pretty much the same, every day is new and exciting in a catio. Fresh air and the changing scents, sounds, weather, and seasons all create the stimulation cats crave on a daily basis. To add to the fun in a catio, you can place your cat's favorite toys, a cat scratch and a comfy lounge for a cat nap. Be sure to avoid food as it can attract unwanted critters.
Catios can also be enjoyed all year long by winterizing a catio. Check out these winterizing tips and see Tuxedo cat Wally and his cat mate, Mila, exploring the first snow in their catio.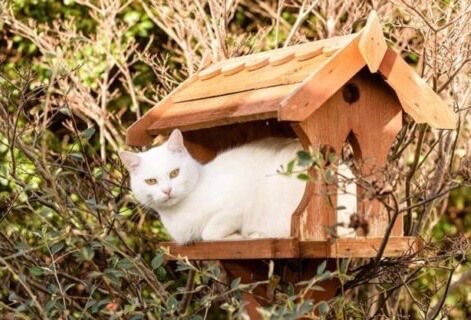 5. A catio helps protect birds and wildlife in your backyard.
It's totally natural for a cat to be intrigued by wildlife, and it's no surprise that this fascination can turn your purring pet into a deadly hunter if allowed to roam freely. One stealthy and skillful cat can kill countless birds and small mammals. A catio keeps all small lives safe. Not only that, but cats who consume wildlife are at a higher risk of contracting worms and other parasites.
Bird-friendly gardens will attract wildlife your cat can enjoy watching from their catio while keeping the birds at a safe distance. My simple tips will help you create a safe sanctuary for nature and wildlife so you and your cat can spend many relaxing hours enjoying the birds who visit your yard. Our birdwatching guide shares the songs and habits of the birds you can watch for in your specific region.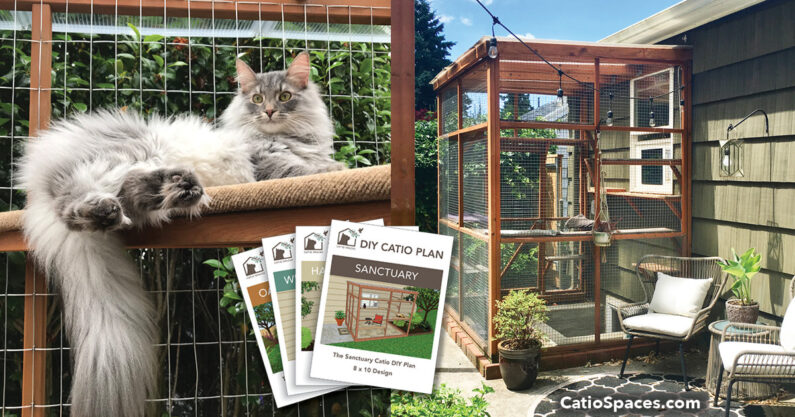 This September, for Happy Cat Month, help your cat spend their "nine lives" happily on cloud nine. Check out our DIY catio plans in a variety of designs and sizes for a window, patio, deck or garden to find the best outdoor space for you and your cat.
It's National Happy Cat Month, and it's Time for a Catio!
LEARN MORE ABOUT DIY CATIOS .>>