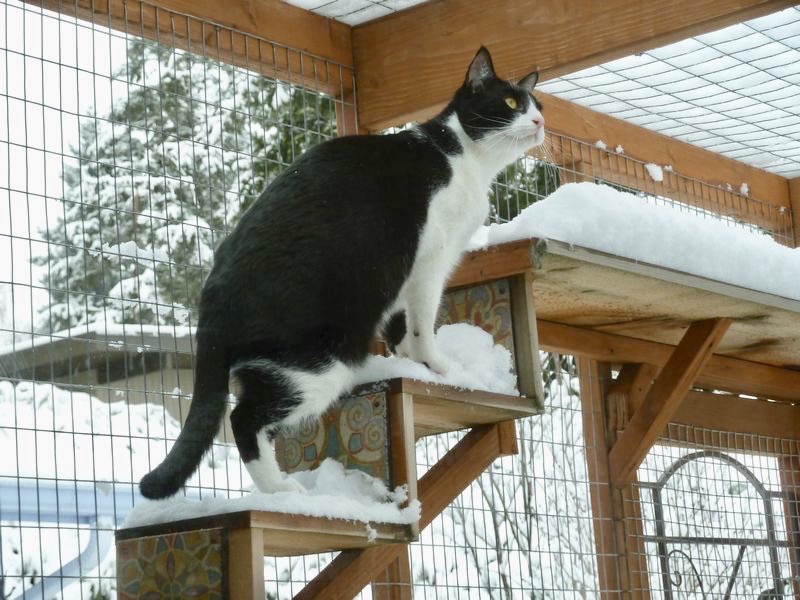 The holidays are here and so is the opportunity for some festive fun! It's also a great time of the year to enhance your catio to make the space more inviting for kitty during the colder months. So here are some of my top tips for cat-friendly winter and holiday decorations—outside and inside your home.
Winterizing Your Catio
Leave room for (a bit of) snow: While a weather proof and UV protecting polycarbonate roof is best for year-round, some kitties enjoy having a portion of the roof with wire-mesh so they can paw and claw through the snow. Another option is the best of both – a removable polycarbonate or canvas cover over a wire mesh roof during the winter months.
Block the chilly wind: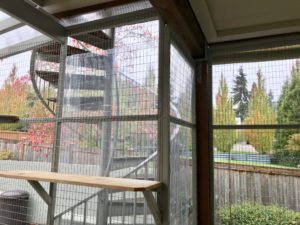 You may also want to consider stretching a clear shower curtain around the windy side of your catio walls and affixing it with hooks and zip ties (not twist ties!) to the wire frame. Another option is adding removable polycarbonate panels. This helps keep the cold winter breezes and snow out, while still giving your cat the chance to enjoy the natural scenery.
Decorating your Catio for the Holidays
For a more-festive look, consider these fun decorative touches –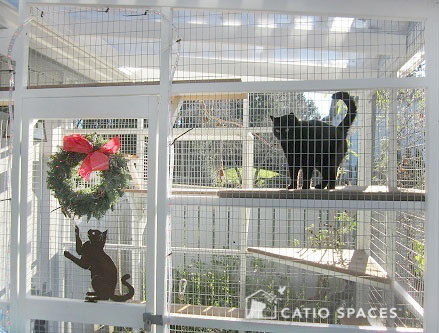 A natural pine or pinecone wreath for the door or wall of the catio. Just make sure to check that it's a non-toxic pine, like Western Yellow Pine, and doesn't include berries which may fall off and be harmful if eaten. Of course, it's always best to check the ASPCA plant database for cat friendly outdoor (and indoor) plants.
A sweet holiday-themed doormat like this one from Amazon adds a friendly and festive feline touch to the catio décor.
A cosy heated cat house, like this one is a purrrfect place to settle down for a nap. Add your kitty's favorite blanket and it's a warm, snuggly, winter paradise!
Add a few bird feeders or a bird bath to your yard. You'll help the birds throughout winter and create a stimulating, wildlife-watching experience for your cat.
There you have it—a handful of holiday decoration and winterization tips to keep your catio and cats safe and happy in the spirit of the season.
If you're still considering a catio for your cat, this holiday season is a great time to purchase a downloadable DIY plan for your family—or check out our gift certificates for the cat lover in your life!
I wish you and yours have a very special and lovely holiday season. And, don't forget, life is good in a catio all year long!