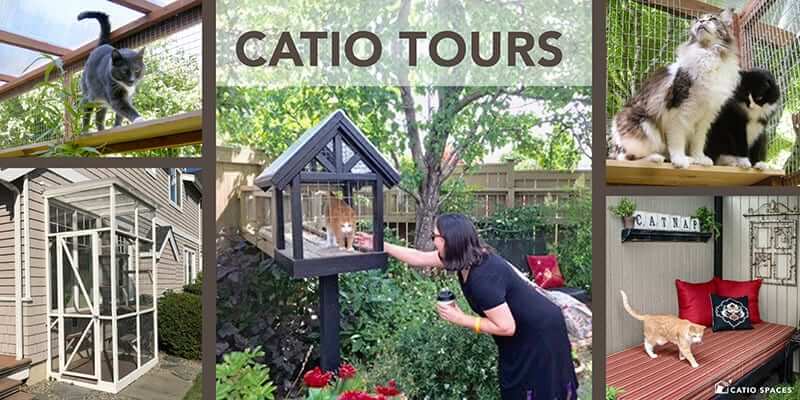 You've probably heard of catios (you're here, after all), but did you know that catio tours are a super-fun cat enrichment trend that's here to stay? As the founder of Catio Spaces and one of the organizers of the catio tour in Seattle, today I'm sharing some inspiring catio creations by cat parents across the U.S. and Canada. I'm also highlighting why you might want to consider attending a catio tour, being a catio host, or organizing a tour in your city.
Ready for a catio tour to eight cities? Let's get going!
What are catio tours?
A catio tour is exactly what it sounds like. Organized by animal and wildlife organizations in a city, catio owners provide access to the public on a self-guided tour of homes to view their catios. Tour participants enjoy seeing happy catio cats, inspiring catio designs, and all the amazing ways cat parents are solving the indoor-outdoor dilemma for their feline family members. Whether small or large, the tours showcase catios for patios, decks, gardens and more.
Not only are the tours a fun and educational new way to keep cats safe, healthy and happy while also protecting birds and wildlife, they give cat lovers an opportunity to gather in person and join other cat aficionados in their community. Dog parents have dog parks – and now cat parents have catio tours!
How did catio tours get started?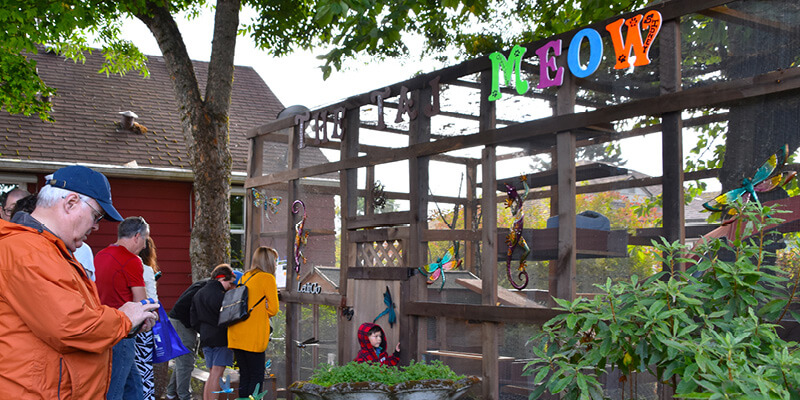 Catio tour participants enjoy a variety of catios including the Taj Meow in Portland, Oregon.
Photo credit:  Portland Catio Tour
Portland, Oregon
The first ever catio tour was in 2013 and a collaboration between the Feral Cat Coalition of Oregon and the Portland Audubon Society. Karen Kraus, who I call the godmother of catio tours, first developed the event to engage her community through her organization's Cats Safe at Home program, a collaborative effort to humanely reduce free roaming pet, stray and feral cats in the Portland metro region. As the Director of the Feral Cat Coalition, Karen was looking for creative ways to encourage people to keep their cats safe at home. Tours were already a popular pastime in Portland, so the catio tour seemed like a natural fit.
"Catios are a fast-growing trend that benefit cats and wildlife. Catio tours are a great way to inspire the community to build or buy a catio for their cats that fits their space and pocketbook," Karen says. "From simple to spectacular, there is no limit to what can be created. Plus, the tours are fun and a great way to spend time with other cat lovers!".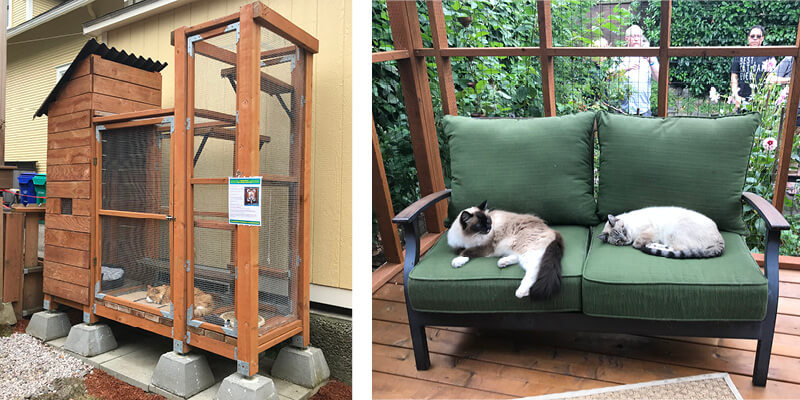 Fort Catshop catio (left) and pampered felines in Portland enjoy leisure time during a catio tour. 
Photo credit:  Portland Catio Tour
Other cities such as Austin, Santa Cruz and Vancouver, BC have recently jumped in on the trend and begun their own catio tours as well.  In fact, in 2015 Catio Spaces helped organize the first catio tour in Seattle together with PAWS and The Humane Society of the United States!
Seattle, Washington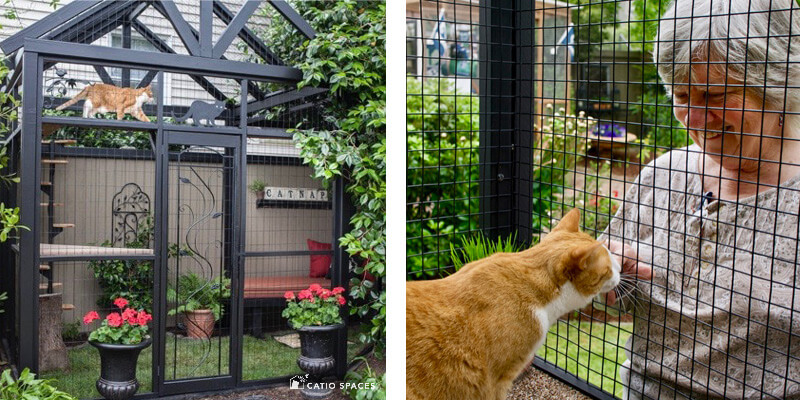 Tabby Serena greets a tour guest from her Catnap Catio designed by Catio Spaces.
Photo credit:  Catio Spaces
One of the joys of co-founding the Seattle catio tour is showcasing a variety of catios, from home-made to diy catio plans and professionally-built custom catios, with the goal of inspiring cat parents to build an outdoor haven for their own cats. There's nothing better than seeing tour participants watch cats enjoying the wind in their whiskers and the stimulation of nature while safe outdoors. Another benefit? Proceeds from the tour support PAWS, one of our local animal welfare organizations.
"Catio Tour Seattle is an integral part of the PAWS Safe Cats, Healthy Habitats campaign, an effort to improve the health and lives of cats and wildlife in our community," says Katie Amrhein, Education Programs Manager at PAWS and catio tour organizer. "We look forward to organizing the event each year to inspire cat parents to join the cat safety and enrichment trend that is here to stay." PAWS also offers catio and wildlife classes throughout the year as part of their educational outreach program.
"Providing cats with outdoor access in enclosures ensures we are good cat owners and good neighbors. It means being responsible for wildlife, responsible for community space and responsible for the safety of our cats," says Jennifer Hillman, VP Grassroots Outreach and Engagement with The Humane Society of the United States and tour co-founder. She advocates that, "Catios are a win for everyone."
Vancouver, British Columbia, Canada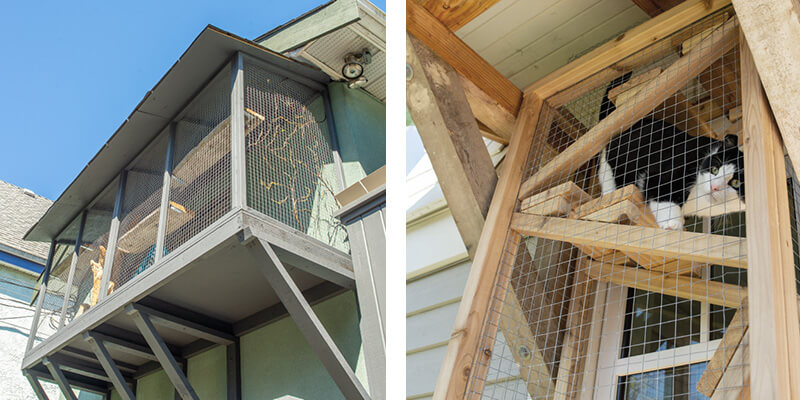 Cats in Canada enjoy the high life with territorial views and birdwatching from their catios.
Photo credit: Vancouver Catio Tour
"Cat guardians may feel like they don't have the space or money to build a catio or that they can't build a catio if they're renters," says Marieke van der Velden, Outreach Specialist of the British Columbia Society for the Prevention of Cruelty to Animals and catio tour organizer. "Catio tours present a wide range of sizes and types of catios that fit all budgets and living situations, including those in rentals that are easily removed when the tenant and cat move on."
"We were inspired by the successful catio tours in Seattle and Portland and wanted to keep the momentum going up the West Coast. We hope that other communities in BC will follow suit and create their own catio tours in the coming years!"
Santa Cruz, California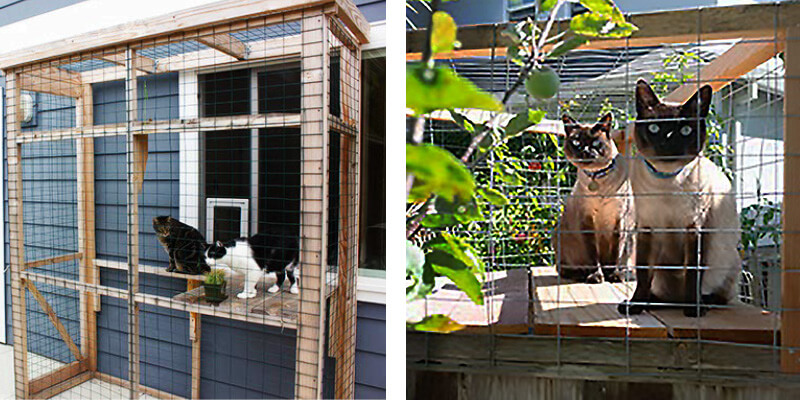 Catio cat ambassadors greet guests during a catio tour in Santa Cruz, California.
Photo credit: Santa Cruz Catio Tour
Catio tours in Santa Cruz began in 2016 with a partnership between Santa Cruz County Animal Shelter and Santa Cruz County Native Animal Rescue, a local agency that focuses on wildlife.
"In Santa Cruz County, everyone is aware of the dangers of coyotes and they worry for their cats," says Erika Anderson, Program and Development Manager of Santa Cruz County Animal Shelter. "Hosting a catio tour is a simple and fun way to bring the community together around an important animal welfare topic. It engages people in a way that makes them think about how they are caring for their pets – and how that connects to local wildlife. It's a great way to present people with a variety of ways that they can create a catio for their own cat at home!"
Austin, Texas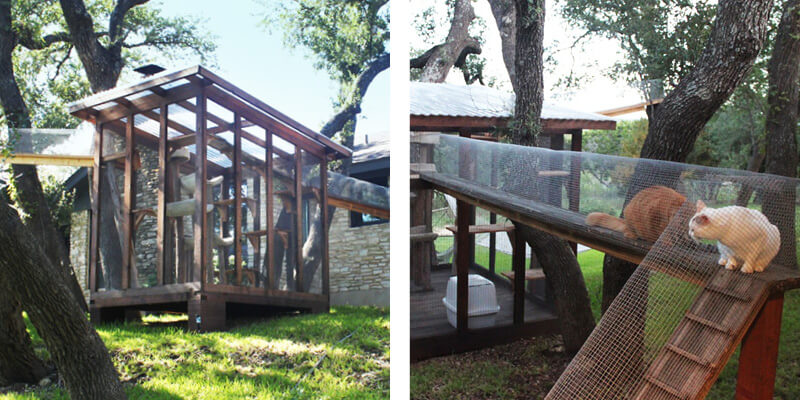 Surrounded by trees, this nature catio features a cat tunnel for adventurous cats in Austin, Texas.
Photo credit: Jacob Smigel
The first Catio Tour in Austin, Texas took place in 2017. Caley Zuzula, Program and Education Coordinator of Travis Audubon says the tours have had a direct impact on the Austin community. "Free roaming cats and feral cats are responsible for killing billions of birds each year and our goal is to help conserve wild birds in their habitats. Catios are a win/win solution for cats to be safe from predators while outdoors, and to protect birds from predation by cats."
As a result of their educational catio tours, Travis Audubon has seen tangible results in their community to help keep cats and birds safe. Many cat parents have been inspired and decided to build their own catio so the tours definitely make a difference.
Gainesville, Florida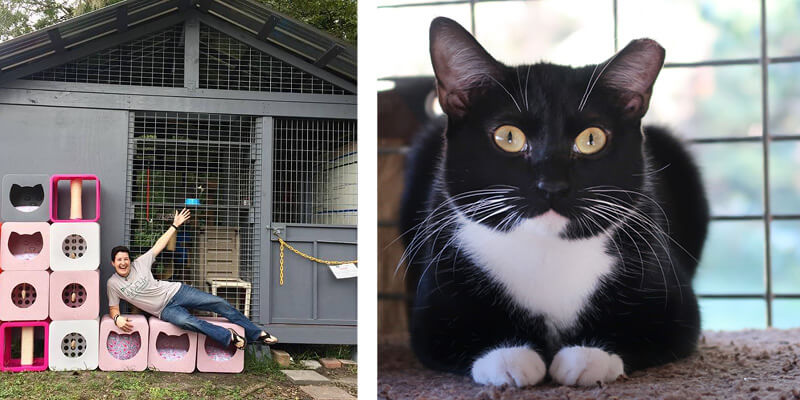 A catio tour volunteer poses in front of Operation Catnip's catio and home of kitty Cobra.
Photo credit: Melissa Jenkins
Gainesville, Florida recently began their catio tour inspired by the Portland Catio Tour and initiated by Melissa Jenkins, Operations Coordinator at Operation Catnip. "After some discussion at county commission meetings, it was decided that a coalition would be made consisting of the Humane Society of North Central Florida, Operation Catnip and the Alachua Audubon Society, to work on ways to support keeping cats indoors and protecting wildlife. We thought the catio tour would be a great way to engage our community."
Melissa also mentioned that many indoor cats are understimulated and behavior problems can arise from boredom. A catio is a fun and exciting way to give cats entertainment and mental exercise while safe outdoors!
Halifax, Nova Scotia, Canada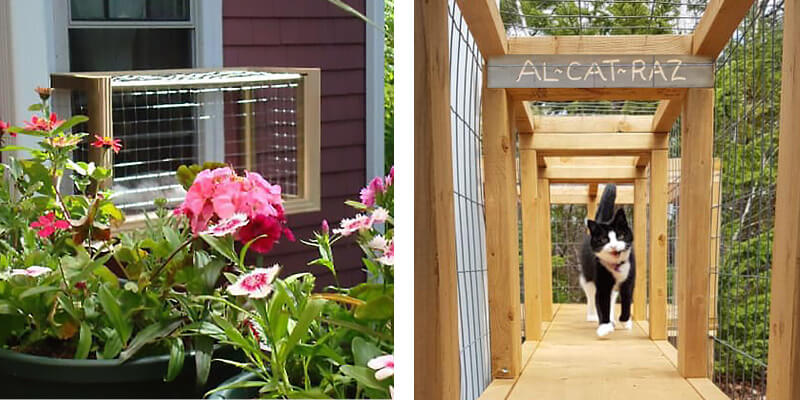 Small and stimulating catios provide fresh air and a catwalk in the "Alcatraz" catio.
Photo Credit: Halifax Catio Tour
The first Canadian catio tour was held in Halifax, Nova Scotia in 2018 and organized by the Tuxedo Party of Canada Cat Welfare Society. In addition to showcasing inspiring catios and happy cats for tour participants, volunteers sell popular handmade cat toys, the organization's kitten calendar and raffle tickets. All proceeds support SpayDay HRM, a local registered charity.
Cindy Murphy, Treasurer for Tuxedo Party of Canada Cat Welfare Society and a member of the catio tour organizing committee, says they also have a Catio Tour Trivia Game with questions about each of the catio stops and prizes. What a fun day for cat lovers and cats in Halifax!
 
Vashon Island, Washington
The Colorful Catio Menagerie in Vashon features 4 catios and 150' of tunnels by Catio Spaces.
Video Credit: Catio Spaces
A short ferry ride from Seattle, Vashon launched their first catio tour in September 2019. Jennifer Zeisig, inspired by the Seattle catio tour and a volunteer at Vashon Island Pet Protectors said, "We endeavored to show attendees a wide variety of catio types – from low cost to highly creative – so tour participants would be able to envision what might work for their own homes and cat situations."
For their inaugural tour, Vashon Island Pet Protectors co-sponsored the event with other organizations including their local Audubon chapter, Vashon Nature Center, Catio Spaces and Vashon Adventures. For a fun way to get around the island, Vashon Adventures rented e-bikes for the bike-friendly catio tour!
And, of course, we can't let the cats have all the fun.
Future Catio Tour in Sacramento, California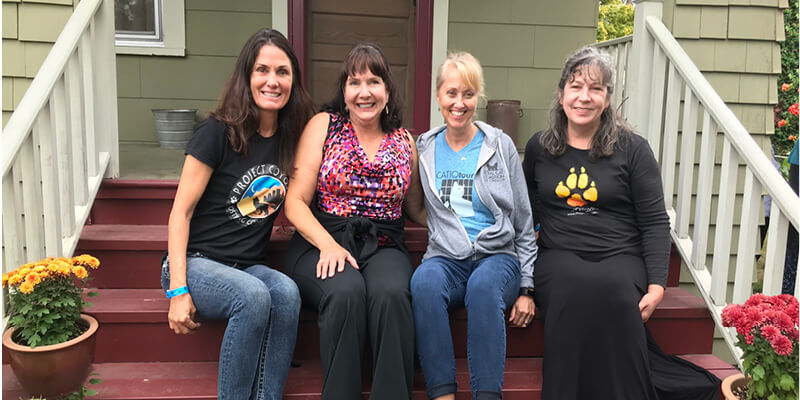 Enjoying a break during the Portland Catio tour are (left to right) Fauna Tomlinson, Project Coyote Program Associate; Cynthia Chomos, Founder Catio Spaces; Karen Kraus, Founder Portland Catio Tour; and Erin Hauge, Project Coyote Program Associate.
Representatives from Project Coyote, a national organization promoting compassionate co-existence between people and wildlife, and a member of Catio Spaces' affiliate program, joined me for a fun getaway to the Portland Catio Tour to see a variety of catios and discuss planning a catio tour in Sacramento. We look forward to seeing this new tour launch in 2020!
As more organizations express interest in catio tours, I've created a Catio Tour Planner in collaboration with Karen Kraus, Portland Catio Tour, to assist animal welfare groups in organizing a tour in their city. The pdf download includes a step-by-step checklist for a successful event. We hope other cities will join the catio tour trend to bring cat lovers together to celebrate and educate their communities on the benefits of catios for cats and wildlife.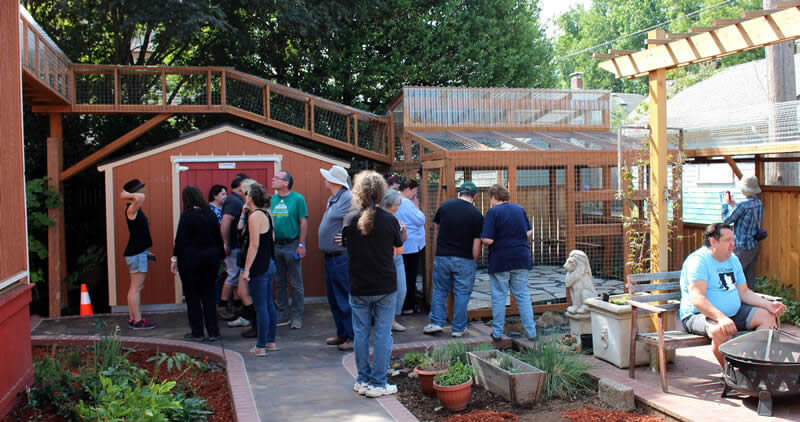 Photo credit: Portland Catio Tour
Do you want to learn more about catios and catio tours?
Are you considering a catio?
Sign up for our free catio tips!
Are you ready to build a catio for your cat?
Our downloadable DIY catio plans make it easy!
Includes step-by-step instructions for a successful project. 
10% is donated to animal welfare organizations.
Do you already have a cool catio?
Consider being a host on a tour near you!
Is there a catio tour in your city?
Check our catio tour directory and, if not, reach out to your local animal welfare organization and send them this article!

Life is good in a catio!
Animal Welfare Organizations
Thank you for all the great work you do in your community!
Do you want to build a catio?
Catio Spaces offers a variety of DIY Catio Plans for a window, porch, patio, deck or yard.
Each plan is a PDF download that includes a material and tool list, step-by-step
instructions and diagrams for a successful project. 10% is donated to animal welfare organizations.
Not sure how to get started? Check out these free catio tips.