Pack your bags cat lovers because we're going on a globe-trotting adventure to explore a universal language – a deep love for cats and catios.
Whether your native word for a cat is neko, la gatta, chat, kedi or katze, the love for cats around the world is easy to see. In fact, I get lots of international inquiries from cat parents about how to solve the indoor/outdoor dilemma, so it inspired me to look at all the fun ways people everywhere are giving cats safe, enriching outdoor experiences.
Join me as we travel the world to see catios built by cat parents and cat advocates – and meet some happy felines along the way!
Malaysia
Malaysian Door-Dasher Catio
Surrounded by the beautiful Pacific Ocean in Kelatan, Malaysia live Wan Suriza Wan Ab Tahman and her cats, Nuri and 6-month-old kitten Cumi.
Wan Suriza and her brother built a catio in their backyard garden for their two cats. Nuri was a feral that Wan Suriza found at 6 weeks and Cumi, the kitten, had been indoors only. Wan Suriza had already lost one indoor cat that door-dashed, escaped and never returned home. She certainly did not want that happening again. Her solution? A catio to satisfy her cats' natural instinct for the outdoors and to avoid the heartbreak of losing another one.
Australia
Aussie Catio & Cat House
Down under in Melbourne, Australia we find Rebecca Singarella and her two cats, Mittens the Russian Blue and Brian the Burmese.
With their home so close to a busy road and so much local wildlife in the neighborhood, Rebecca knew she could not let her cats roam outside. So instead, she and her husband built a catio with a connecting tunnel from the house for easy and safe access. The addition of a cat house allows protection from the weather for use all year long.
"The cats absolutely love their secure, outdoor space," Rebecca says. "They can watch the sunrise and are shaded from the hot, afternoon sun. Mittens and Brian now enjoy fresh air without being in danger or causing danger to other wildlife."
Canada
Canadian Catio Haven
In Ottawa, Ontario, Tama Davis, a veterinary technician, has always been a strong advocate for keeping cats indoors but recognized varied enrichment is also important for our feline friends. There were many summer days she felt completely guilty relaxing on her deck while her disgruntled trio of Siamese cats sat behind the patio door looking less than impressed.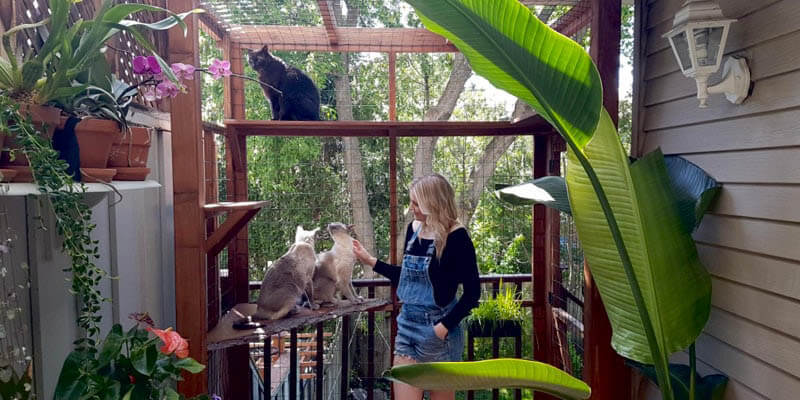 Tama took a few weekends to build one of our Haven DIY catio plans for her 3 Siamese cats. She modified the blueprint to attach to the end of her covered lanai giving her cats safe access to the entire back porch. Tama's craftsmanship and style has created a beautiful and safe outdoor space for her felines. Now everyone gets to enjoy fresh air and bonding outdoors!
Before we continue our catio adventure around the world, let's take a tip from our friends south of the border…
It's SIESTA TIME!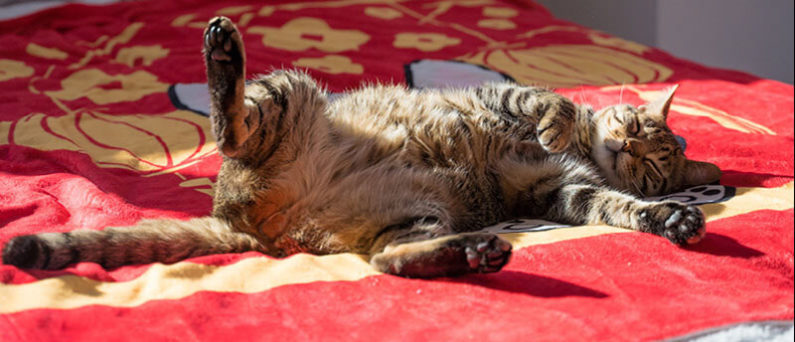 All cats, no matter where they live in the world, love a siesta. Don't let the name fool you though—catnaps are great for humans too! A little afternoon snooze can rejuvenate your mind, body and give you an energy boost to finish your workday.
A little snooze and stretch and we're ready to continue our catio tour— to Europe we go!
Netherlands
Cat Boat for Shelter Cats
De Poezenboot, (the cat boat), is a floating cat shelter in Amsterdam that began in 1966 when Henriette van Weelde found a mother cat and her kittens near her home. She took them in and soon began to take in other strays she found. When her living space became too small, she bought a boat to house even more cats. Soon, she became known as the cat lady, and the boat became an animal shelter that has continued to grow (as did the boat!).
This unique cat shelter has a catio the length of the boat where resident cats enjoy fresh air and watch activities on the canal. Indoors, it abounds with cat posts, lofts and a homey atmosphere – a purrfect place to adopt a cat in the Netherlands. While De Poezenboot is not a tourist destination, a must see in Amsterdam is the Katten Kabinet, a museum with collections depicting the role of cats in art and culture through the ages. Definitely the cat's meow! (And if you're curious about houseboat catios, check out this catio I created for two special-needs kitties in Seattle).
France
French Cat (Chat) Hotel
Bonjour! Next up we say hello to Rita Welch Vanhauwe in Vendée, France at her luxurious cat hotel Calypso. When you go on vacation, why shouldn't your cat too?
Rita was inspired by the luxury cat hotels in her home country of Belgium. Each room at the Calypso is appointed with a comfy cat bed, a scratching post, toys and a seating area. While on vacation, cat parents can watch their cats via livestream too. Rita has been passionate about cats her entire life and loves taking care of them while their parents are away. I can see why many cats would like to stay!
United Kingdom
The Catio Kingdom
Further north in the United Kingdom, live Nicky Henty and her two cats, Cyrus, a cream color Ragdoll/Persian mix, and Leonidas, a chocolate Seal Point Ragdoll.
In the UK, it is common to have an indoor-outdoor cat. However, this poses great risk as there are plenty of cars, wildlife and opportunistic people who steal high pedigree cats. The British Ragdoll Association recommends keeping cats indoors. To make sure her precious cats were safe at all times, Nicky hired a local carpenter to build her catio. She smartly made sure it was built in flat pack form using screws so if she moved, it will be easy to disassemble and take with her.
United States
New York City Catio
Back in the USA, actress, director and producer Paula Rossman lives in New York City with her two rescue cats: Mask, a cuddly lap hog who's 10 years old and Tuli, a constantly hungry and trouble-making 5-year-old who pretends he's an alpha (Paula says he's really not). Her cats are definitely living the high life.
Paula purchased one of our Haven DIY Catio Plans to create a safe outdoor space for her cats to enjoy territorial views from the terrace. Due to the conditions of her rental lease, she adapted the plan to be self-standing versus attached. A vertical window cat door gives her kitties easy access into the catio – and Paula's dog Rosie has found her way through the cat door and into the catio, too! Learn more about urban catios including a deck catio video.
CATIOS ARE A PURRFECT SOLUTION IN ANY COUNTRY.
From Malaysia to Canada to France, every day is an adventure for a catio cat!
Do you have a catio to add to our world adventure?
Submit your reason for a catio and a few photos to us. We can't wait to see your creations!
No matter where you live in the world…. life is good in a catio!
Cynthia Chomos is a passionate cat lover and catio designer who founded Catio Spaces to create visually appealing outdoor enclosures to enhance the lives of cats and their humans. Inspired by her tabby Serena, she combines her expertise as a feng shui consultant and general contractor working with a team of carpenters to build custom catios in the Seattle area, and elsewhere by request. She also offers a variety of downloadable DIY catio plans and free tips, plus 10% of all DIY plan sales are donated to animal welfare organizations. Cynthia is also a co-founder of the annual Catio Tour Seattle.
Is there a catio tour in your city? Learn more.
Do you want to build a catio?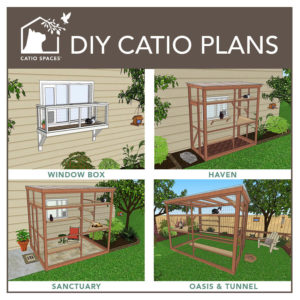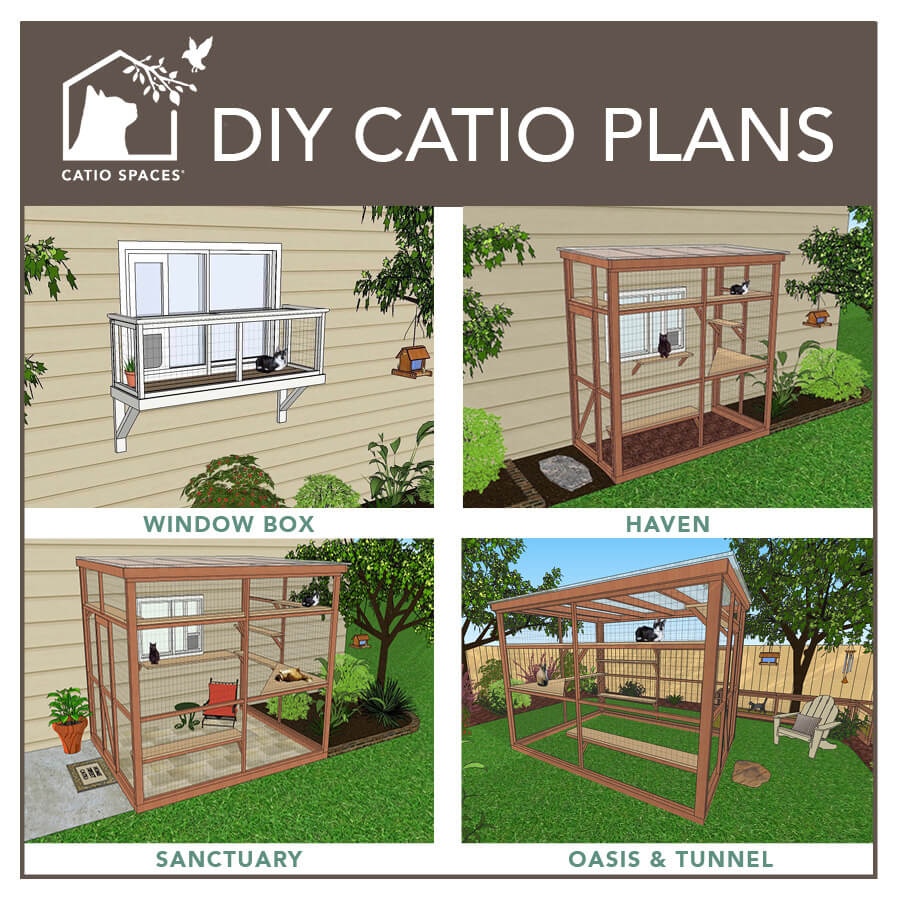 Catio Spaces offers a variety of DIY Catio Plans for a window, porch, patio, deck or yard.
Each plan is a PDF download that includes
a material and tool list, step-by-step
instructions and diagrams for a successful
project. 10% is donated to animal welfare
organizations.
Not sure how to get started? Check out
these free catio tips.