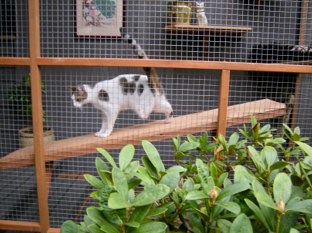 Whether they're cuddly fluff balls or walking royalty, all cats are special. Some, however, are considered extra special and are called special needs cats. While special needs can mean a lot of things, these cats might have specific medical or physical conditions, or simply live life a little differently from their other feline friends.
It's pretty well-known how much I love these extra-special kitties and working to create some extra-special catios for them. So, if you're considering adopting a special-needs kitty or your cat becomes one in his or her lifetime, and thinking of creating a catio to enrich their life, you're in the right place!
Why adopt a special needs cat?
Not all special needs are the same, but there's just something extra special to me about these cats. Jennifer Felis Alvarez, Founder of Doodle's Ranch and Sanctuary, works closely with special needs cats. She points out, "Special needs cats are so amazing because they can adapt extremely well to whatever disability they have, especially with the proper enrichments. Because of the more one-on-one time they require [with a little extra care,] the bond you form with them is much stronger."
While it can take longer for shelters to find special needs cats a forever home, many big-hearted cat lovers are adopting these special cats or helping through donations and sponsorship programs. At their core, cats with challenges have the same instincts and basic needs as any cat. "Just like any other cat they love playing, 'chasing' toys, watching the birds and squirrels, uncovering hidden treasures, breathing fresh air," says Jennifer. "It is important that special needs cats have the same enrichments that cats without special needs have so they can 'be a cat!'" Many are unaware of their disability and have the resiliency to live purrfectly normal lives.
Every cat needs a stimulating indoor environment for a healthy and happy life. Cats are also curious about the outdoors. As a catio designer and founder of Catio Spaces, I've had the joy of working with cat parents with special needs cats, including those with cerebellar hypoplasia and amputees, so they can enjoy the enrichment of a catio (an enclosed outdoor "cat patio") specifically designed for their mobility issues. Meet a few of them below.
Meet Rosemary and Boots – CH Cats
Adopted and living on a houseboat in Seattle, Rosemary and Boots were born with cerebellar hypoplasia (CH), a rare congenital condition that causes kittens to have underdeveloped physical coordination. Because the condition is fairly uncommon, people often grimace when they first see these cats move, fearing they're in pain. The condition is not painful, contagious or progressive, and mild to moderate CH cats often live very normal lives. Such is the life of Rosemary and Boots, with moderate mobility, who have adapted well to their indoor and outdoor living spaces. To learn more about CH cats, visit www.chcat.org.
Take a tour of their colorful catio that was custom designed for a CH cat's mobility.
Learn more about CH cats, Rosemary and Boots.
Catios come in a variety of designs, sizes and shapes that can be adapted for special needs cats. Among accommodations are ramps, railings, foam tile flooring for soft landings, and rugs for gripping. For ease of access into a catio, large cat doors can be installed in a wall, door, or window, with the door flap taped open during catio time. The smell of fresh air and the sounds of nature will beckon any curious cat to explore their new territory while keeping them safe and comfortable.
Meet Mini – the Tripawd "Hitchhiker"
After riding 5 miles under the hood of my client's car, 8-week-old Mini was heard meowing inside the garage when she returned home one day. Curious and lifting up the hood to discover a hot pawed kitty (who was already missing a hind leg), Mini was immediately soothed with cool water – and was clearly destined to find his human mom. In fact, it was love at first sight.
As if Mini's comfy new home wasn't enough to give roots to his wandering ways, his new digs include an outdoor catio haven for exercise, bird watching, catnaps and basking in the sun. Active and agile on three legs, his catio was designed to include a ramp, a spacious landing shelf and several 1"x12" cedar shelves for horizontal and vertical movement. Despite Mini's harrowing trip to his new home, it was well worth the ride.
Amputations can be a challenging medical situation to deal with as pet parents. Rene Agredano, co-founder of Tripawds.com, the world's biggest support community for three-legged pets and their people, works with cat parents whose cat underwent an amputation. "As you cope with the recovery process it's important to keep telling yourself that you aren't doing this to your cat, you're doing it for your cat," Rene says.
Rene's dog Jerry lost his leg due to bone cancer so she gets what it's like to be the parent. "Although animals can do well on three legs, their biomechanics change and make them predisposed to osteoarthritis and injury. For cats, a catio is the best way to prevent all of this from happening in the first place." Rene notes that the second-leading cause of amputations for cats is due to free-roaming outside.
Are you interested in learning more about the benefits of catios?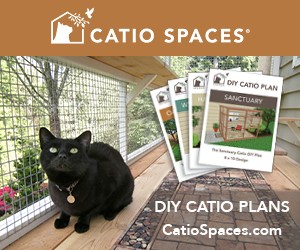 Catio Spaces offers free catio tips for
keeping your cat safe and stimulated
while outdoors. Custom catios and a
variety of DIY catio plans are available
for a window, deck, patio or yard that
can accommodate any sized cat family.
10% of DIY plan purchases are donated
to animal welfare organizations.
Interested in adopting a special needs cat?
Contact your local shelter to learn more. If you are unable to adopt, consider sponsoring a special needs cat. Many shelters accept donations and offer programs for as little as $15 month that include a certificate, cat photo, bio and updates on your sponsored cat. Sponsorships also make great gifts for the cat lover in your life.
Every cat deserves a forever home – and every cat is special, sometimes in extraordinary ways.
Cynthia Chomosis a passionate cat lover and catio designer who founded Catio Spaces to create visually appealing enclosures and DIY catio plans to enhance the lives of cats and their humans.