Have you met Quilty? This brilliant and mischievous shelter cat at Friends for Life in Houston is proving that some kitties demand the feel of wind in their whiskers… and will find a way to get it!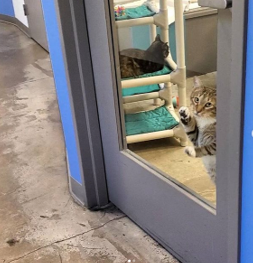 Quilty's struggle to release himself and his feline friends from the shelter's cat room (and even from a locked integration kennel in the room, aka solitary confinement) is quickly becoming the stuff of internet fame. Documented in the shelter's hilarious Facebook post and new Instagram Account, Quilty's struggle to be free has sparked the #FreeQuilty movement and various internet calls to uphold America's innocent-until-proven-guilty philosophy.
Notorious for opening doors, Quilty is a brilliant example of kitties who want more than single-room living, and we suspect he may take after a few of our other feline friends who door-dash when they get home. While Quilty is in the process of finding his forever home, Catio Spaces will be donating a free DIY catio plan of their choice to whoever adopts Quilty. This way the adorable fellow can have his adventure without causing his parents to panic. (If YOU adopt Quilty, just claim your free plan by contacting me.) From the looks of it, the adoption process is underway and I hope it sticks!
_________________
Cats like Quilty are exceptionally smart and often decide that closed doors are a fun challenge to foil. Cats need mental stimulation to keep their innate curiosity satiated or they may begin "misbehaving." Even more, many kitties were born to be free and simply need to feel the wind in their whiskers. Like Quilty, they refuse to be contained. But this can be hard for cat parents who want to keep their family members safe from all the dangers of the outdoors. As I say here at Catio Spaces, this signals a #timetogetacatio.
Quilty is not the only thrill-seeking kitty I've seen and he probably won't be the last. Meet some other "reformed" escape artists turned happy catio cats!
Meet Mars, the determined door-dasher
An intelligent Abyssinian, Mars loved to run out the back door and race through the neighborhood any chance he got. After his family reached their limit of luring Mars back into the house, they reached out to Catio Spaces to build a custom catio so Mars could enjoy the great outdoors safely. Read more of Mars' story.
Malcolm, the escape artist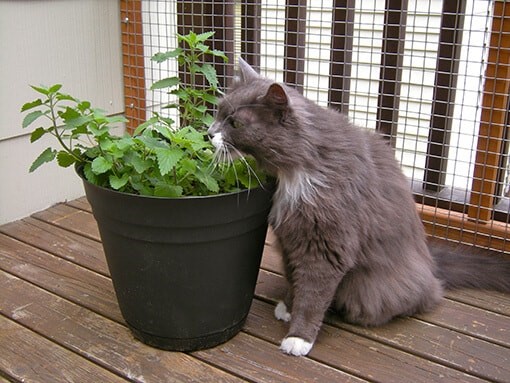 Like Quilty, Malcolm is a pro at turning the doorknob and letting himself out. When his parent bought a new home, Malcolm got a deck catio to have his great outdoor adventure. Learn more about Malcolm and his catio kingdom.
Tree-climber Beatrice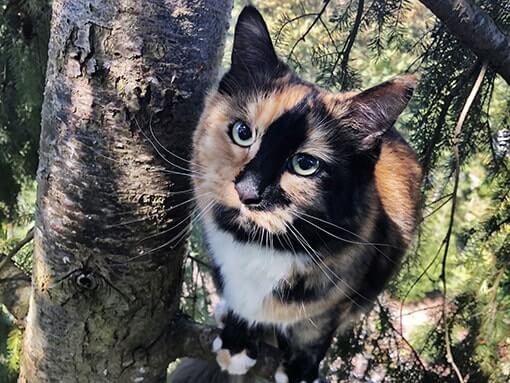 What goes up must come down. When Beatrice door-dashed and climbed her way up a 90' cedar tree, her parents knew they needed a solution to keep their beautiful Beatrice safe while satisfying her thrill-seeking side. Learn how Beatrice's parents kept her happy, healthy and safe with a catio (and how they got her down!).
These three master escape artists gave their parents quite the scare with their Houdini ways. Thankfully, each discovered a solution that worked with their home and lifestyle to allow their kitty to feel the wind in their whiskers without the threat of hurting or being hurt by wildlife, cars and other environmental dangers.
Quilty is sure to find an equally wonderful family that will appreciate his sly and sweet personality. I can't wait to hear what lucky family adopts him!
Do you know an escape artist kitty? Consider getting a DIY catio plan to build a safe and enriching outdoor kitty haven!
And, as always,
Life is good in a catio!